The fight Jan. 24, 1963, was scheduled to go 10 rounds, but both boxers promised a knockout victory.
It was the first boxing match for the 17-month-old Civic Arena since Sugar Ray Robinson knocked out Wilf Greaves there in December 1961. Muhammad Ali (16-0), then known as Cassius Clay, was set to fight Charlie Powell (23-6-3), a former NFL player-turned-boxer who weighed in at 214 pounds and had knocked out his opponent in 17 of his 23 victories.
"I expect to win," Powell told The Pittsburgh Press at the weigh-in, "and by a knockout. As soon as I land a good punch, it could be over."
That punch never landed, and the days leading up to the blows that gave Ali a third-round knockout win demonstrated the bark and bite for which the boxer, who died Friday at age 74, would become known.
He initially gave Powell a five-round quota in the ring — "I predicted I'd knock him out in the fifth round," Ali told the Press at the time, "but if I get mad I might end it sooner" — but he soured as the fight approached. With the fight scheduled for Thursday, Ali turned down Powell's Monday lunch invitation, then trimmed his knockout prediction by two rounds.
"I don't like the way he's been popping off," said the brash Ali, who turned 21 days before the bout, "so now I'm going to knock him out in three rounds."
As he stood on the scale during the weigh-in, Powell formed his right hand into a fist, his knuckles facing outward toward his opponent. Ali stared back at him nine pounds lighter, with his head tilted slightly to the right. He held up three fingers, presumably one for each round. He had called the round in 12 of his previous 13 knockout victories, according to the Press.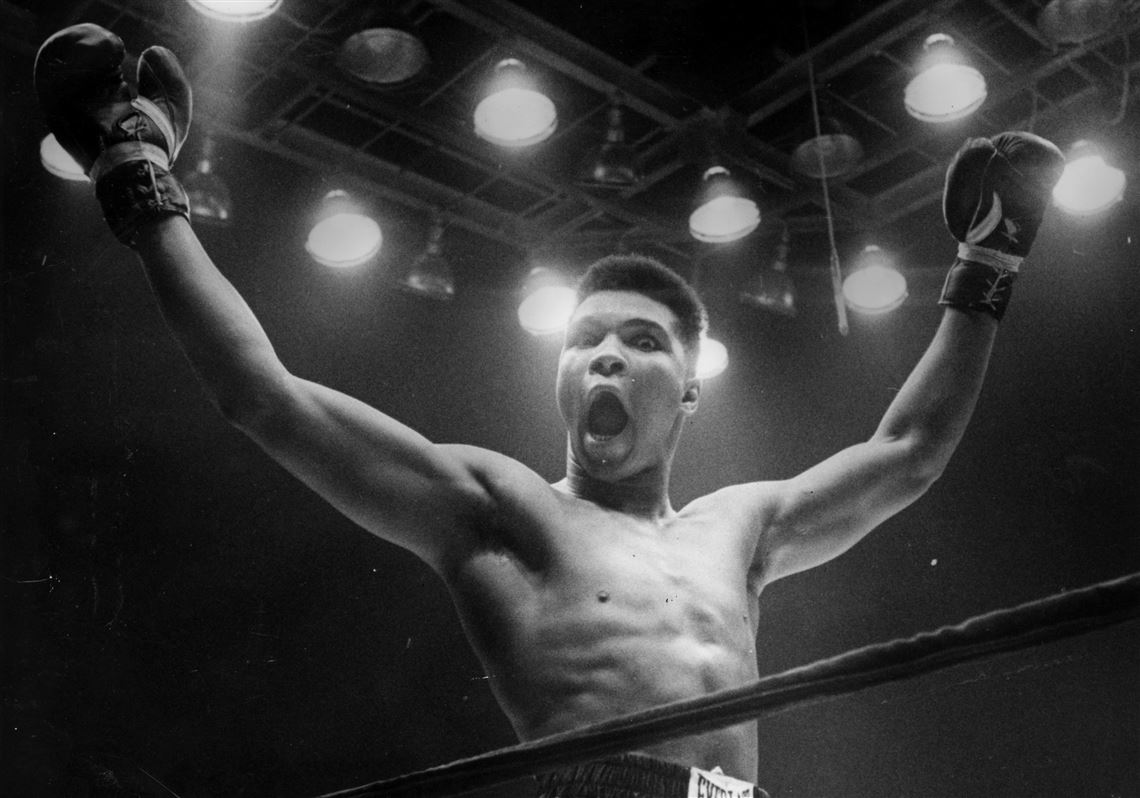 Powell fired back at Ali's KO prediction, telling reporters that "It might not even go one [round]."
On Monday, Don Elbaum, a boxing promoter who grew up in Erie and helped arrange the Ali-Powell fight, described Powell as a "very dangerous heavyweight puncher."
"He was probably the best pro football player … that became a boxer," Elbaum said. Powell had signed a professional baseball contract before playing for the San Francisco 49ers in the NFL and the Oakland Raiders in the old AFL.
Ali brought up Powell's years on the gridiron and told him he'd "make the first touchdown" in the fight.
"A defeat now," wrote the Press' Will Doerge, "especially by a knockout, could be costly to Clay while Powell has everything to gain and nothing to lose."
Ali had his sights set on a heavyweight championship bout with Sonny Liston, and the Louisville, Ky., native came to Pittsburgh with his celebrity growing.
Angelo Dundee, Ali's former trainer and corner man, had to leave Pittsburgh for a few days while another one of his boxers fought for a world title. Elbaum said Dundee left him to watch over Ali.
"I took him to the gym and everything for the couple days that [Angelo] was gone," Elbaum said. "Angelo is still in Miami, I get a call from the front desk [of the hotel] and they said, 'Don, please come down, we've got a problem' and I came downstairs. The lobby was packed, and there was Clay standing on top of a couch just talking and no one could get in or out."
Ali had visited a nearby neighborhood and attracted such a large horde of people that traffic was temporarily stopped as fans followed him back to the lobby of the old Sherwyn Hotel on Wood Street, Elbaum said. Standing on top of the couch, Ali bragged to anyone who would listen about what he was going to do to Powell and then signed autographs for fans.
"It was absolutely one of the most amazing scenes ever," Elbaum said, laughing. "They just followed [him], just like the Pied Piper. I've never seen anything like that, I've never heard of anything like that."
The same could be said for the weather. With a low temperature of minus-18 and a high of minus-2, the day of the fight was one of the coldest in Pittsburgh history, according to the National Weather Service.
Tim Conn, the son of former professional boxer Billy "The Pittsburgh Kid" Conn, was among the thousands who ventured into the cold to watch the fight.
"It was a big deal," said Conn, a Point Breeze resident who attended Point Park University at the time. "It was sold out completely." That night, the arena held a record 11,238 patrons who paid a total of $55,782 for tickets, the Press reported.
"I fight better in the cold weather," Ali said at the weigh-in. "I don't sweat as much and am fresher."
As promised, the 21-year-old Ali knocked out Powell in the third round with a few quick punches.
"All of a sudden, [there were] three or four real fast punches and he was down," Conn said. "[Powell] didn't take a beating or anything. It wasn't like a great fight. He hit him [with] a number of punches in the corner and that was it."
Despite his loud mouth and an affinity for bragging, Ali was popular among many fans, Conn said. But the Civic Arena crowd "lustily booed Clay and his helpless victim when the end came," Doerge wrote the following day in the Press.
"I don't care if I get booed," a victorious Ali said. "They probably came to see me lose and I disappointed them. I did just what I said I was going to do.
"I'm making history."