Manny Pacquiao turned 40 a month ago and has been in the consciousness of boxing fans for almost half of his life.
He was a bright-eyed 22-year-old former flyweight world champion with virtually no name recognition outside of his native Philippines when he arrived on these shores looking to fight in the United States. He walked into trainer Freddie Roach's Wild Card Boxing Club in Hollywood, California, where his career and life changed — as did boxing history.
Not long after that, Pacquiao agreed to challenge then-top junior featherweight world titleholder Lehlo Ledwaba on short notice as a replacement opponent on the HBO PPV undercard of Oscar De La Hoya's challenge of junior middleweight world champion Javier Castillejo.
It was June 23, 2001, at the MGM Grand Garden Arena in Las Vegas, and Ledwaba was the big favorite. But Pacquiao, displaying ridiculous speed and throwing bombs with a wild and unorthodox style, destroyed him in six one-sided rounds and stole the show. I was there covering the card and will never forget the shock of those of us at ringside as Pacquiao tore him apart.
Who is this guy? That was the common question that night all those years ago.
Pacquiao's performance was sensational and the launching pad for his legendary career. He would go on to become one of the greatest and most beloved fighters to ever lace up a pair of gloves.
Against all odds, the kid who grew up in poverty scrounging for food in the streets became a global mega star. He sold out arenas. He generated huge pay-per-view numbers. He earned hundreds of millions of dollars. And he made history by winning world titles in a record eight weight divisions, from flyweight to junior middleweight. It could have been 10, but he skipped over the junior bantamweight and bantamweight divisions.
Twenty-four years since he turned pro fighting for pocket change and 18 years since that memorable night against Ledwaba, Pacquiao is now a senator in the Philippines but also still fighting at a high level, with no desire to hang up his gloves even after 462 rounds, many of them extremely violent and grueling.
"I'm still passionate about the sport of boxing and boxing is my passion and that's why I'm still here continuing fighting," Pacquiao said recently when asked about his motivation to continue his ring career despite owning a legacy for the ages and a political career many believe will eventually lead to his election as president of the Philippines. "I really love boxing and that's why I'm always excited and preparing for my fight."
Indeed, Pacquiao (60-7-2, 39 KOs) is set to return to the ring to defend his secondary welterweight world title against former four-division world titlist Adrien Broner (33-3-1, 24 KOs) on Saturday (Showtime PPV, 9 p.m. ET) at the same MGM Grand Garden Arena where he first made a name for himself and went on to have so many big fights.
It will be Pacquiao's first fight in the U.S. in more than two years, after fights in Australia and Malaysia. He has had such a long and storied career that it is sometimes easy to forget just how great the prime Pacquiao was, how exciting his fights were and how much pleasure he brought to fans around the world.
Pacquiao was so unstoppable during his best days — which I estimate being from his 2003 demolition of Marco Antonio Barrera in their first fight to earn the lineal featherweight title to his 2012 decision win over Juan Manuel Marquez to retain a welterweight belt in their third fight — that he drew comparisons to the great Henry Armstrong, who once held world titles in three weight classes at the same time back in the day when there were only eight divisions.
When Pacquiao was recently asked to rank his top five opponents, he nonchalantly rattled off a list that was a who's who of his generation's greats.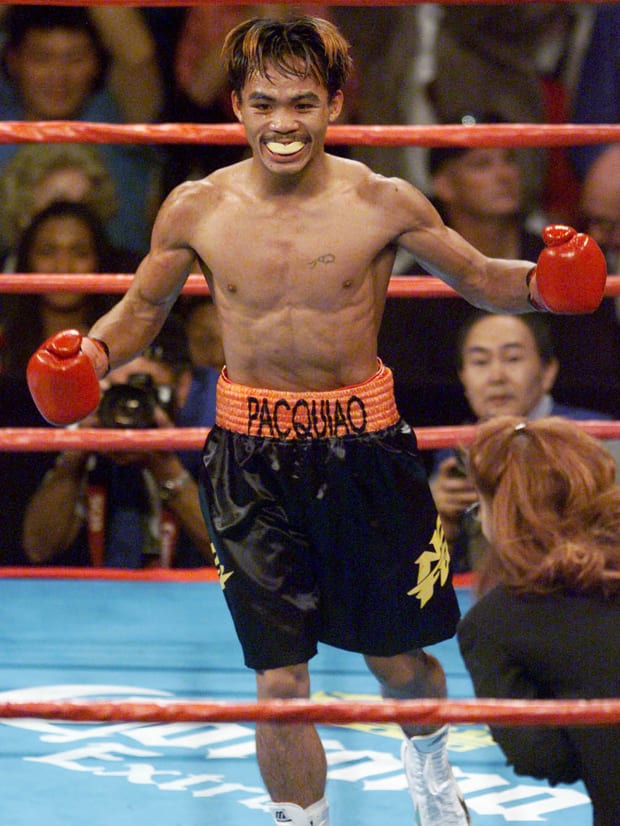 "I think my top opponents are Oscar De La Hoya, Juan Manuel Marquez, Marco Antonio Barrera, Miguel Cotto, Floyd Mayweather, Erik Morales and Ricky Hatton," Pacquiao said.
He didn't even bother to mention that he fought Marquez four times in epic battles, Barrera twice and Morales three times, nor did he mention his trilogy with Timothy Bradley Jr. or dominant wins over Shane Mosley and Antonio Margarito. All of them (except the disgraced Margarito) are either already in the International Boxing Hall of Fame or likely will be someday.
Pacquiao owns a resume that few can boast. For a time, he was the pound-for-pound king. He was named the Boxing Writers Association of America's fighter of the decade for the 2000s. He won the fighter of the year award three times. He obviously will be a first-ballot Hall of Famer.
He admits, however, to making a few concessions in his training due to his age, not to mention the wear and tear of so many hard fights and so many rounds in the gym.
"The routine of my training is the same. Jog in the morning and train in the afternoon. But we have a couple of adjustments in training specifically for recovery," he said. "Because sometimes we push ourselves heavy in training in the day and then we'll see if overnight I can recover, and then we'll push again. But if I cannot recover, then I let my body rest so that the following day it can push again and work hard."
Pacquiao has continued to work hard for the fight with Broner, training with the same vigor and sense of joy that he has always had. With a win, there might be a rematch with Mayweather, who outpointed him in 2015 in the richest fight in history. But having parted ways with longtime promoter Top Rank to sign with Premier Boxing Champions, there is also a wealth of other big potential fights Pacquiao has said he is interested in, against Errol Spence Jr., Keith Thurman, Shawn Porter and Danny Garcia. Pacquiao has never ducked anyone and he has no plans to start now.
"My journey in this sport is still continuing. I've accomplished everything I've wanted to, but I also want to continue to keep my name at the top," Pacquiao said. "Even at 40 years old, I can still show the best of Manny Pacquiao. I'm going to give the fans the speed and power that they're used to seeing."
The very best of Manny Pacquiao is already gone, but he remains a quality fighter and one of the biggest names in sports. Whatever happens against Broner on Saturday — a fight the Pacman is heavily favored to win, by the way — the end will come eventually, because Father Time is — and always will be — undefeated. So take a minute to reflect on the many thrills Pacquiao has given us and appreciate him while he's still boxing, because nothing lasts forever.