MANNY Pacquiao won for the 60th time with his first stoppage in nine years, and made a proclamation.
"This is it. I am back in boxing," the 39-year-old Pacquiao said after his seventh-round knockout of Lucas Matthysse for the World Boxing Association welterweight title on Sunday. "I am not done. I'm still there."
It was Pacquiao's first bout since a loss last year to Jeff Horn in Australia and since parting ways with longtime trainer Freddie Roach to work with Buboy Fernandes.
"It's just a matter of time. You have to rest and get it back and that's what I did."
Pacquiao (60-7-2, 39 KOs) knocked Matthysse down onto one knee in the third and fifth rounds. He knocked the Argentine down again in the seventh, and Matthysse spat out his mouthpiece, causing a frenzy among Pacquiao fans in the stadium.
"I am not boasting but … I think he's hurting from my punches," said Pacquiao, who hadn't won by knockout since 2009. "Every punch that I throw, he's hurt. I think he's scared of my punches."
Matthysse, who won 36 out of 39 matches by knockout, said Pacquiao was a "great fighter, a great legend," adding that he planned to take a break.
President Rodrigo Duterte and Malaysian Prime Minister Mahathir Mohamad attended the fight, the biggest in the country since the 1975 heavyweight clash between Muhammad Ali and Australian Joe Bugner.
"I would like to congratulate Senator Manny Pacquiao for giving us pride and bringing the Filipino nation together once more," said Duterte, who flew to Malaysia for the bout ahead of an official visit.
Duterte said in a statement that Pacquiao has proven himself again as "one of the greatest boxers of all time" and that the win will cement his legacy in the sport.
Scores of screaming Filipino fans in the stadium waved flags and chanted "Manny, Manny" throughout the match. Pacquiao's rise to fame from an impoverished rural childhood to become one of the world's wealthiest sportsmen over his 23-year career has made him a national hero.
Pacquiao said he will return to his work as a senator for now but won't be hanging up the gloves just yet.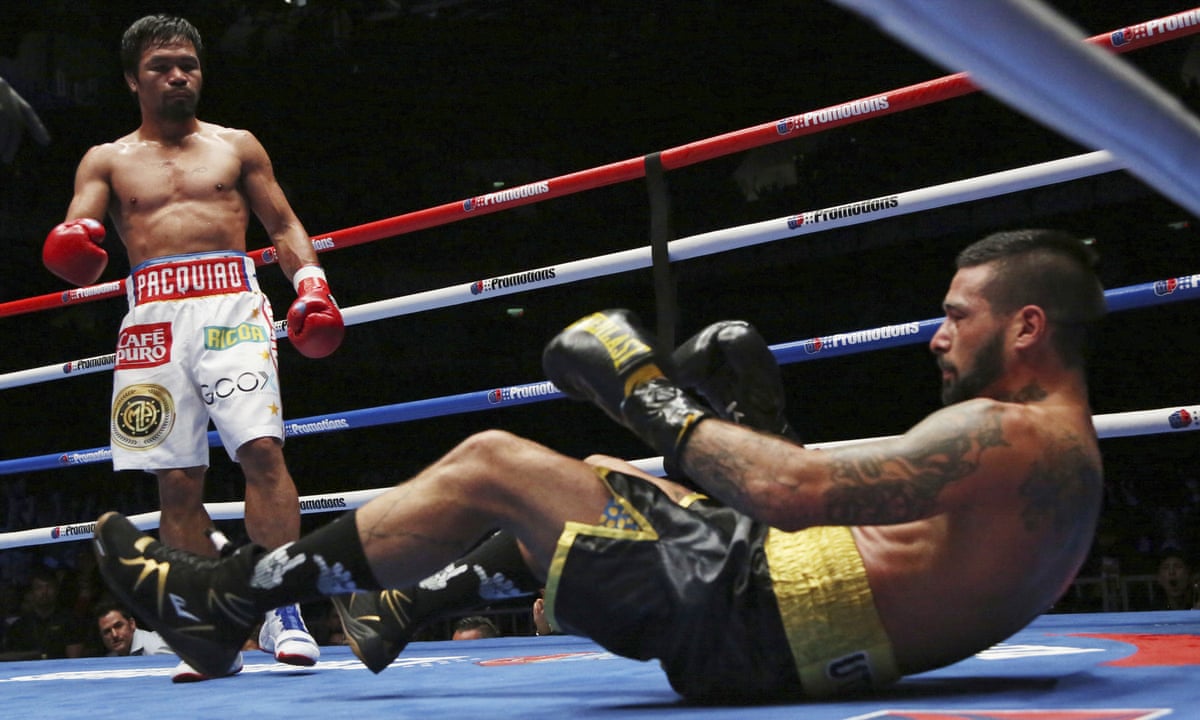 "I am addicted to boxing. I really love to fight and bring honor to my country," he said. "That's my heart's desire."
Meanwhile, some of Cebu's boxing personalities think Pacquiao should face Floyd Mayweather Jr. next.
"Yes, I think he can still continue but it depends on who his opponent is. Mayweather is good for Pacquiao now, win or lose, and then retire," said ALA Gym head trainer Edito Villamor.
Former International Boxing Federation (IBF) light flyweight champion Milan Melindo also believes that Mayweather should be Pacquiao's ultimate goal.
"Pacquiao had an impressive showing. He was very patient. In the first round he was a bit tense but later on he relaxed," he said.
Boxing promoters Michael Aldeguer and Gerry Peñalosa feel that Pacquiao should face his former sparring partner Amir Khan.
"Manny looked amazing at 39. Matthysse was a respected champion with tremendous power but Manny made him look ordinary," said Aldeguer, ALA Promotions president. "I think a good fight for Manny next would be Amir Khan before the big fights against Lomachenko or Crawford. But to me Manny doesn't need those big fights anymore. He has nothing to prove. Manny will go down as one of the best fighters ever in history regardless of what he wants to do next. He has done so much for our country."