Boxing
Mike Tyson
Who Won Mike Tyson vs Michael Spinks?: Results, Stats, Purse, Attendance, and More
Mike Tyson took on Michael Spinks on June 27, 1988, in one of the most highly anticipated fights. Michael Spinks won the gold at the 1976 Summer Olympics, turned pro the next year, and went unbeaten for 31 professional bouts.
Many people, including Muhammad Ali, believed that Spinks could stop the 21-year-old wrecking ball. Tyson came into the contest as the WBA, WBC, and IBF heavyweight champion. Spinks, on the other hand, put his Ring Magazine title on the line.
Mike Tyson vs Michael Spinks – Stats
21-year-old Mike Tyson came in at 218 pounds with an unbeaten record of 34-0 (30 KOs). In title fights, Tyson was 7-0 (5 KOs). Meanwhile, 31-year-old Spinks had not fought in the last 12 months.
He came in at 212 pounds, the heaviest weight of his career with an unbeaten record of 31-0 (21 KOs). In title fights, Spinks was 14-0 (9 KOs).
Mike Tyson vs Michael Spinks – Results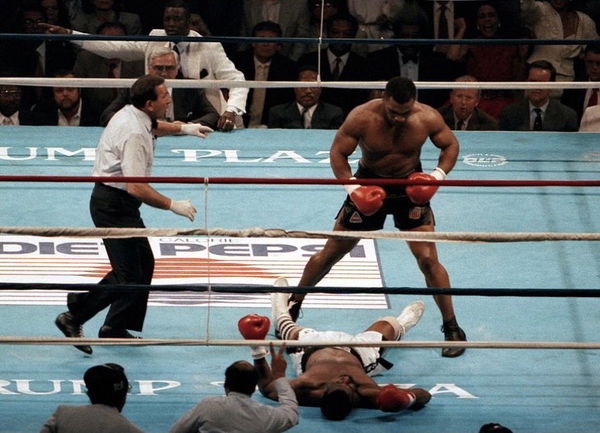 Mike Tyson walked to the ring with a stone-cold look, knowing what he was going to do to his opponent. Spinks, on the other hand, looked nervous as sweat dripped down his forehead and eyebrows. He had no idea what he was in for.
As soon as the bell rang, Tyson charged at Spinks, showing no respect for his power. All Tyson was trying to do was land one punch clean that would stun Spinks. 'Jinx' tried to clinch every time Tyson closed the distance.
However, less than 90 seconds into the fight, 'Iron' Mike landed a clean left hook followed by a right to the body. Spinks went down but made it back to his feet before the 10 count.
Tyson came charging back in and landed a one-two that knocked Spinks out cold. Spinks almost fell out of the ring as he tried to beat the count.
Mike Tyson vs Michael Spinks – Purse and Attendance
It took Mike Tyson just 90 seconds to earn one of the biggest purses of his career. 'Iron' earned a hefty $22 million, which was the biggest purse ever paid to a boxer at that time. Spinks, on the other hand, earned $13.5 million.
A sold-out crowd of 21,785 was present at Convention Hall in Atlantic City to watch this highly anticipated heavyweight matchup. This sellout crowd produced a gate of $12.3 million.