Boxing
Manny Pacquiao
Does Manny Pacquiao Deserve a Rematch with Floyd Mayweather After Decisive Loss?
In the immediate aftermath of the fight that undoubtedly deflated his legacy, it wasn't surprising to hear Manny Pacquiao contend that he had defeated Floyd Mayweather on Saturday night at the MGM Grand in Las Vegas.
After waiting so long for the chance to win the title for pound-for-pound supremacy of his era, he's allowed to let his pride speak.
"He didn't do nothing," Pacquiao alleged in his post-fight interview in the ring. "I thought I won tonight."
But one thing Pacquiao didn't do after losing a unanimous decision was demand a rematch. And let's hope it stays that way.
Mayweather-Pacquiao needed to happen for a multitude of reasons. Waiting for it was perhaps the longest cliffhanger in boxing history. But there's no reason to put those two back in the ring against each other and hope to see something different. We don't need a sequel to know that Mayweather is the superior fighter.
As one-sided as this fight was, it might be even more so next time around.
The one thing that might make Pacquiao fans believe in the chance for redemption is The Associated Press report about an injury Pacquiao was said to have suffered in training.
Tim Dahlberg's AP report said it was disclosed after the fight that Nevada boxing commissioners denied Pacquiao's request to take an anti-inflammatory shot before the fight to help ease the injury.
Some skepticism about the severity of that injury seems justified. Jim Lampley, Al Bernstein and Roy Jones formed a pretty strong broadcast team at ringside, and at no time did they notice any wincing or sign of shoulder pain from Pacquiao.
But there can be no skepticism about who won and left the ring as the best fighter of this era.
Pacquiao's left-handed game was supposed to give Mayweather trouble and make him look awkward. Instead, the opposite happened.
Pacquiao's footwork was always a step behind Mayweather's, and many of Pac-Man's punches were thrown off-balance instead of from a firm foundation.
Pacquiao was supposed to be the machine that made this megafight hum. Throughout his career, his fists have fired like nonstop pistons. But on Saturday night, it was like someone flooded his tank with low-octane fuel. Instead of drinking water between rounds, he maybe should have asked for an espresso.
Pacquiao cornered his prey a few times and did a little damage against the ropes here and there. But he stalked only randomly, and by the end of 12 rounds the two of them were nearly dead-even for punches thrown, which Pacquiao simply never lets happen. Worse, fewer than 20 percent of Pacquiao's punches hit the mark.
Mayweather had imposed his will on Pacquiao pretty much the same way he beat his other 47 opponents. It looked like his standard effort, with nothing special added for the showdown of his career.
If the two were to fight again, there's no reason to think Pacquiao's aim would improve, or that Mayweather would allow himself to become a softer target.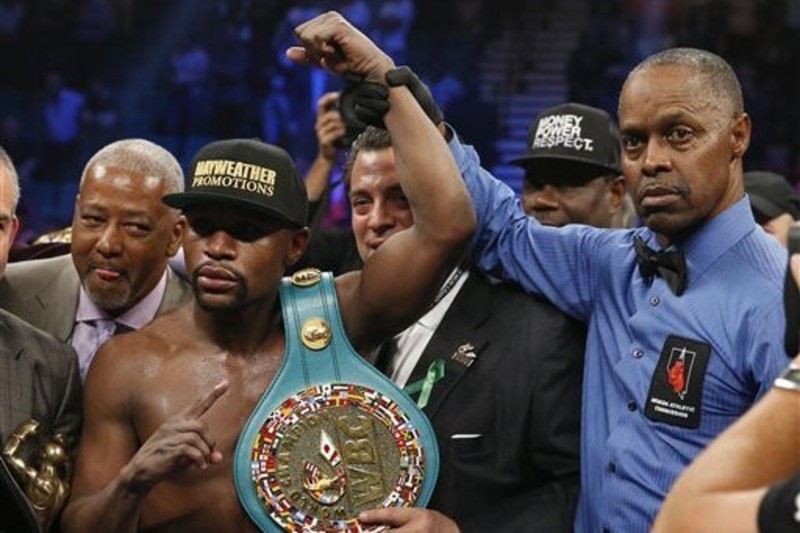 No, Pacquiao looked like the one who needs to retire before some young gun catches him flat-footed. And Mayweather looked like the guy whose career could go on and on.
So much for Mayweather, at 38, being the older contestant. He made Pacquiao, 36, look like the one who's closing in on 40.
But while the age difference was a non-factor, the two-inch difference in reach certainly worked against the smaller Pacquiao.
Mayweather was able to score from safe distance, and Pacquiao was hardly able to score from anywhere. It was like that for 12 rounds. Do we really need to see it for another 12 to believe it?
No. The only way Mayweather-Pacquiao II would be worth all the trouble would be if we could pack the combatants into a time machine and send them back five years, to when this fight should have happened. Back to when Pacquiao's bull rush still had a full head of steam, back to when he could have put a little terror in Mayweather.
The only time I thought Pacquiao truly hurt Mayweather was in the fourth round, when Floyd absorbed a shot and had to cover up amid the flurry that followed. Other than that, it was clear that Mayweather was in control of the pace and everything else that mattered.
Pacquiao was supposed to be the superior puncher, but the best pops of the night all belonged to Mayweather's right hand. It didn't sting all that often. It never does. But it was still by far the best weapon on display in a fight that never came close to witnessing a knockdown.
The bottom line was that Mayweather was still Mayweather in every regard. He had the winning combination of elusiveness and accuracy working as well as ever. He had defense that even a five-star general would have to admire. He even broke out his traditionally dormant jab.
But Pacquiao mostly fired blanks while looking nothing at all like a legendary brawler who entered the ring with 57 career victories, 38 of them by knockout, and many of them bloody.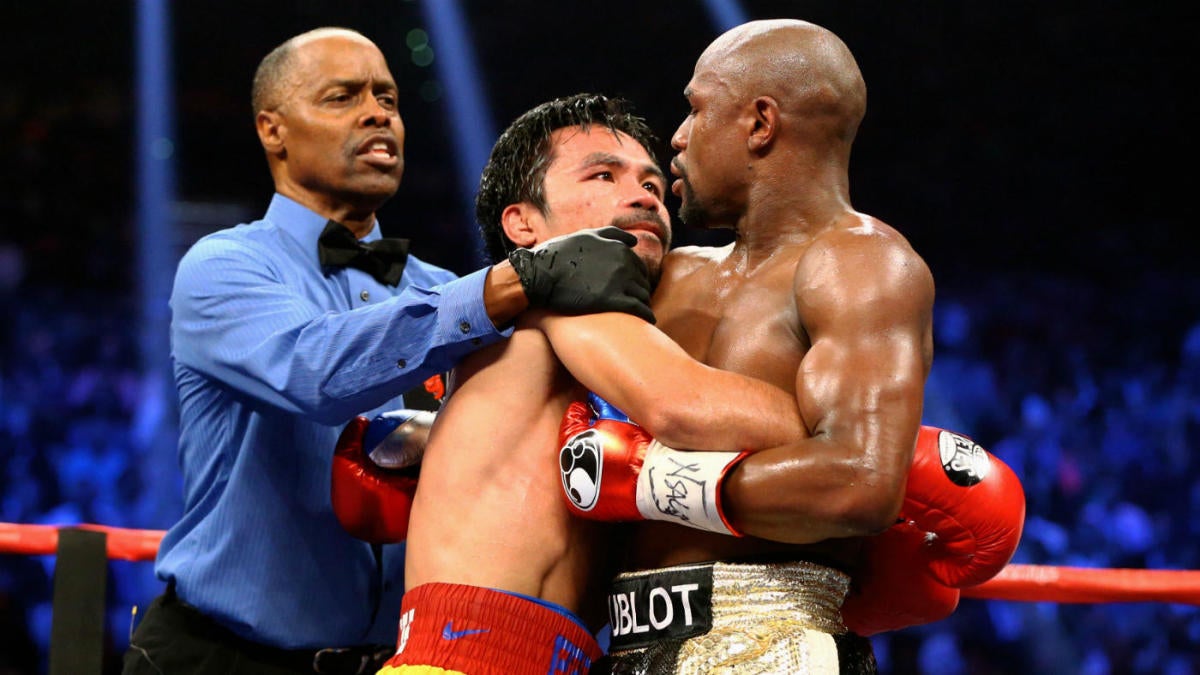 With so many marginal fight fans drawn in for this overhyped event, I'm guessing thousands upon thousands of them ended the night asking how the heck Pacquiao got so famous.
The fighters left the ring headed in distinctly different directions.
Mayweather bagged the one big name from his era that was missing from his fight log. By doing so, he probably moves into the top 15 of most credible lists of the greatest fighters ever. His style will always remain underappreciated among those who wish every pound-for-pound title was decided by the kind of toe-to-toe warfare that Thomas Hearns and Marvelous Marvin Hagler made famous.
But beating Pacquiao so handily validates the Mayweather methodology like never before. It may have even kicked open the door for Mayweather to edge into the top 10 all-time.
Pacquiao, meanwhile, likely dropped a couple of notches with the historians. He's been beaten six times now, and nothing says decline like an ex-champ going 3-3 in his last half-dozen fights. If he fights Mayweather again, he'll only plummet further.
Given the history that was at stake, and the patience that every boxing fan had to muster while waiting for this bout to happen, what we saw Saturday night was probably worth the $99.99 it cost to witness in high-def.