Boxing
Mike Tyson
Buster Douglas remembers knocking out Iron Mike Tyson, 25 years ago today
AN UPPERCUT AND three follow-up punches made James "Buster" Douglas a household name. And 25 years later, the brief heavyweight champion is still pleased his knockout of Mike Tyson ranks among the biggest upsets in sports.
"Being crowned champion was a dream for me," Douglas said of his Feb. 11, 1990 upset. "To achieve that was the ultimate. It was awesome."
A promising if enigmatic fighter, Douglas was given almost no chance of hanging around long with the undefeated heavyweight champion in their title fight in Tokyo. The bout was considered a tuneup for Tyson before an anticipated match with rising star Evander Holyfield.
In fact, the day before Tyson fought Douglas, promoter Don King called a news conference to discuss the dates and terms of that showdown. Douglas took note.
Douglas was a terrific athlete — he played small-college basketball — but was considered less than committed to boxing despite a 29-4-1 record as a professional. The son of club fighter Bill "Dynamite" Douglas, he had shown glimpses of promise but had also displayed a lack of heart and discipline at other times.
But roughly three weeks before the opening bell with Tyson, the person who believed in him the most, his mother, Lula Pearl, died.
Reminded this week that no one had thought he had a chance against Tyson, Douglas hesitated before saying: "Yeah, but she did."
Tyson was boxing's hope and its bane, a street tough who stepped into the ring in simple black trunks, black shoes and a sheared-off T-shirt. His temperament was erratic, at best. He could be emotional when he spoke of his late mentor and friend, Cus D'Amato, or he could also be raw, brutal and crude.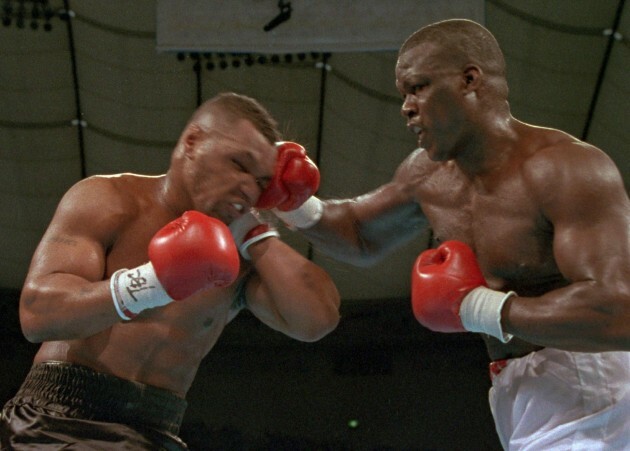 In the ring, he was a force of nature, always striding closer, always hurling punches, never yielding. He was 37-0 with 33 knockouts heading into the fight. Las Vegas oddsmakers made him a 42-1 favorite to do his wrecking-ball thing against Douglas.
They weren't alone. Ed Schuyler, a boxing writer for The Associated Press, was stopped at customs on his way into Japan. The customs officer asked Schuyler how long he would be working in Japan.
"About 90 seconds," Schuyler deadpanned.
Just before the opening bell, someone in the crowd shouted to Douglas to win it for his mother.
The 6-foot-4 Douglas, with JD McCauley, his trainer and uncle, along with manager John Johnson in his corner, came out inspired. He held his own in the early rounds, holding off the shorter Tyson's charge with his left jab.
Late in the eighth round, Douglas went down.
"I was kind of, like, admiring my work: Looking at him, taking my time to look at everything that was going on and paying more attention to how he was reacting to the punches instead of continuing to fight," Douglas recalled. "He ended up catching me with a good shot. When I got up off the ground, I knew I had to get back on focus, on point, with what I was doing."
King and Tyson would later claim that Douglas didn't get up in the mandatory 10 seconds as the round came to an end. But by the official's count, he was standing and in control of his faculties at the count of 8.
"I knew where I was the whole time," he said. "I could have got up at six, but I had a couple of seconds and I took my time."
After the fighters returned to their corners, Douglas dominated the ninth. Then in the 10th, he rocked the world.
"I finished him up with a combination," Douglas said. "I hit him with four terrific shots. He wasn't able to get up."
King, seeing a gigantic payday floating away, appealed the outcome but, days later, all of the major organisations recognized Douglas as the champion.
"This makes Cinderella look like a sad story, what Buster Douglas has done here tonight," HBO boxing analyst Larry Merchant said after the fight.
Through a spokesman, Tyson declined to speak with The Associated Press about the fight. The two boxers have met each other only once since.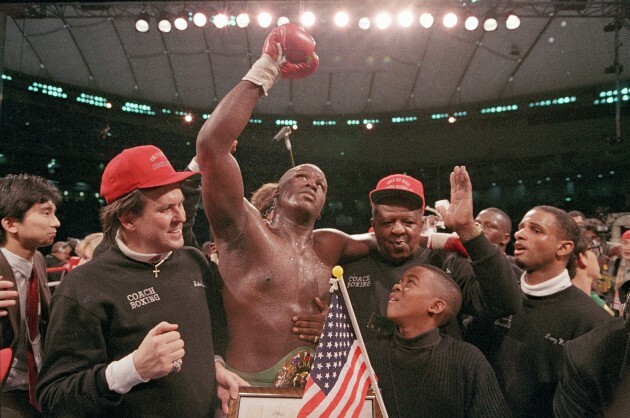 "We only crossed paths once, and that was a few years back down in Cincinnati," Douglas said. "There wasn't much conversation. It's not like we sat down and talked about it and (became) friends, anything like that. He was still kind of short (with me). So I didn't push it any further."
Tyson's life, in and out of the ring, has grabbed headlines for years. Meanwhile, Douglas is content to live a quiet life in a large home near a farming village 25 miles from his hometown of Columbus.
He quickly lost the heavyweight title to Holyfield in October 1990 in Las Vegas. His cut of his lone defense, estimated at $7 million after taxes, set him up for a comfortable existence.
Douglas is past struggles with weight and blood sugar, saying he now "could go a few rounds" at the age of 54.
He has thrown himself into raising his four sons with his wife, Bertha. He spends five days a week coaching young boxers at a local rec center and prides himself on how well they're doing.
All these years later, he says it was no fluke.
"When I was itty-bitty and I first put on a pair of gloves when I was 10 years old, that was the beginning," he said. "I just felt I could do anything. It was just a belief. I believed in myself and that I had the ability to do that. It's something that my mother instilled in me at a very young age: You can do whatever you want."