The Undertaker
Undertaker – Wrestling Through First and Second-Degree Burns
In 2010, following a disaster that never should have happened, the Undertaker wrestled through agonizing pain after suffering first and second-degree burns. It was a severe error that cost the job of one WWE employee.
An Entrance Goes Wrong For The Undertaker
The entrance of the Undertaker is a spectacle. The lights go out, the gong hits, and the eerie music begins. He methodically walks to the ring, striking fear in his opponent's eyes. It sets the tone for the match before it even begins and is an entrance that fans paid to see.
So you can imagine the shock for those in attendance at the 2010 Elimination Chamber pay-per-view who had their eyes fixated on the Undertaker as flames engulfed him.
Despite being on the receiving end of first and second-degree burns and a chest burn that would bubble up during the match, the Undertaker was able to shrug it off. He would remain in character for the entirety of the match.
After a quick dash through the flames, he took off his jacket and continued walking down the entranceway as if nothing happened.
The accident was unavoidable for the Undertaker. It solely came down to a pyrotechnician that got it wrong.
Undertaker remaining in character during the entrance was only the beginning of his professionalism that night.
What Went Wrong?
Only recently has the Undertaker started diving into media and interviews. For many years before this, he seldom spoke out of character. Now that he's stepped away from the ring, the Undertaker is now open to sharing stories about his career.
In November 2020, he sat down with Stone Cold Steve Austin on the WWE Network Exclusive show Broken Skull Sessions. There, he and Steve watched back the incident, and Undertaker shed light on what happened and the damage caused.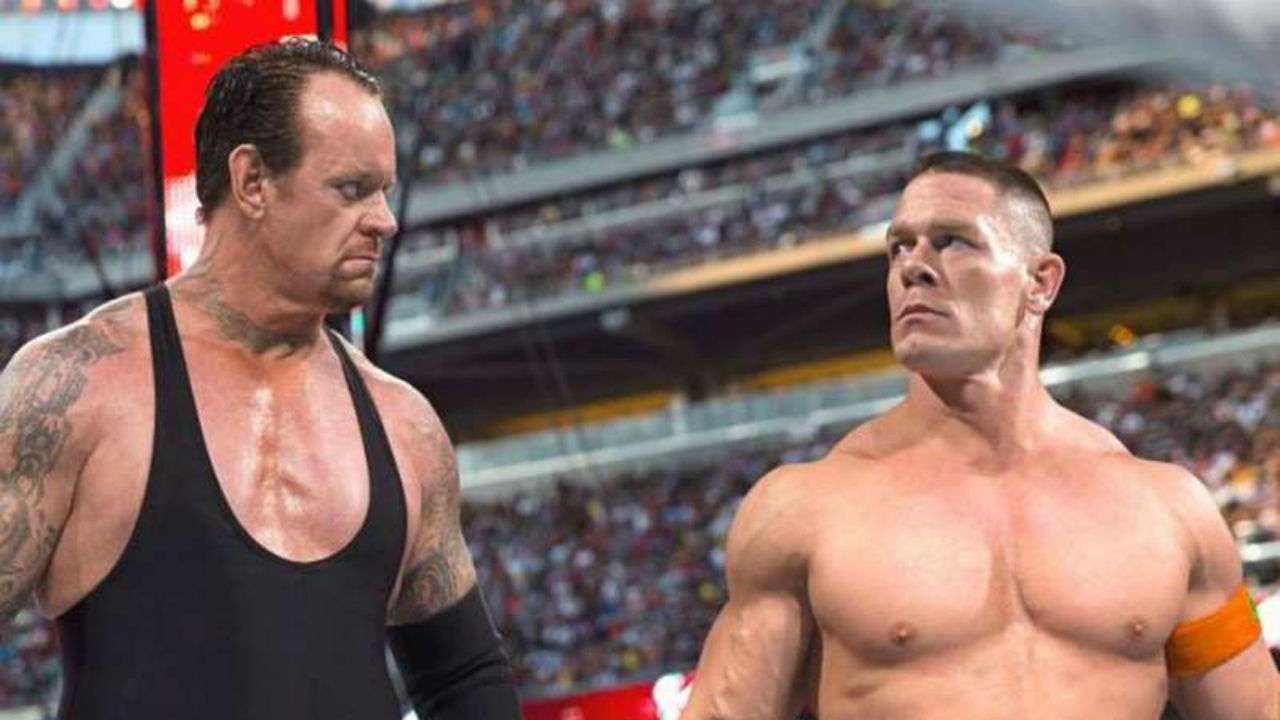 "When I'm watching this, I'm thinking, 'Oh my god, he's gonna kill somebody.' Or he could have been killed, I'm just glad he's okay," Steve Austin said in reaction to Undertaker wrestling through the burns.
"When I see you there, I see pain, adrenaline, and rage."
The Undertaker responded and confirmed this.
"Absolutely. You nailed it all on the head. The adrenaline needle is peaked right there; I was beside myself. I'm looking down at my chest because my chest is just bubbling up. My flesh is just rolling up."
Undertaker continued, "I'm pouring water all over myself to cool myself down. I knew I had to sit in that pod for 20 minutes, and then I had to work another 20 minutes after getting in. I was trying to assess where I was at physically with the burns. All I could smell was my burnt hair and flesh."
The water, however, didn't ease the pain as much as Undertaker would have liked.
"Despite all that water, every time I looked down, my skin was bubbling up more and more," he told Steve.
The Undertaker displayed tenacity and strength so well that you could barely notice anything went wrong during the WWE's broadcast of the entrance.
Although the botched entrance was unfortunate, Undertaker made some last-minute decisions before the match that protected him more than he ever could have realized.
"Initially, I had one of my other sleeveless coats. At the very last minute, however, I decided to wear my duster-style coat. I was the world champion and wanted the belt to be displayed.
"Luckily, I had the presence of mind to know that I had to move forward. When I saw something other than fire, I could see that both my right sleeve and hat are on fire. I'm trying to get all that off and somehow stay in character."
Taker admitted that if not for changing jackets, the incident could have been devastating.
"If I hadn't switched jackets, my arm would have been completely exposed. Also, luckily, I had the second bottle of water and was dripping wet when I stepped out. It could have been far worse."
The WWE Employee Responsible Gets Fired
Behind the focus and professionalism of getting through the match was suppressed anger and rage for the Undertaker. A pyrotechnician was solely responsible for harming him, and he was fortunate not to suffer more severe burns.
What makes this ordeal even worse is that Undertaker had a conversation with the pyrotechnician at fault a couple of weeks before the event. It was a conversation that should have led to avoiding this incident altogether.
The Undertaker revealed to Steve Austin, "I'm usually a very forgiving and understanding person. But a couple of weeks prior [to that incident], I had a conversation with the pyro guy and told him, 'Look, the pyro burst is too close. I'm starting to feel it. I said, Let's back them out.'"
Despite this conversation, the Undertaker experienced the very thing he was hoping to avoid.
"I'm trying my hardest to stay focused and I'm also thinking in my head, 'I am about to kill this pyro guy,'" he added.
Chris Jericho, one of The Undertaker's opponents that night, spoke with Steven Lane of The Weekly Pro Wrestling Rush, confirming that the pyrotechnician was escorted from the arena and fired.
"[After the match], he was already in the trainer's room having a one-on-one conversation with Vince McMahon," Jericho said. "I remember, to this day, he said, 'I don't want any excuses. I don't want any apologies. I don't ever want to see that pyro guy again, because if I do, I'm gonna kill him.'"
"You got it," Vince stoically replied.
"That guy was escorted out of the building and we never saw him again," Jericho concluded.
What The Match Meant Beyond the Burns
There is no such thing as a good time to sustain burns, but the timing of this one was worse than any other.
It was in the build-up to WrestleMania 26, and this match was pivotal to that card taking shape.
If the burns were bad enough, the biggest rematch in WrestleMania history, Shawn Michaels vs. The Undertaker, would never have happened. Who knows how Shawn's career would have ended. The butterfly effect would have undoubtedly been a huge one, and massive changes would have needed to take place.
The Undertaker was the WWE World Heavyweight Champion coming into the Elimination Chamber match. Shawn Michaels, who was not a part of the match, interfered, superkicked the Undertaker and handed the title to his former bitter rival, Chris Jericho. It was masterful storytelling.
Shawn Michaels had come close to dethroning Undertaker's WrestleMania streak the year before, and he was desperate for a rematch. Still, The Undertaker, in storyline, was not too keen on that after already showing he was the better man the year before.
Shawn Michaels took matters into his own hands, forcing Undertaker into the match by taking away his world championship, even to the extent of helping a former rival win it.
It's known as one of the most iconic Elimination Chamber moments of all time, and it could have been missed altogether, along with the match at WrestleMania 26, had the burns been more severe.
Aftermath
Fortunately, in a matter of only three weeks, the Undertaker was back in action and was healthy enough to go on and have his illustrious rematch with Shawn Michaels in the main event of WrestleMania 26.
People think of many things when they think of the Undertaker and Shawn Michaels feud, but the fact that this match may never have occurred due to the burns is not often one of them.
It all worked out in the end, but how easily it could have ended much worse is a scary prospect even to ponder.