The U.S. Olympic boxing team won only one gold medal in 1996. That belonged to David Reid, who would go on to win a junior middleweight world title. But the squad also produced other top professionals.
There was Floyd Mayweather Jr., the recently retired pound-for-pound king and most successful boxer from the U.S. team; Antonio Tarver, who went on to become a dominant light heavyweight and holds a title today; Fernando Vargas, a two-time junior middleweight beltholder and one of the most popular fighters of his generation; Eric Morel, who had a notable flyweight title reign; and Zahir Raheem, who never won a title but remains a lightweight contender.
And then there is the ultimate overachiever: David Diaz, the laid-back Chicago native who wasn't even sure he'd turn pro after the Atlanta Games, much less go on to win a lightweight world title.
"I'm going to be honest — I have never seen myself getting this far," said Diaz, the youngest of his Mexican immigrant parents' nine children. "After the Olympics, I thought I had made it just by turning pro, because I didn't figure [I would]. After the Olympics, I said if anybody calls me, I'll turn pro. If nobody calls me, then I'm not going to do it because I didn't win a medal so I figured I wouldn't get any money."
Diaz thought he'd return to Chicago after the Olympics and enroll in college. "Or, I just might have been a 9-to-5er," he said.
As it happens, Top Rank's Bob Arum did call and asked Diaz if he'd be interested in pursuing a pro career.
"I was shocked, surprised, and I was like, 'Hey, somebody's interested,' so I thought I had made it just by doing that," Diaz said.
Diaz (34-1-1, 17 KOs) has done much more than turn pro. Although it's been a long, sometimes bumpy road, he claimed a 135-pound title and then retired Mexican star Erik Morales in his first defense last August in an action-packed fight. And while most of his Olympic teammates are either retired or can see their biggest fights in the rear-view mirror, Diaz, now 32, is on the precipice of his biggest fight when he defends his title for the second time against heavy favorite Manny Pacquiao at Mandalay Bay in Las Vegas on Saturday night (HBO PPV, 9 ET).
Pacquiao (46-3-2, 34 KOs), of course, is the junior lightweight world champion and one of the biggest stars in boxing. He's the icon of the Philippines, considered by most to be either the No. 1 or No. 2 fighter in the world, pound for pound, and has racked up championships in four divisions. Now, he's moving up in weight and seeking a title in a fifth weight class.
And Diaz? He's just hoping to get a new car.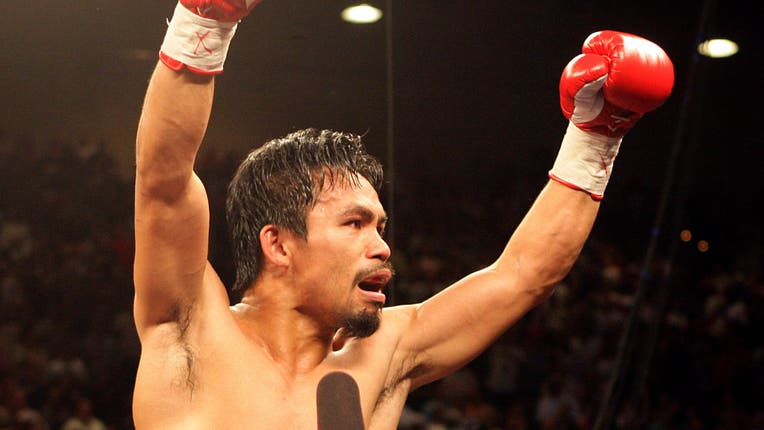 Although he's got a title and has enjoyed his newfound fame, the money hasn't exactly been rolling in. Still, he'll earn a career-high $850,000 to fight Pacquiao with a chance to earn more if the pay-per-view sells well.
"So, that's still missing," Diaz said of the riches. "I've got a '91 Honda that I'm still driving with no AC, so hopefully after this fight, after this victory, we'll be able to afford something better. But, it's more of a pride thing for me, man. Seriously. Never in my wildest dreams did I ever think that I would become world champion.
"It's like I'm in a dream and now I'm fighting one of the most dangerous guys in boxing, if not the No. 1 pound-for-pound fighter, and it's great. I want this challenge."
Diaz wasn't always as hungry to fight. He started his pro career like most Olympic prospects, moving steadily and reaching 13-0. But by 2000, he was stuck fighting in six- and eight-rounders and his career was not progressing.
That's when Diaz, sapped of his desire to box, having trouble making weight and saddled with serious family issues — his mother's kidney transplant and the 1997 death of a brother from AIDS — he decided to take a break from the ring.
"When I was fighting, I was not wanting to train, and I was barely making 140 [pounds]," Diaz said, candidly outlining his problems. "I had to cut like two days of meals out before so I could make the weight. And that's not a good way to do it. And, I was tired of going to the gym. You know, so much in the amateurs and then jumping right into the pros. I should have taken a little bit [of time] off, but I didn't.
"And then, I had my mom, who was sick. I had a brother who passed away, and all of that just didn't feel right. My life wasn't going the way I wanted it to, and I just decided to hang it up before I lost to anybody who was a regular Joe, a guy that I could beat, who ends up beating me, or I end up getting seriously hurt. So, then I just decided to move back home and hang them up."
But during the two-year layoff, which lasted from September 2000 to September 2002, Diaz met Tanya Quinones.
"I was going out with this one girl," he said. "She was pretty good, and she mentioned 'Why don't you try to go back into boxing?' My parents were always telling me, 'Hey, you should go into the gym,' but it takes somebody else from the outside who's not someone you see every day that you might end up listening to. And I ended up listening to her and I ended up going back into the gym, and then it took off from there where I found Strick [trainer Jim Strickland]."
By the way, Diaz married that "one girl" five years ago and now they have two sons, ages 3 and 1.
He said he took his would-be-wife's advice and came back to boxing because he didn't want to have any regrets later in life.
"When I took off for two years, I needed that rest," he said. "[But] I didn't want to become that person that, you know, sitting when he's 45, 50 years old wondering if he had done the right thing by not going all the way. So that's why I decided to come back, to come back and see if we could make a little noise."
As Diaz's trainer, Strickland has had a model student, a man who has clearly regained the hunger to fight. Strickland said he doesn't need to plead with Diaz to get up and run or to train.
"I think most of all, wit as discipline and self motivation, the very same qualities that brought him to earn this fight," Strickland said of Diaz's mentality. "That is he's a self-motivator. He doesn't compromise on the amount of time he's in the gym. He has what I call a Holyfield characteristic, a type of determination and confidence in himself that he feels he can beat anybody he gets in the ring with. He's not intimidated, whoever it is."
Diaz said he won't have trouble finding motivation when he's in the ring for Pacquiao.
"It means I will be able to put my kids through college and they will be all right," he said. "I was the youngest of nine children and that was something that my dad was unable to do for me. And if I win this fight? That will put me in a whole new tax bracket."
Which means he ought to be able to buy that new car, the one with air conditioning.