The Undertaker
WWE Legend Rubbishes AEW Wrestler Chris Jericho's Disputed Claim: "If the Undertaker Had Been in the Locker Room, He Would've Shut That Sh*t Down"
The WWE locker room has seen many amateur wrestlers turned into WWE legends for years. One such name on the list is The Undertaker. The Phenom started his career in the WWE in 1990. After over three decades in the wrestling industry, Mark Calaway let The Undertaker rest in peace in 2017.
The former WWE Superstar Chris Jericho recently revealed that he has no plans of retiring from wrestling and explained how he now sees himself in "The Undertaker" role. Everyone knows how great of a WWE superstar The Undertaker is.
The AEW Star, Jericho, talking to Pop Culture, said, "Not that there's any comparison, but I think I'm kind of taking on like The Undertaker role in the WWE for his last few years there."
The AEW Star compares himself to WWE Legend
The Undertaker and Chris Jericho both have been in the wrestling business for a very long time. So when Jericho said that he could play 'The Undertaker' role in AEW, he meant he wanted to help the younger generation make a name for themselves.
Today, WWE Executive Jim Cornette took to his podcast to speak about Chris Jericho's comment. During the podcast, the wrestling fans asked Jim Cornette's take on the AEW Star, comparing himself to the WWE legend, The Undertaker.
Jim Cornette replied, "I got news for you; I've seen about 25 things that happened on AEW television that if The Undertaker had been in the locker room, he would have shut that s**t down."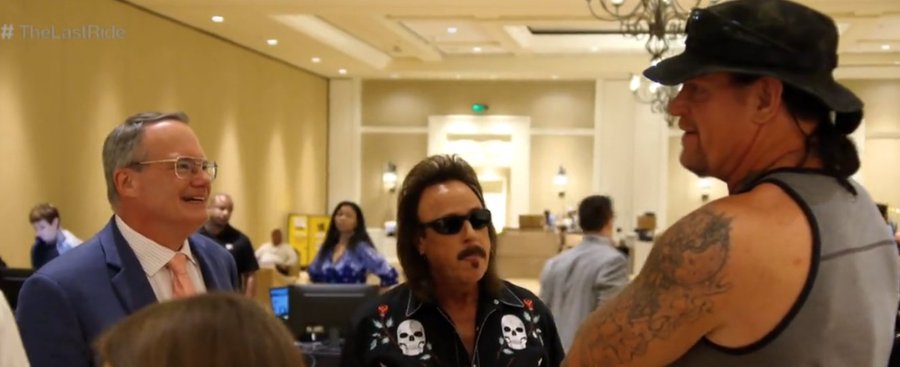 Jim Cornette was not ready to accept that Jericho could even play a tiny part of the WWE legend. Unlike The Phenom, Cornette imagines that Chris Jericho is not a humble and lovable shoeshine boy.
The Undertaker would have done his job unlike AEW Star
According to the WWE Executive, whatever happens in the AEW programming and locker room, Chris Jericho is not taking action behind the scenes. Jim believes that if it was The Phenom in the same locker room, he would have taken steps to improve the situation.
He added, "How egregiously fking egotistical can you be? He [Chris Jericho] did the obligatory, 'No, no there's no comparison,' then made all the comparisons that he thinks he's in that position that The Undertaker genuinely, truthfully was in, as this authority figure that will fking keep everybody straight and obviously he ain't doing that job because nobody's keeping any of that s**t straight."
WWE Hall of Famer Jim Cornette has used strong words for the AEW Star, Chris Jericho. Only time will tell what Chris Jericho has to say to Jim Cornette. So, what do you think, can Chris Jericho play the role of The Undertaker in AEW?