The Undertaker
PHOTOS: The Undertaker and Stone Cold Steve Austin Behind the Scenes at WrestleMania 38
The WrestleMania 38 weekend was one of the major and biggest shows WWE has ever seen. There were major shows back to back with WrestleMania on Saturday and Sunday. We also saw The Undertaker going into the WWE Hall of Fame and Stone Cold Steve Austin having one more match in front of his home crowd of Texas.
Overall WrestleMania 38 was really a stupendous show as Vince McMahon had advertised it would be. The Undertaker made his presence felt on both nights as a part of the newest Hall of Fame inductee, while Stone Cold had an amazing match with Kevin Owens.
However, the moments which we saw on TV and in the arena were different. The backstage environment was full of enthusiasm for The Phenom and The Texas Rattlesnake as it was WrestleMania weekend.
Recently, WWE shared the backstage pictures of WrestleMania 38. In one of the pictures, The Undertaker and Stone Cold both be seen talking with each other and having fun.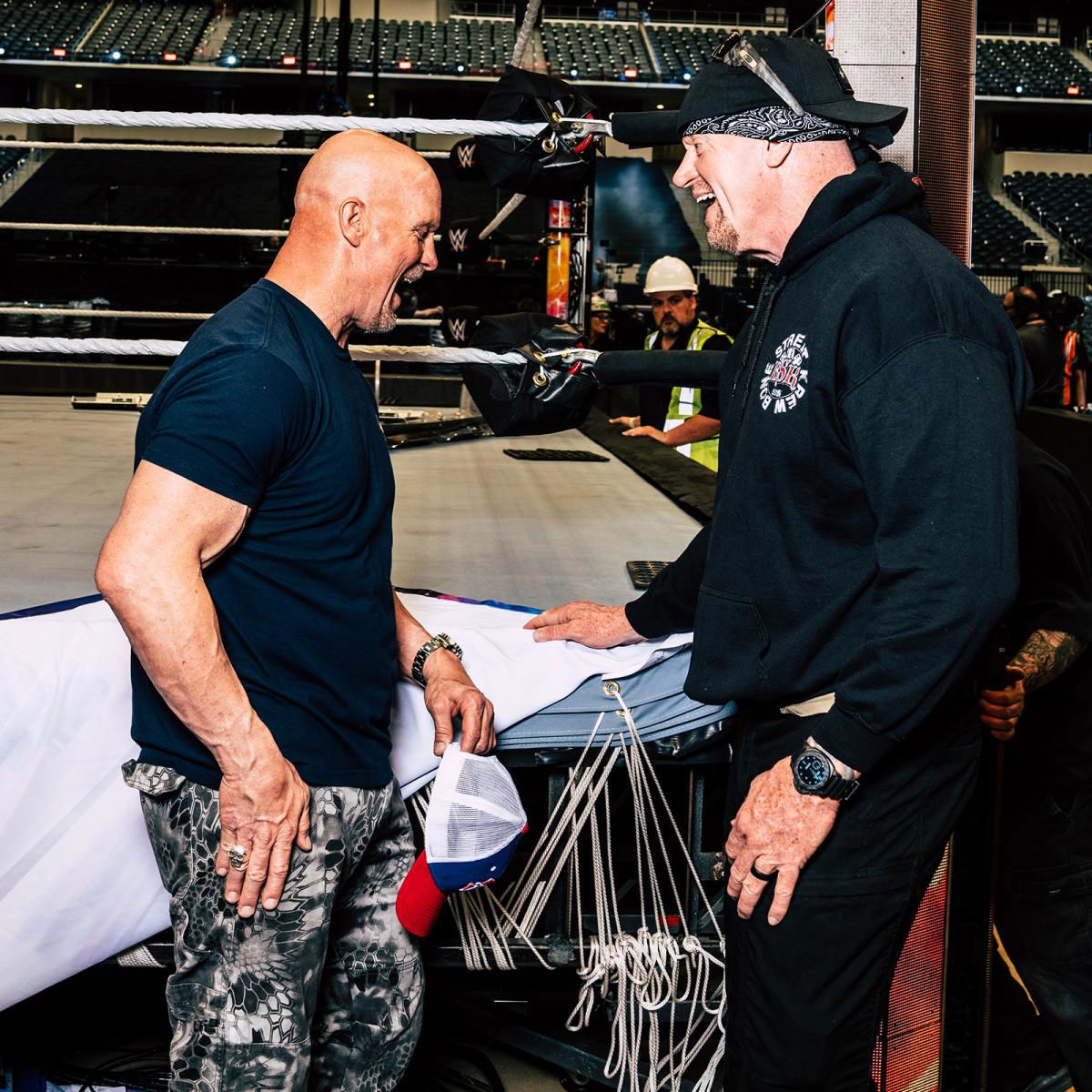 Both the legends seem to be in a good mood and were enjoying each other's company.
More pictures of Stone Cold Steve Austin
Stone Cold Steve Austin was hanging with many WWE Legends and superstars backstage before his segment in the KO show came, which was on the last spots of the night.
Watch this story:- WWE SmackDown Results: Roman Reigns Reveals His Next Step, Charlotte Flair Refuses a Rematch, and More!
Stone Cold also met the Olympic Gold Medalist WWE Legend Kurt Angle backstage. Both are shaking hands and asking each other about their daily life.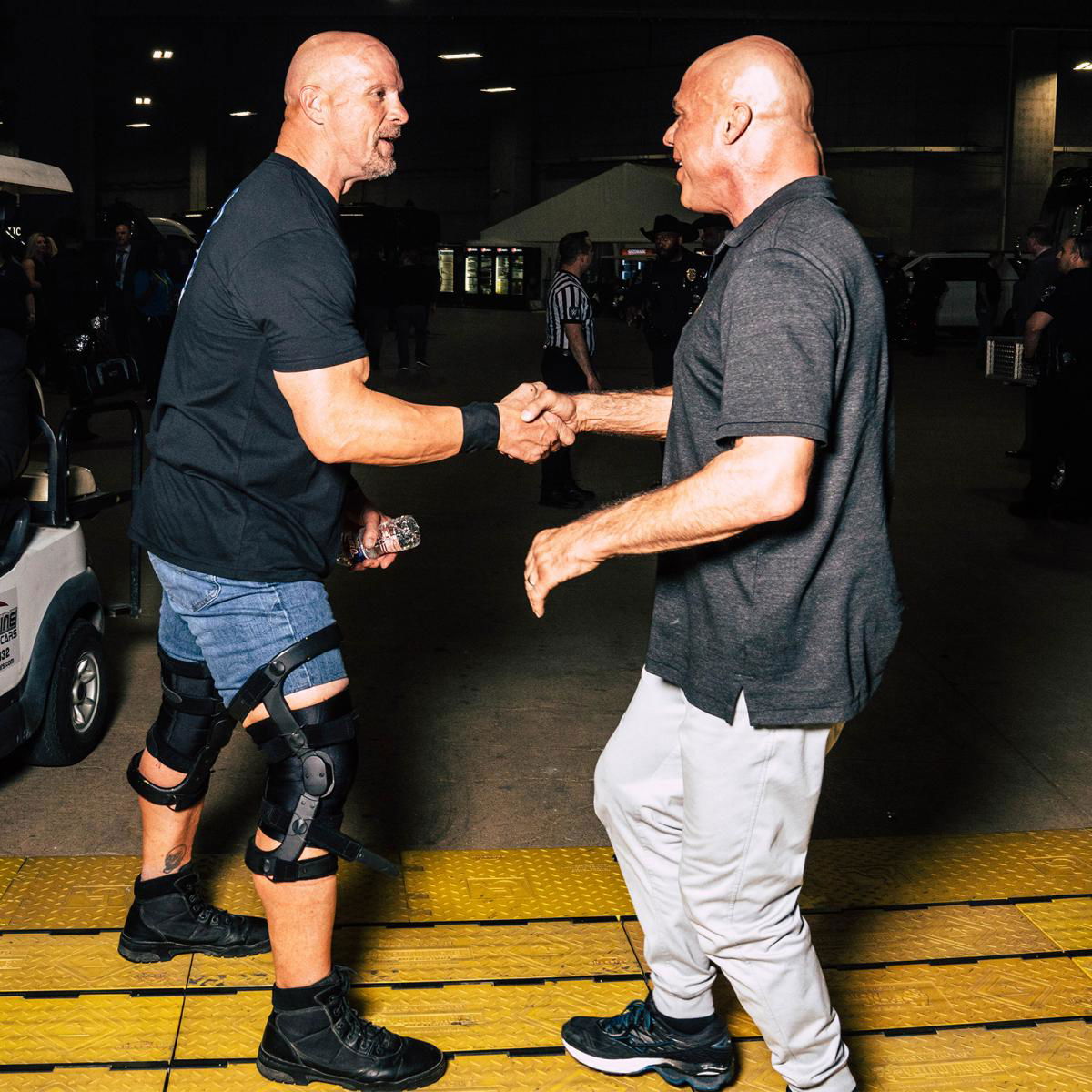 Austin also spent some time with the power couple of WWE, The Visionary Seth Rollins, and The Man Becky Lynch. Stone Cold and Becky seem to be laughing about something, while Rollins seems to be caught off-guard.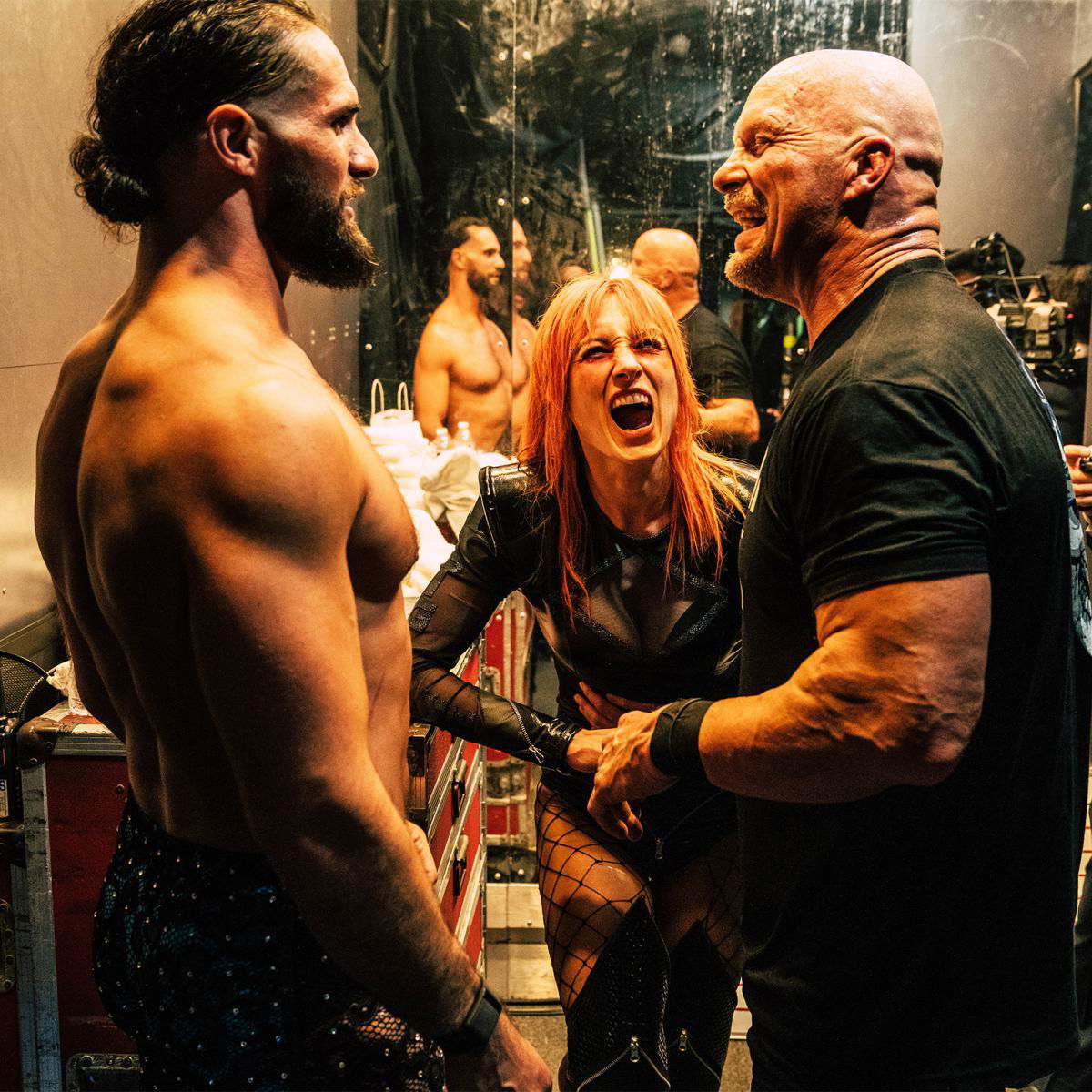 After Austin spent some time talking and giving some tips to Seth Rollins and Becky Lynch, the three of them took a memorable picture at WrestleMania 38.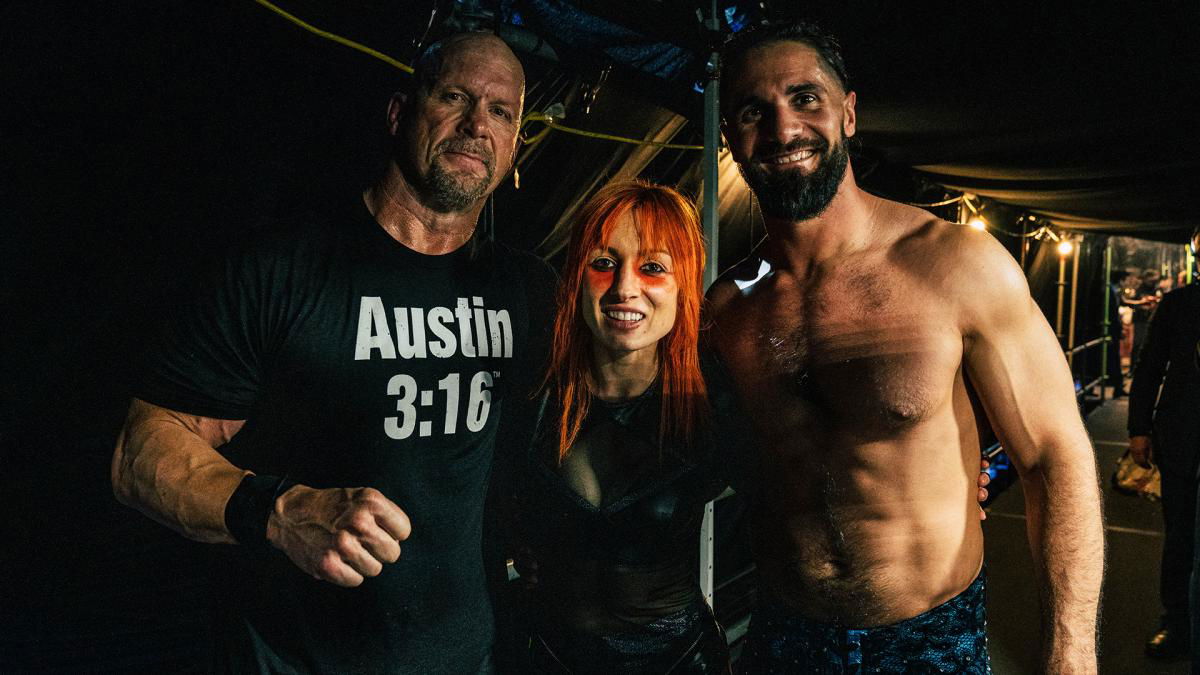 Stone Cold and The Man were also having a chat ringside before the show.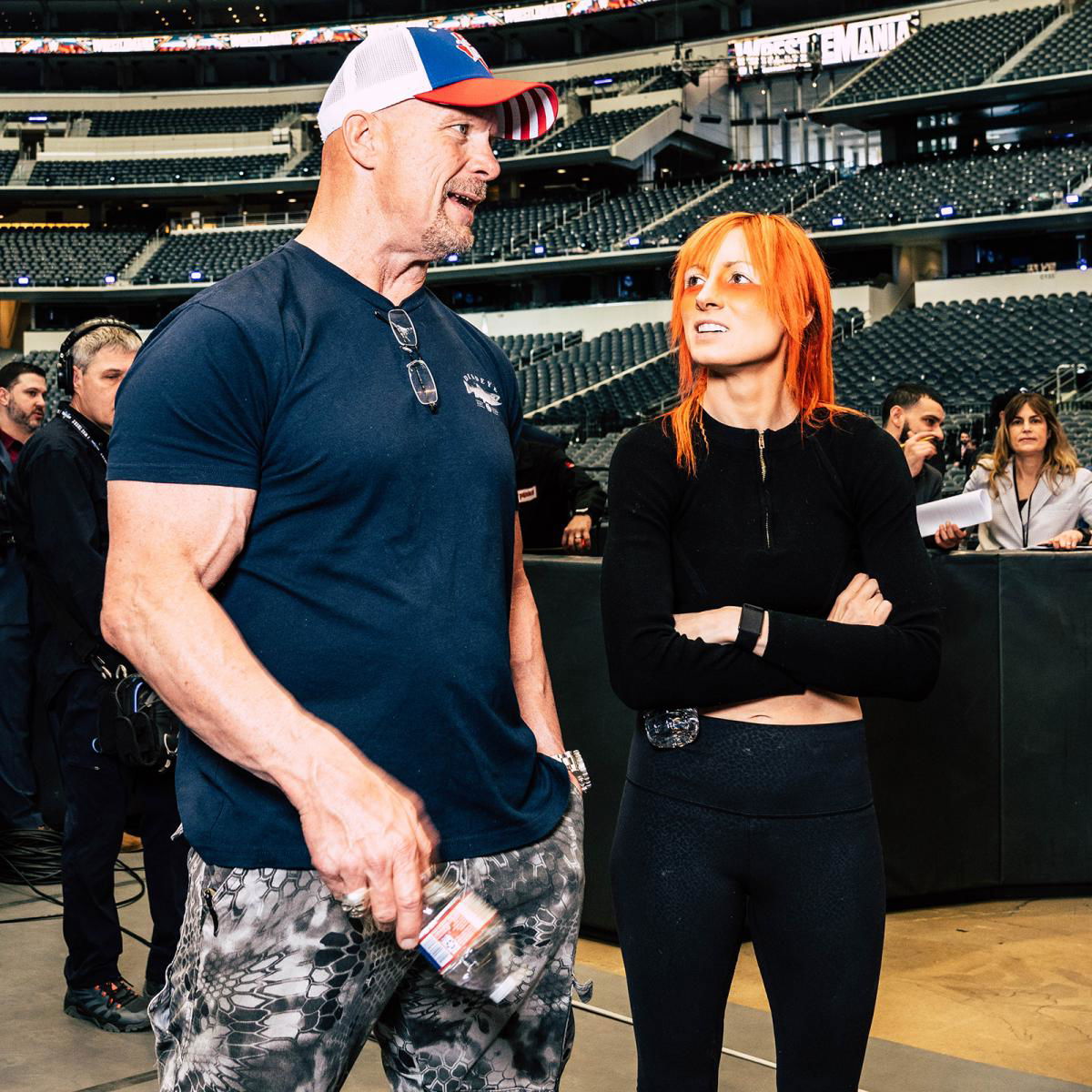 Stone Cold was also for some time talking with Sheamus, where they might be discussing about the future of The Irishman in the company, as he had been with WWE for over 10 years.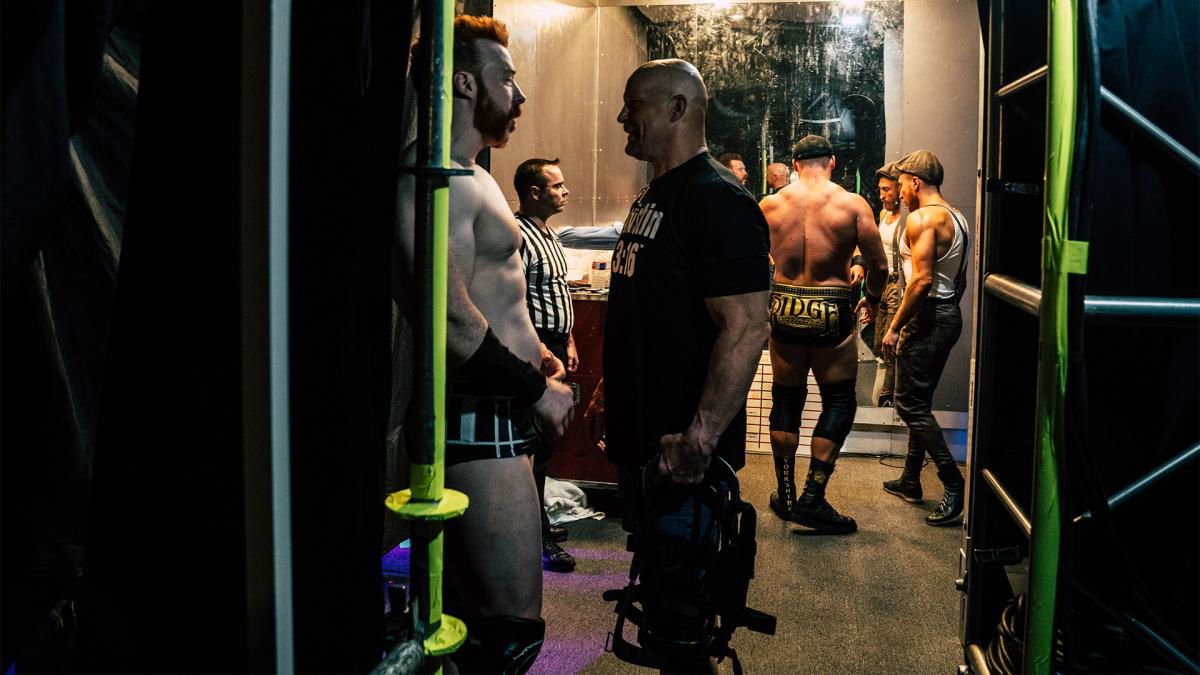 Also, after telling Austin to ' Shut Up' on RAW as a part of the show a couple of years ago, AJ Styles was also hanging out with The RattleSnake backstage. They both are good friends outside the ring.
It looks like Austin is remembering and laughing about their segment from two years back on RAW.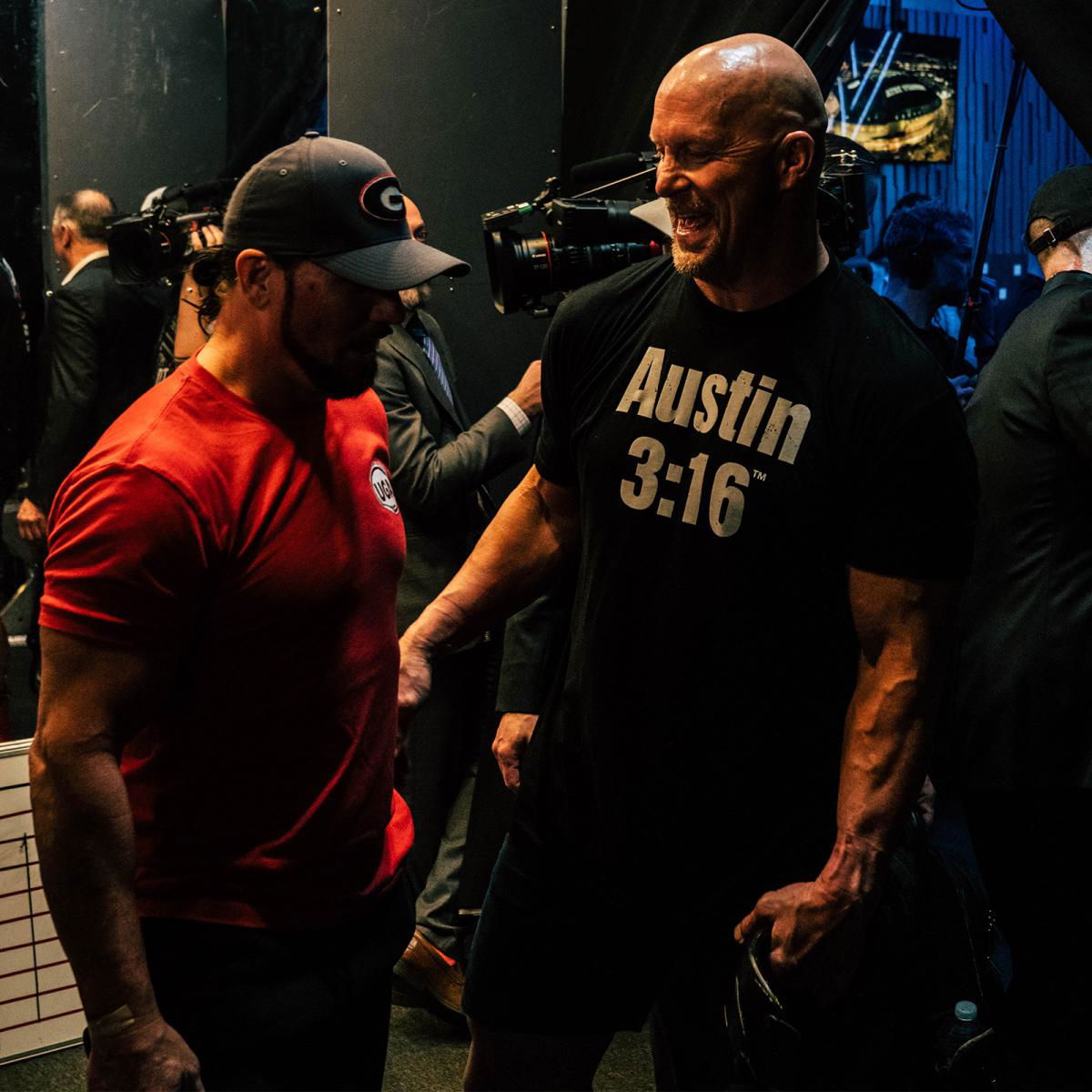 Stone Cold Steve Austin congratulated Cody Rhodes' for his victory and also welcomed him to WWE.
It was an astounding moment for Cody as he returned to WWE, won the match, and got some appreciation from Stone Cold.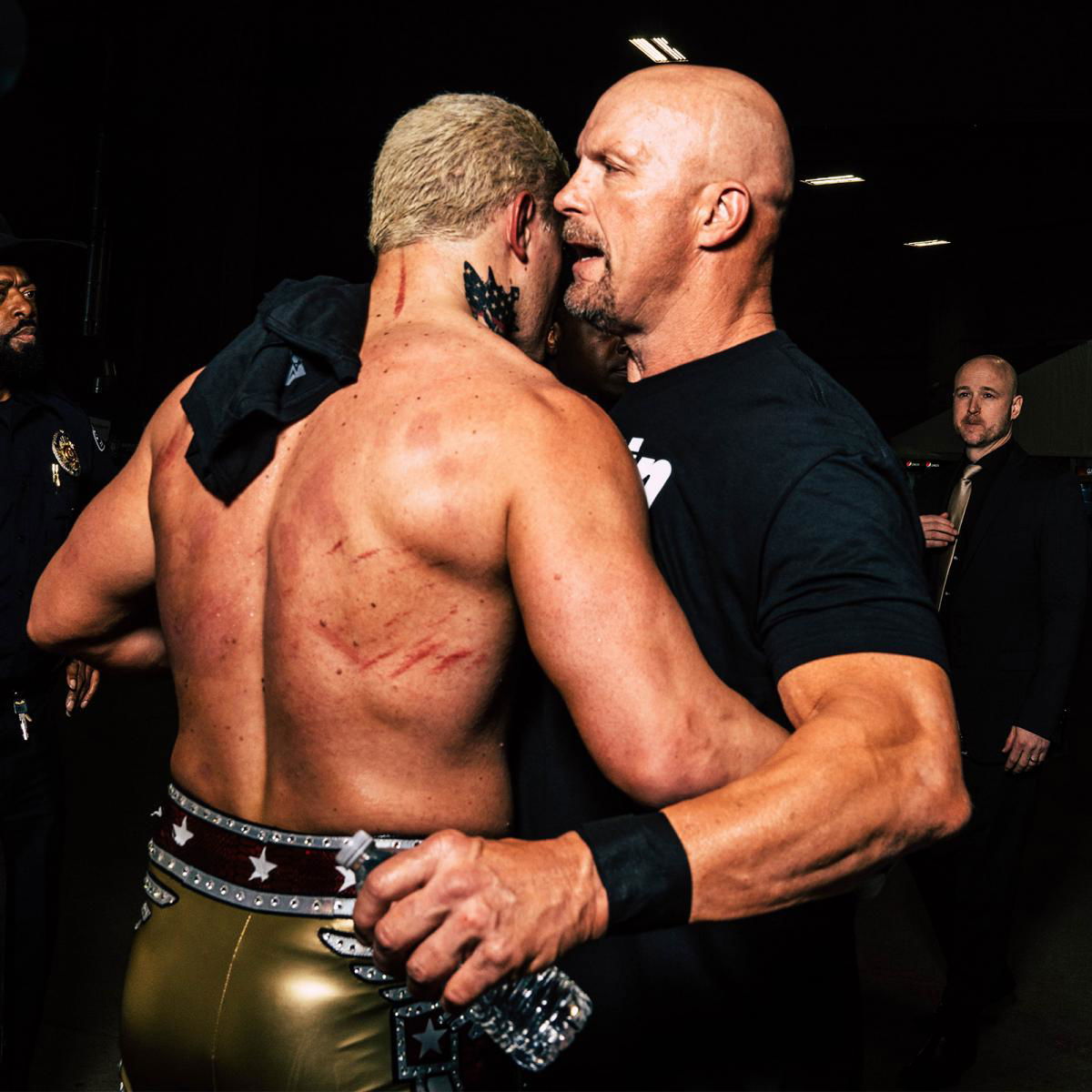 In the below picture, Austin is seen getting prepared for his match and segment against Kevin Owens.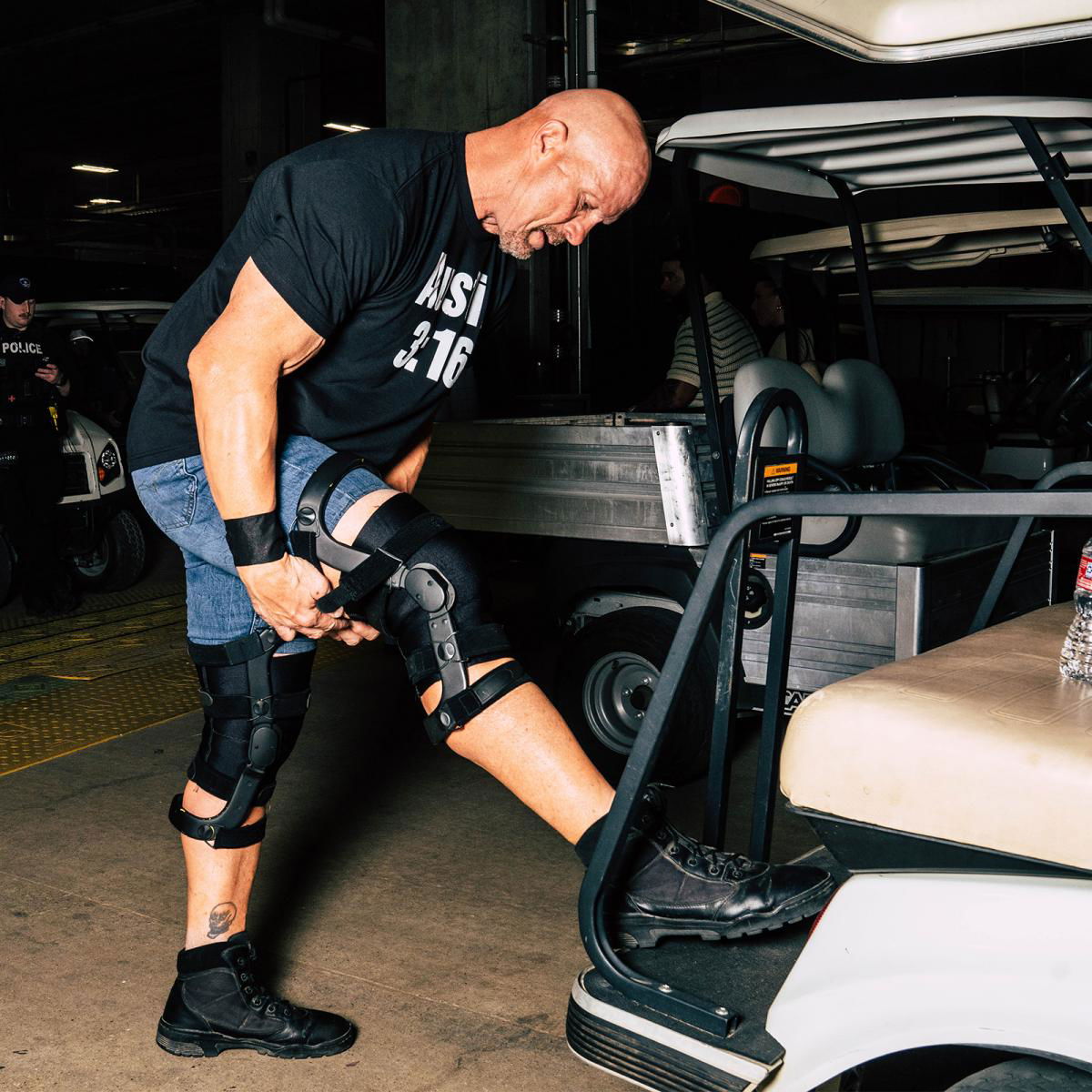 Stone Cold looking at the ring from the entrance area standing below the WrestleMania sign. This might have been a proud moment for The Rattlesnake, as he was hours away from his in-ring return.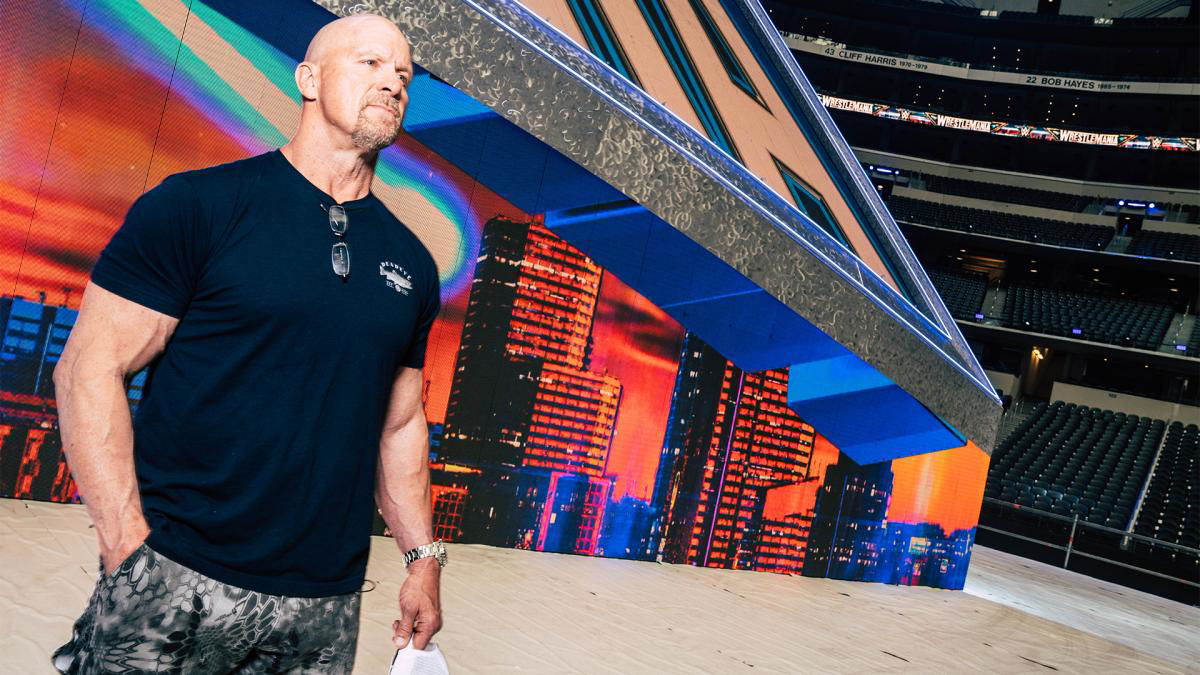 Austin after his match comes behind the curtains, and everybody appreciates him. Michael Haynes is seen clapping and cheering for Stone Cold.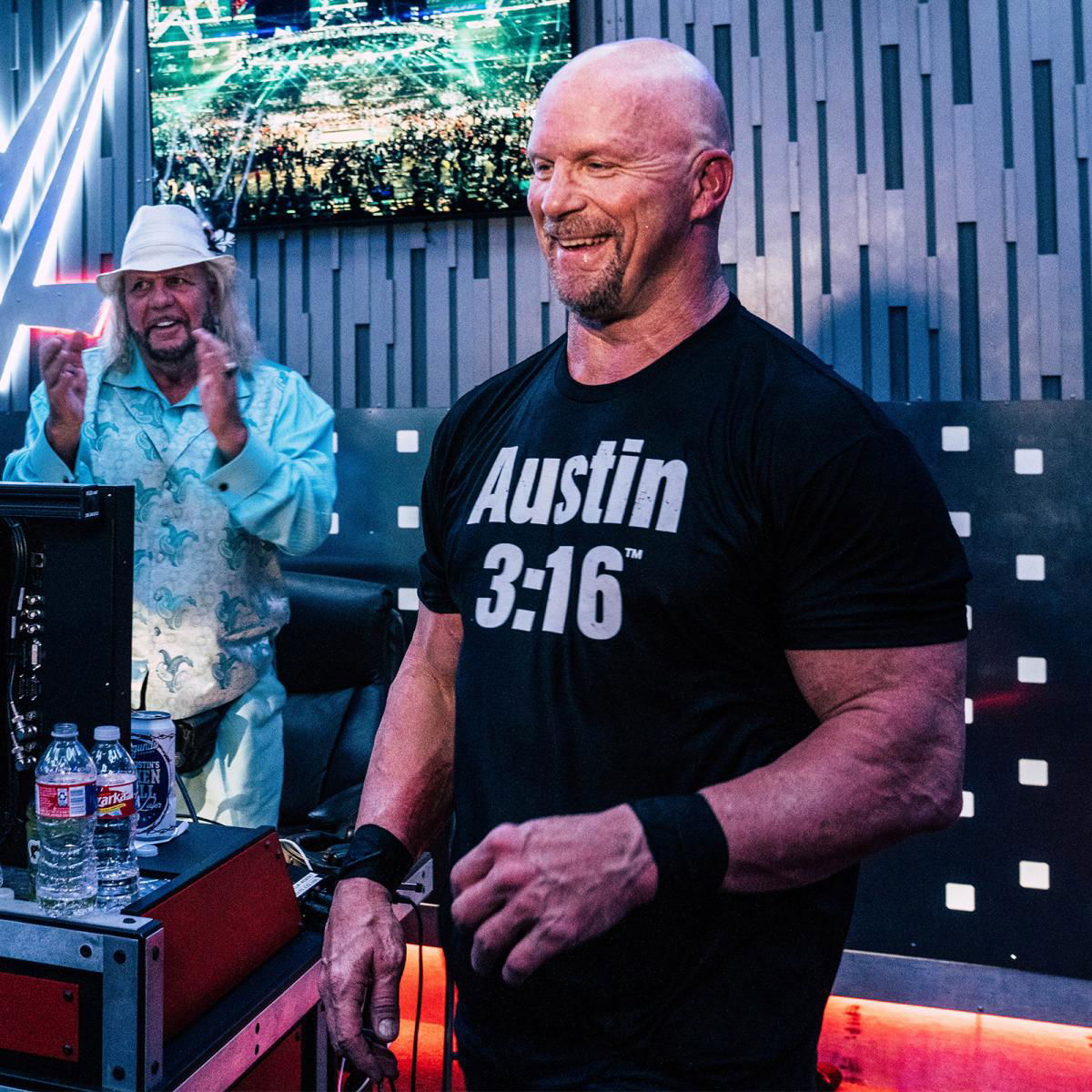 The Undertaker also had some pictures clicked backstage
The Undertaker with the cast of Jackass Forever, who were present at the event as support for Johnny Knoxville's match against Sami Zayn.