The Undertaker
The Undertaker and Ronda Rousey Share a Moment Behind the Scenes at WrestleMania 38
The Most Stupendous WrestleMania 38 featured The Undertaker's moment with the WWE Universe. In addition, The Undertaker had his WWE Hall of Fame ceremony during the WrestleMania weekend in his hometown, Texas. The Undertaker also appeared briefly in front of Dallas AT&T Stadium.
However, The Undertaker did not make his way into the ring. He only had a special WrestleMania moment with his grand entry and theme song. After his ultimate Hall of Fame induction, the WWE Universe was extremely joyous to watch The Undertaker at the Grandest Stage of them All.
Likewise, many WWE Superstars look up to The Undertaker as their idol. So, during the WrestleMania 38, even the 'Baddest Woman on the Planet' Ronda Rousey shared a jiff with Taker.
The Undertaker and Rowdy Ronda fist-bumped!
WWE Hall of Famer The Undertaker met 'Rowdy' Ronda Rousey during the first night of WrestleMania. Behind the curtains, Taker and Rousey were spotted backstage.
This was just before the WWE SmackDown Women's Championship match. Ronda Rousey faced 'The Queen' Charlotte Flair for the SmackDown Women's title.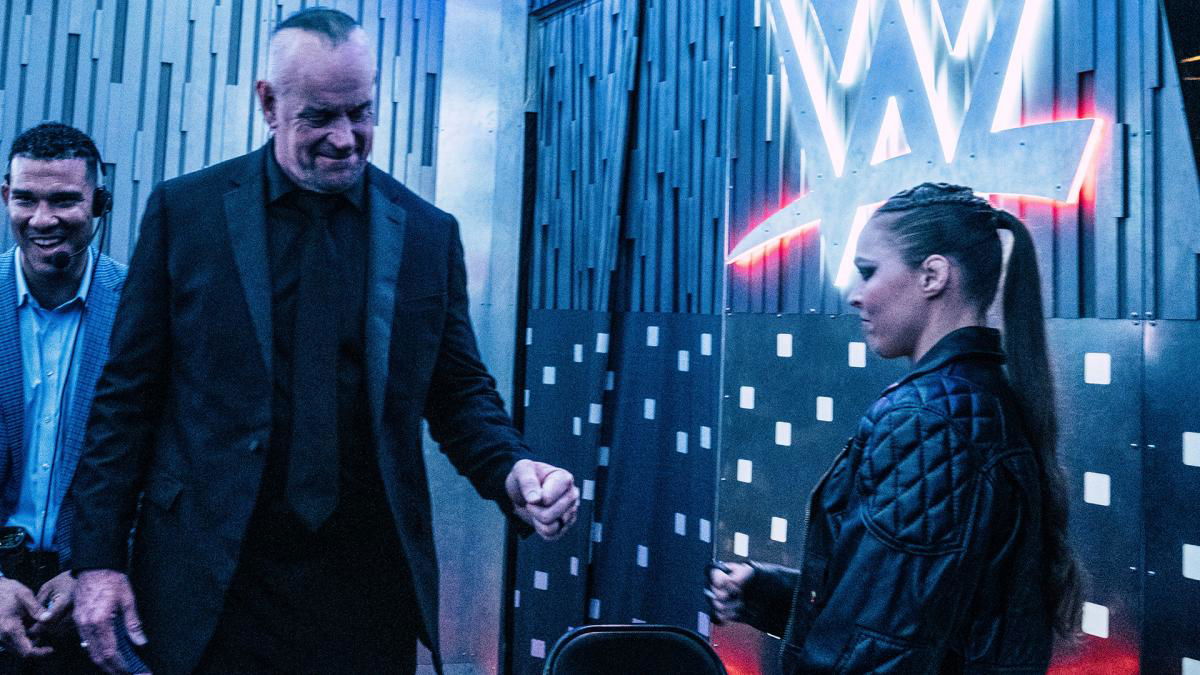 So, when The Undertaker was done addressing a short eye contact with the Dallas crowd, he shared a word with Ronda Rousey. The Phenom returned to the gorilla position and wished luck to the former UFC Women's Champion.
However, Taker was humble enough that he took time for the Baddest Woman on the Planet. Rowdy and Taker fist-bumped each other while having smiles on their faces.
Imagine Ronda sharing a fist bump with The Phenom. A deadly combination that can put many opponents to sleep. The newly formed WWE Hall of Famer gave blessings to Rousey before she entered the Most Stupendous WrestleMania arena.
Is this the first time The Phenom and The Baddest Woman on the Planet met?
The Undertaker also appreciated her UFC career and told her to bring the same fight to the Grandest Stage of them All. In addition, The Phenom may have also suggested her few tips that she can apply during her match against Charlotte Flair. This is not the first time that The Deadman and Rowdy Ronda have had a moment.
In 2021, Taker was also featured on an episode of "Rowdy's Places" online series from ESPN+. The Phenom took Rowdy Ronda on a wild ride where he recollected his memory from the 1996 Hell in a Cell. Rousey was glad to have Taker on board for her online "Rowdy's Places" series.