Manny Pacquiao
'Manny Pacquiao Has One of the Ugliest Styles I Have Ever Seen,' Says Rolly Romero
Rolando Romero is a young pugilist who is significantly known for trolling other boxers. However, some of them are champions and legends, too. In his recent interview, Rolly has criticized the legend, Manny Pacquiao for his boxing style. Moreover, he described how awful he feels about it.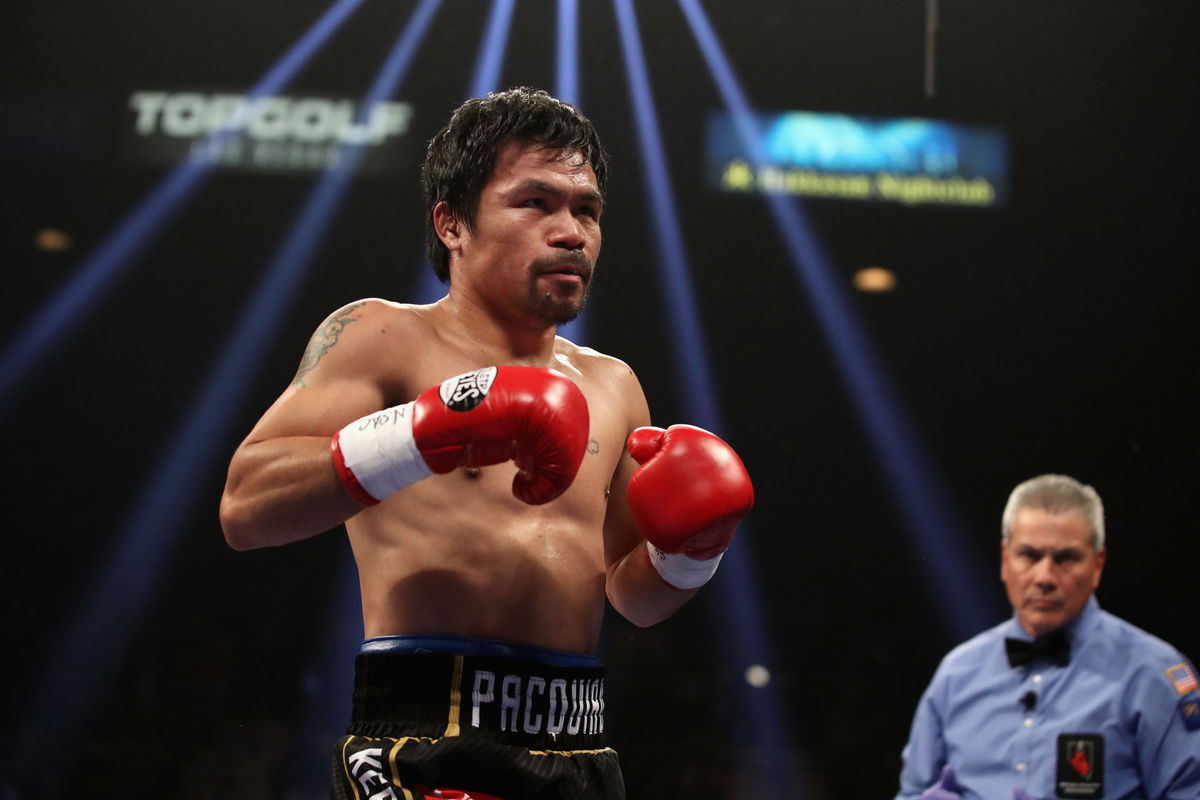 LAS VEGAS, NEVADA – JANUARY 19: Manny Pacquiao in the ring during the WBA welterweight championship against Adrien Broner at MGM Grand Garden Arena on January 19, 2019 in Las Vegas, Nevada. (Photo by Christian Petersen/Getty Images)
Rolando is an undisputed fighter who will face against the southpaw, Gervonta Davis, in his next match. This match is rescheduled from its prior date, because of some legal problems faced by 'Rolly'.Subsequently, it will probably be held in May.
He is one of the attention-seeking entities in boxing cause of his rants and his offensive criticism of the boxers.
Rolando Romero on Manny Pacquiao
In his recent interview with 'Last Stand Podcast with Brian Custer', Rolly criticized the Filipino legend, Manny Pacquiao for his boxing style and termed it as 'ugliest' he has ever seen.
"Manny Pacquiao has one of the ugliest styles I have ever seen and he's a division world champion and he's one of the legends of the sport, which . . .that brought boxing to the Philippines."
Rolando has some serious guts in him to criticize a boxer who is a legend and one of the best of all time. He describes 'Pac-Man's style as one of the ugliest he has ever seen. Subsequently, he wonders how he is a world champion and legend of the sport.
Some of more statements by Rolly
This is not the first time Romero has defamed any legend. He is in the highlight for taking digs in boxers and criticizing them over and over again.
Similarly, he has once openly asked Manny Pacquiao to retire from professional boxing. Moreover, He stated that Errol Spence Jr. would knock him out if Pacquiao faces him.
Such a bold statement on a veteran champion is shocking. That too from a young boxer who is yet to achieve a feat. However, people feel Rolando is a brat and an overconfident boxer who is just one knock away from losing all his arrogance. But it is a fact that he entertains the audience with his statements.