Manny Pacquiao
Juan Manuel Marquez Drops One Line Truth Bomb on Archrival Manny Pacquiao
The ongoing rivalry between Juan Manuel Marquez and Manny Pacquiao gets a lift as Marquez criticized Pacquiao for stating the truth about him in a single line.
In an interview with Fight Hub TV, Marquez disclosed the reason behind the loss of Manny Pacquiao against Yordenis Ugas.
Marquez emphasizes one thing while talking about Pacquiao's last loss of his career. He says, "Manny Pacquiao going down in every fight."
According to Marquez, Pacquiao's performance is declining over time. Moreover, he also gives the reason for it.
He proves his statement by saying, "Pacquiao, you know is his work, he is where the politician where he's no, he is not very focused for the fights and then, and then right now, is, is good for Pacquiao because he's, he's retired."
Pacquiao is the current Senator of the Philippines. Likewise, he has contributed a lot to developing his homeland.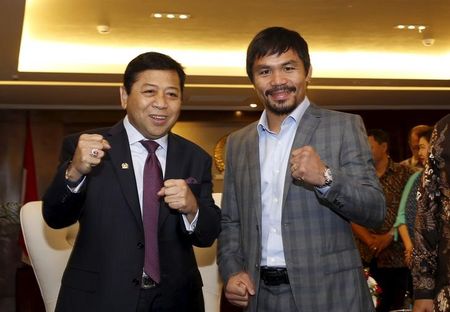 Marquez thinks that because of Pacquiao's additional responsibilities to his country, he cannot focus on the fights. Hence, this is the reason why he lost the fight against Yordenis Ugas.
Marquez also feels it is good for Pacquiao that he has retired and won't fight any more professional fights.
The long time rivalry between Manny Pacquiao and Juan Manuel Marquez
Pac Man and Manuel have faced each other 4 times in their career. The friction between the two boxers was witnessed in 2004 when they fought for the first time.
Their first encounter resulted in a split draw, because of which there was still no clarification about who the better fighter was. Subsequently, Pacquiao won the next two fights against Manuel, which gave him a higher hand in their rivalry. 
Marquez couldn't accept this, which urged him to face Pacquiao again in the ring to decide the best amongst them.
Finally, Marquez defeated Pacquiao in their 4th encounter by knocking him in the 6th round so brutally that Pacquiao was lying on the ground for a while.
It was a great shock for the Pacquiao fans to witness him lying on the floor after the brutal knockout by Marquez.
Well, who would know Manny Pacquiao better than Juan Manuel Marquez who faced him four times in his career?
Do you think Marquez has a precise judgment on Manny Pacquiao's loss? Let us know your views in the comments section.