The Undertaker
"Complete Sh*ts": Wrestling Legend, Who Made Millions for WWE, Reveals Fighting The Undertaker for the First-time
One cannot be old and experienced without first being young and inexperienced. Now, the latter isn't a bad thing, but it becomes rather prominent when put in the ring with someone much better. Hence, when Stone Cold Steve Austin took on The Undertaker in USWA, it was much different from what Austin can do now.
Currently, he is credited as the man who led WWE through its most successful era – The Attitude Era!
Recently, Stone Cold uploaded a photograph with Rod Price on social media as he reminisced about his time with his old tag team partner. He revealed that both of them got the opportunity to work with USWA, but only Steve Austin (a name given to him by USWA booker Dutch Mantell) went ahead with it.
In the comments section, a fan asked him about his match against The Undertaker in USWA and what he felt about it. According to Steve Austin, it could have been better had he been more experienced.
"It was the complete sh*ts. I was about as green as a golf course."
Of course, over time Stone Cold Steve Austin created a Hall of Famer career for himself. Today, he can return to the ring at any given moment and the WWE Universe will erupt. In fact, this is what happened when he returned at WrestleMania 38.
Interestingly, WrestleMania 38 was the last WWE PPV where The Deadman and The Texas Rattlesnake were present at the same time!
The Undertaker was 'The Punisher' in USWA
Today, the pro-wrestling industry knows Mark Calaway as The Undertaker. Vince McMahon created a character that went down in history as one of the most popular ones.
But, before he came to WWE as The Undertaker, he was working in USWA as 'The Punisher'. This character was never as famous as The Phenom was. Moreover, he had a mask that prevented him from showing any facial expression to the audience.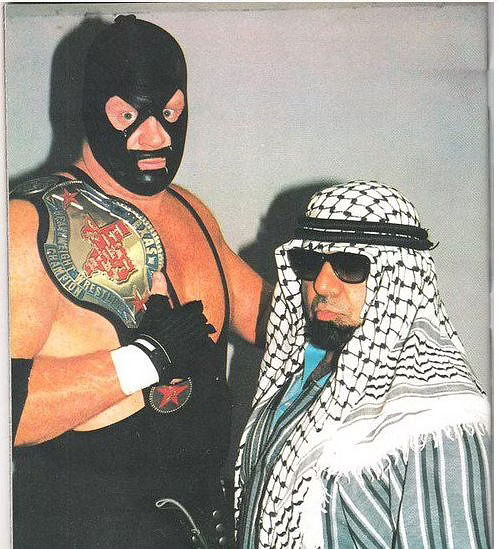 However, The Undertaker could express his emotions simply by moderating his facial expressions! Nevertheless, it was 'The Punisher' that Steve Austin took on at USWA.
Dutch Mantell once shared a program lineup that shows a tag team match -'The Punisher' and 'The Soultaker' [WWE Hall of Famer The Godfather] vs Steve Austin and Dutch Mantell!
Only if Mantell had known he was in the ring with 3 future WWE Hall of Famers at the same time!