The Undertaker
Former WWE Tag Team Champion Reveals The Undertaker's Grit Even in His Last Match
WWE Hall of Famer The Undertaker is known to keep his character intact whatsoever. For three decades, Mark Calaway became The Undertaker and entertained pro wrestling fans. The Deadman debuted for Vince McMahon's WWE at Survivor Series 1990 and started making a legacy from that point.
Exactly after 30 years, The Undertaker retired from wrestling at Survivor Series 2020. According to Mark Calaway, it was time for him to let The Undertaker rest in peace. 
The Deadman wrestled his last match in a cinematic Boneyard Match against 'The Phenomenal One' AJ Styles. This match was like a dream match for the WWE Universe. But even in his last match, Taker kept his character stubborn.
How was the Boneyard Match according to the Former WWE Tag Team Champions?
Former WWE Raw Tag Team Champions, The Good Brother (Luke Gallows & Karl Anderson) recently shared how The Phenom was determined to wrestle. In 2020, Luke Gallows and Karl Anderson were a part of 'The OC' stable along with AJ Styles.
Luke Gallows and Karl Anderson were invited to SiriusXM's Busted Open show and shared how everyone wished for the Boneyard Match in front of a live audience.
"I remember at the time; I remember us saying, because AJ was our best buddy, like, it's hard not to be in a stadium with a match like that. They wanted that. They deserved 80,000 people, and they didn't have it. So everyone made the best of a rotten situation, and the match was cool as sh*t," Luke Gallows said. (h/t Wrestling Inc)
The Good Brothers believe that The Undertaker vs. AJ Styles was supposed to happen in front of a live audience. However, because of the COVID pandemic, the Boneyard Match took place in a cinematic format.
Luke Gallows described Taker and Styles match as the most remarkable and most incredible match because the two men gave the performance of their life.
What happened to The Undertaker during the Boneyard Match at WrestleMania 36?
Luke Gallows also recalled how The Undertaker injured himself in the Boneyard Match at WrestleMania 36. During the battle, Taker smashed the glass window, resulting in several cuts on his arms. Even though the WWE had to stop filming the Boneyard Match to attend Undertaker's wound, he did not give up.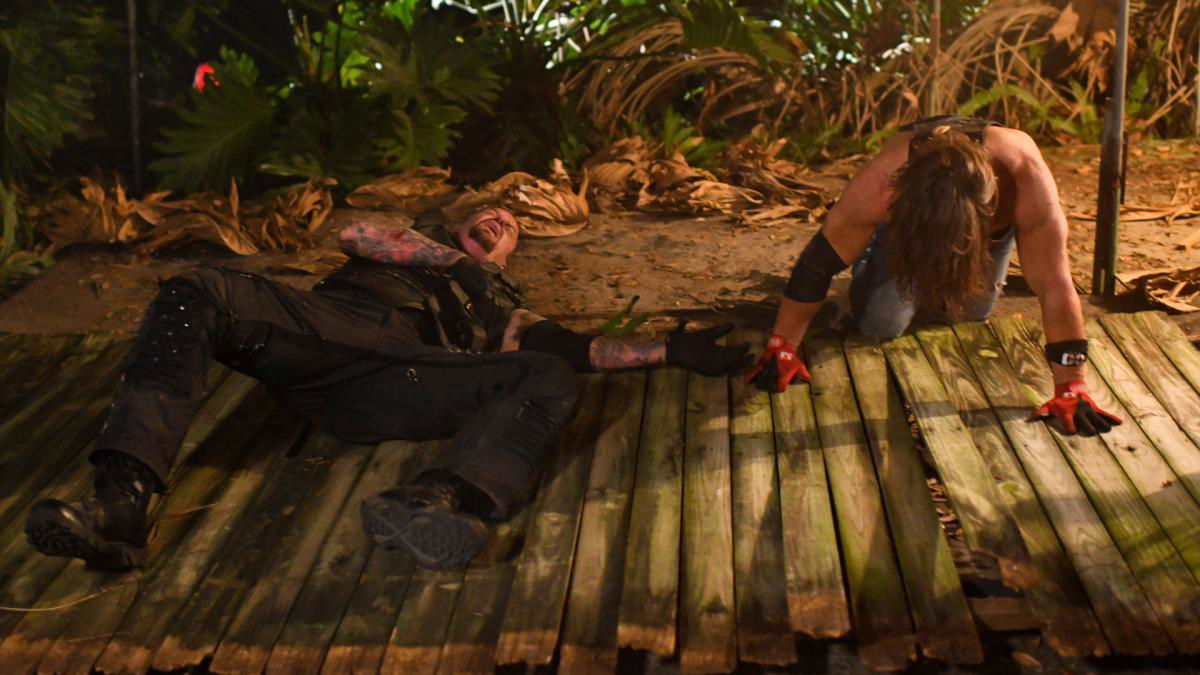 Gallows continued, "He [The Undertaker] punches the window out of the hearse, right? And his arm is bleeding profusely. You can see tendons. A lot of people, Karl, would have quit. I mean, every fifteen minutes, we would stop, ice, towel, hold it on to get the bleeding to stop. Alright, let's start going."