The Undertaker
"There's Three Cops Behind Me": The Undertaker and His Wife Michelle McCool's Face Off With Cops Is Unbelievable
The Undertaker and Michelle McCool are a power couple. Individually as well, they are two charismatic and accomplished individuals. During their respective WWE careers, McCool and Taker came across several wrestlers inside the squared circle. But this power couple also had a face off with cops at their home.
Michelle McCool and The Undertaker had this face off with the cops because of a 911 phone call. During a recent episode of The Wives of Wrestling podcast, Michelle McCool narrated this 911 phone call incident.
McCool noted that once a 911 phone call said that she has killed her husband, The Undertaker, with a sledgehammer. Because of this 911 phone call, three cops followed her into the neighborhood.
She said, "So I pull into the house, and I'm like, 'C**p, there's three cops. I'm like, 'What is going on?' They're like, 'Ma'am, is your husband home?' And I'm like, 'Yeah. Can you tell me what's going on?' They're like, 'No, we just need to make sure your husband's home.'"
"We finally get to the back of the house. He [The Undertaker] walks out in his towel. There's three cops behind me. He's like, 'What's going on?' And they finally told me somebody called 911 and said I had killed him with a sledgehammer," McCool added.
In real life, the pro wrestlers had many such interesting experiences. And there are several such untold stories. And this 911 phone call incident is just one of those stories that many fans might not be aware of.
The Undertaker recently got inducted into the WWE Hall of Fame
For so many years, the fans wanted to see The Undertaker into the WWE Hall of Fame. And it finally happened this year. Almost two years since his last match, 'The Phenom' took his place in the WWE Hall of Fame. It was a special occasion not only for the WWE legend but also for all his fans.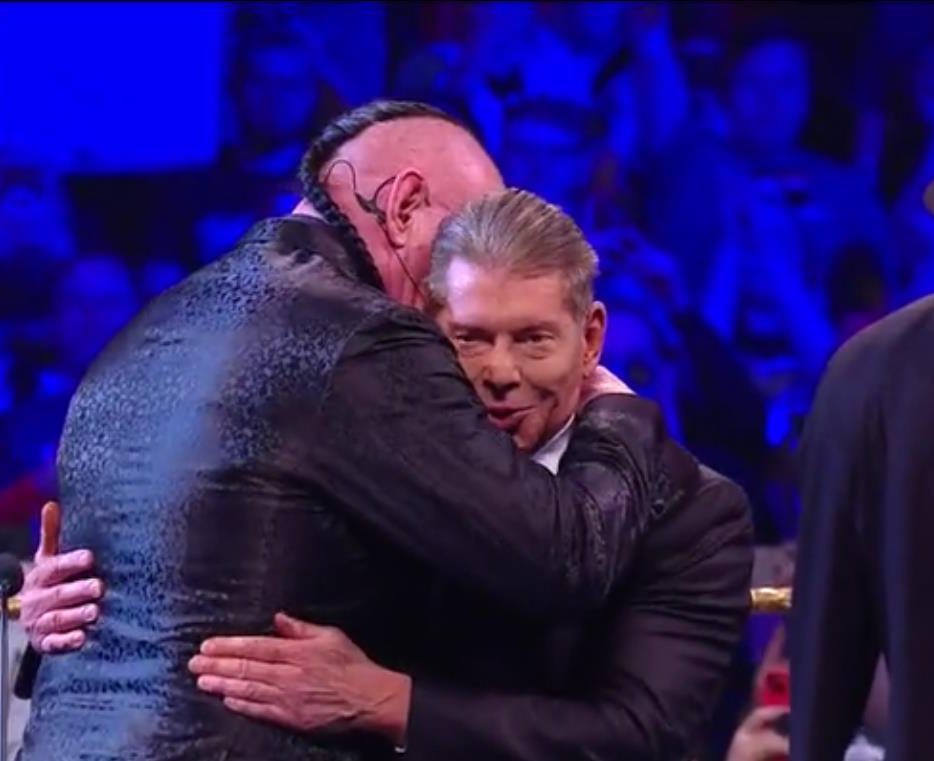 Another person who had a special role to play in The Undertaker's WWE Hall of Fame induction is Vince McMahon. The WWE chairman himself inducted 'The Phenom' into the WWE Hall of Fame 2022.\
This is something that Mr. McMahon did only for a few individuals in the past. Thus, The Undertaker is a special individual for Vince McMahon. Did you enjoy The Undertaker's Hall of Fame speech? Let us know in the comments below.