The Undertaker
"Taker Was My Mentor": Former WWE Champion Shares Wisdom The Undertaker Shared With Him
Previously, several individuals have talked about receiving some special messages or instructions or advice from The Undertaker. 'The Phenom' has given several years of his life to Vince McMahon's WWE. Thus, given his experience in this pro wrestling business, he has acted as a mentor to several individuals.
But you might not be aware that Vince McMahon himself once assigned The Undertaker to guide Drew McIntyre. McIntyre had Taker as his mentor in the early stages of his WWE career.
During an interview with Sports Illustrated, McIntyre talked about The Undertaker mentoring him. He also revealed one important advice that the WWE legend gave him almost 15 years ago.
McIntyre said, "As The Undertaker once told me, 'Don't play the wrestler. Be the wrestler.' At the time, Taker was my mentor, a role assigned by Vince [McMahon], and I had no idea what he was talking about."
"Now, almost 15 years later, I have a much different appreciation for his lessons. I know who I am every time I step out there, and I know what I'm aiming for; and that's Roman," he added.
The answer is yes. Though they have not competed against each other in a singles match, McIntyre and The Phenom had been on the opposite ends of a tag team match, also involving Roman Reigns and Shane McMahon.
Watch This Story: WWE Superstars With The Highest Number of WrestleMania Matches
At WWE Extreme Rules 2019, McIntyre teamed up with Shane McMahon to take on the team of Roman Reigns and The Undertaker. Reigns and The Phenom got the victory that night in a No Holds Barred Match.
For some months, there have been reports of McIntyre challenging Roman Reigns in the future. And recently, we have also seen McIntyre teaming up with RK-Bro to take on The Bloodline. But McIntyre and Reigns are yet to battle each other in a championship match this year.
As for The Undertaker, he has officially retired from in-ring competition in 2020. And just a while ago, The Deadman got inducted into the WWE Hall of Fame, class of 2022.
The Phenom got inducted into the WWE Hall of Fame by a special individual
The Undertaker finally took his place among the several other WWE legends in the WWE Hall of Fame. This was definitely a special day for him and all his fans. But it got more special because Vince McMahon himself inducted The Phenom into the WWE Hall of Fame.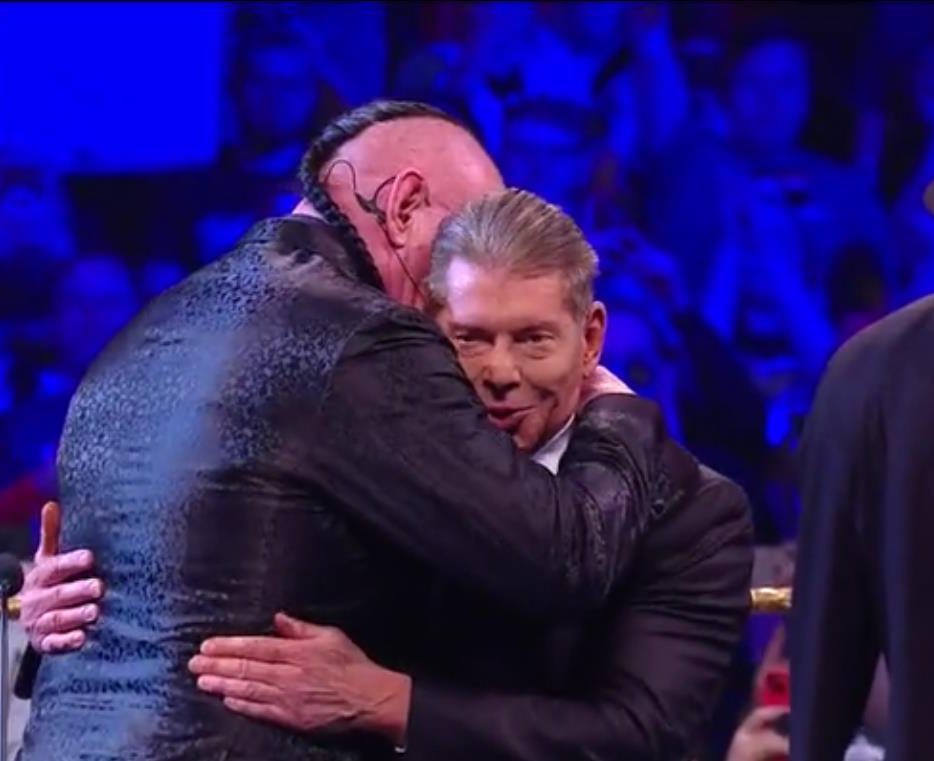 Mr. McMahon had inducted only a few individuals into the WWE Hall of Fame. And The Undertaker is the latest individual on that list.
Thus, one can certainly say that Vince McMahon has a special place in his heart for the WWE legend. After all, he gave his all for Mr. McMahon's and played a key role, without breaking character, in WWE's success for so many years.