Manny Pacquiao
"I'm Not Yet Thinking of Boxing" – Manny Pacquiao Focused Solely on Helping His People
8 division world champion Manny Pacquiao is always linked to dream matchups. He is among the biggest draws in the squared circle. However, despite his meteoric rise in the boxing world, he has always been at the forefront in helping people in his home country. It is no different even at present.
With the sports world brought to a standstill, all conversations center around potential matches or the logistical issues with finding new dates to make up for the lost time. Pacquiao is only concerned with playing his role as a senator to the fullest of his abilities and has no time to address rumors of a Mayweather rematch.
Manny Pacquiao focused solely on helping Filipinos
As per a World Boxing News Report, the country has been hit badly. As a result, people are in need of supplies, and 'Pac Man' realizes that his current opponent isn't one of the boxing stalwarts, but the virus.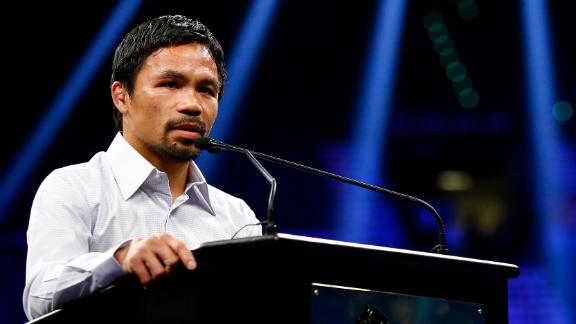 A Phil Star report quotes Pac Man from One News aired on Cignal TV earlier this week. 
He said, "You know, I'm not yet thinking of boxing but this problem, this pandemic, and our people. "That's why I'm discouraging mass gatherings like boxing promotions and other sports because if we don't, we will not solve this problem. I know how they feel I've been there before, with nothing to eat and just drinking water to survive. Let's join hands in helping them, and resolve this problem of COVID-19,"
The southeast Asian nation has seen over 8,000 confirmed cases with 500 people succumbing to the virus.
As per the report, Pacquiao handed a large number of test kits to the Philippine General Hospital. He also filed a "New Normal Bill" to ensure the disease doesn't spread once lockdowns are lifted.
Based on all his efforts, it seems as though he rumors of a Floyd Mayweather rematch have been pushed aside. This is due to Pacquiao focusing all his energies into dealing a knockout blow to the coronavirus.