Muhammad Ali
Joe Rogan on Muhammad Ali's Key Skill That Separated Him From Other Top Boxers of Today
UFC color commentator and mixed martial arts enthusiast, Joe Rogan, broke down the key skills and tactics of heavyweight boxing legend Muhammad Ali, which made him the greatest boxer of all time.
Given his experience in the sport, Rogan is one of the most knowledgeable names in the fight industry. As has been a part of UFC for over two decades, the commentator has seen many great combat sports athletes from up close. The 54-year-old usually discusses them and the sport in his famous podcast, 'The Joe Rogan Experience' on Spotify.
During one episode of his podcast, Rogan talked highly about the boxing G.O.A.T. Muhammad Ali and his fighting tactics. He said, "He was a heavyweight that moved around like a middleweight. And on top of that, he could fight his f**king a** off. And he would shuffle and move and bob and weave, and there was never a heavyweight that moved like this."
"People have to realize this just didn't exist, man. He threw combinations like Ray Robinson. And Ali was just light on his feet. Dancing in front of them," added Rogan.
"Ali was so loose in front of them. Look at that jab to the body, hook to the head. It's hard to say who's the greatest heavyweight of all time, but he's certainly in the conversation."
Joe Rogan spoke about how Muhammad Ali got into Sonny Liston's head
The former heavyweight boxing champion, Muhammad Ali, was undoubtedly one of the greatest athletes to ever live on planet earth. With extraordinary fighting skills, 'The Greatest' also had a fearless personality.
He is also often regarded as one of the greatest trash talkers in the sport's history. While talking about the same in one of the episodes of his podcast, Rogan lauded Ali's psychological warfare. The JRE host explained how Ali got into Sonny Liston's head.
"The reason why, and Ali did this on purpose. He acted like a crazy person cause he's like that Sonny Liston was a bully, and Sonny Liston was a big scary man. And he felt what Sonny Liston would be afraid of was a crazy person. Someone who wasn't afraid of him."DIVE DEEPER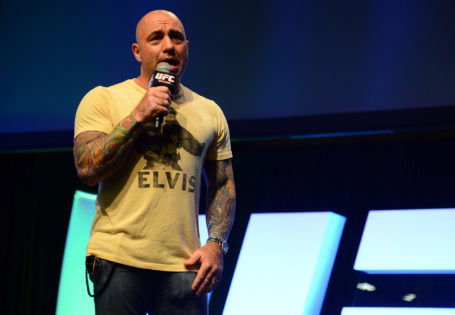 "So in all the press conferences, and all the different things leading up to the fight, he would scream at him. He would show up at Sonny Liston's house and honk the horn in the middle of the night and get on his lawn and scream and yell at him."
Further on in the episode, the UFC commentator stated that there's never been anybody who matches the psychological game of the boxing legend.
What are your thoughts on Rogan's words about one of the greatest ever? Let us know in the comments section below.