The Undertaker
"Nothing to Do About Being The Undertaker": Mark Calaway Became a Devoted Christian After an Eye-opening Visit to the Church
The character of Mark Calaway, aka The Undertaker, is one of the most terrifying in history. Calaway carried on his legacy without ever straying from his unique character. The Deadman is without a doubt one of the most well-known WWE superstars in the world. Now that Taker has retired, he has reverted to his original identity, Mark Calaway.
In addition, in an interview given to Ed Young at the C3 Christian Conference, Taker reveals how, after an eye-opening visit to the church with his wife, he became a devout Christian.
During the conversation, Taker explains how her wife pushed her towards spirituality and led her to become a devout follower.
The Undertaker stated, "She [Michelle McCool] was very persistent, and she wanted to be the man that I could be. And that has nothing to do with being the Undertaker. And so I went, and I was. It was just the perfect circumstance at the perfect time."
The Phenom added, "Mac and his family they were really awesome and it was more like a conversation you know and I found myself from being you know kind of tense and pensive to kind of leaning in and like, wow, this is pretty cool."
He also mentioned that it was the start of his journey of leading his life as he should and praised her wife, Michelle McCool, for bringing him to the right place. Additionally, he remarked that he has been spending a lot more time reading the Bible these days.
Why Did The Undertaker Change His Character from 'The Deadman' to 'American Bada**?'
Over the years, The Undertaker had many gimmicks, one of such was American Badass. In the late 90s beginning of the Attitude Era, The Deadman decided to return with a new persona. The American Bada** identity part was wearing chains, a bandana, and his Harley bike.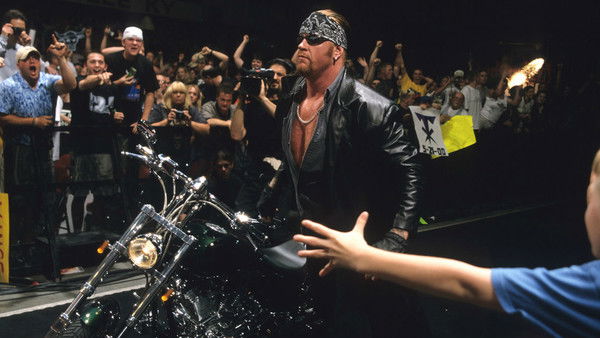 The Deadman's character was unnatural, with a strong and frightening vibe that restricted him. However, Taker was periodically granted an American Bada** gimmick that allowed him to act like a normal. In addition, The American Bada** gimmick gave the WWE fans several unforgettable moments. One of such was his bike being destroyed by Triple H.
What do you remember about 'The Undertaker's American Bada** character? Please let us know in the comments below.