Manny Pacquiao
Jorge Masvidal Shockingly Says Floyd Mayweather 'Destroyed a Prime Manny Pacquiao and Canelo'
Floyd Mayweather is one of the greatest boxers of the current generation. The fighter is thought to be the richest boxer in the world and has a perfect 50-0 record. UFC fighter Jorge Masvidal recently praised Mayweather in a post and brought up Mayweather's infamous altercation with a rapper back in the day.
The video is from 2014 when Mayweather and rapper T.I. had a brawl at a Fatburger restaurant. The altercation became more intense when T.I's wife, Tameka insulted the boxing champ. 'Money' lost his temper and he could be seen stating in the video, "control your b*tch motherf**ker." 
Years later, UFC fighter Jorge Masvidal shared a post on Facebook, and wrote in the caption, "#FloydMayweather is the greatest Boxer to ever walk the planet earth. He DESTROYED a Prime #MannyPacquiao and #Canelo, now with just 1 (punch emoji) He eliminates one of the hardest #GangsterRapper's of all times!" 
Floyd Mayweather: Sensational battles with Manny Pacquiao and Canelo Alvarez
Mexican pound-for-pound king Canelo Alvarez faced Floyd Mayweather in 2013, at the MGM Grand Garden Arena in Las Vegas. It was a sensational battle between the two fighters. Both the boxers were undefeated at the time, and fans were eager to see who prevails between the two titans.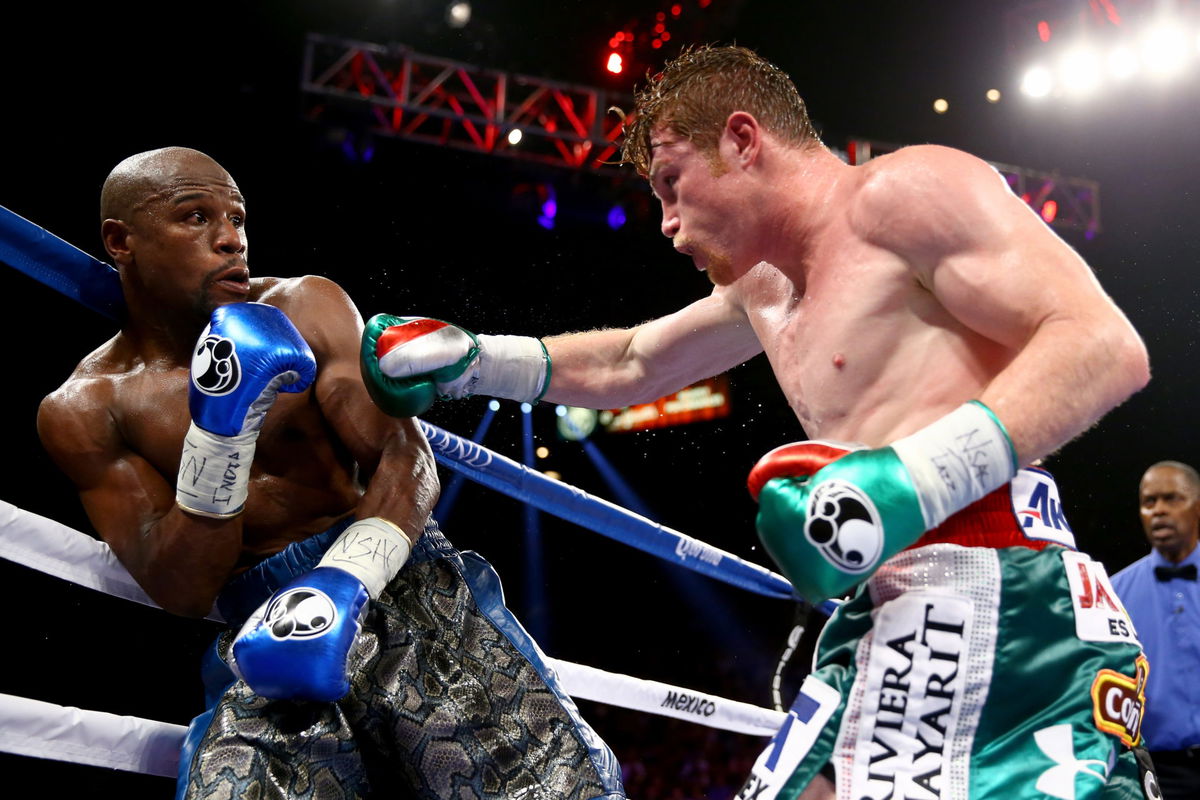 After 12 brutal rounds, the 'pretty boy' of boxing extended his perfect record with a controversial win. It was the first loss of Alvarez's career, and he consistently won every opponent after that, until his recent loss to Dmitry Bivol.
Fans had been anticipating a fight between Mayweather and Manny Pacquiao for years. Both the boxers were counted among the best to ever live. Finally, the two met each other inside the squared circle in May 2015. It was billed as the 'Fight of the Century'.
The MGM Grand Garden Arena was jam-packed to witness the electrifying brawl between the greatest boxers of all time. The bout is also regarded as one of the most lucrative event in the sport. Eventually, Mayweather outclassed Pac-Man and emerged as the winner.
Meanwhile, what do you think about Masvidal's remarks on Mayweather? What are your thoughts on Mayweather's boxing career? Share it with us in the comment section below.