The Undertaker
"That Was the Deciding Factor": The Undertaker Once Admitted Doubting His Ex-wife Sara Calaway Owing to a Major Concern
Due to his outstanding contributions to the sport, The Undertaker is undoubtedly well-known even to those who haven't watched a single WWE show. This shows his influence. He maintained a high level of privacy throughout his career and hated those, like Brock Lesnar, who invaded it.
Before the age of social media, there was no trace of The Deadman being a normal human being and living a life with his wife. Talking about the same, The Deadman once admitted he had some reservations about his ex-wife, Sara, when WWE asked him to involve her in the storyline.
In a popular wrestling article "The Undertaker: Deadman Walking," Kirsty Quested documented Taker's personal and professional lives. Notably, Quested said that The Phenom was quite hesitant to include his second wife, in the storyline in 2001.
The Undertaker didn't want his Ex-Wife to appear in WWE
Taker and Sara wed in 2000. In 2001 and 2002, following the American Badass' marriage, Sara started appearing in WWE matches as his valet. She also became involved in a storyline with Diamond Dallas Page that many long-time WWE fans can still recall. However, due to his serious worry, Taker was reluctant to involve her in the public.
He stated, "At first, I was hesitant to involve her, to make her a public figure. But I really enjoy her company. We get along so well. And being able to spend more than two days a week with her. That was the deciding factor."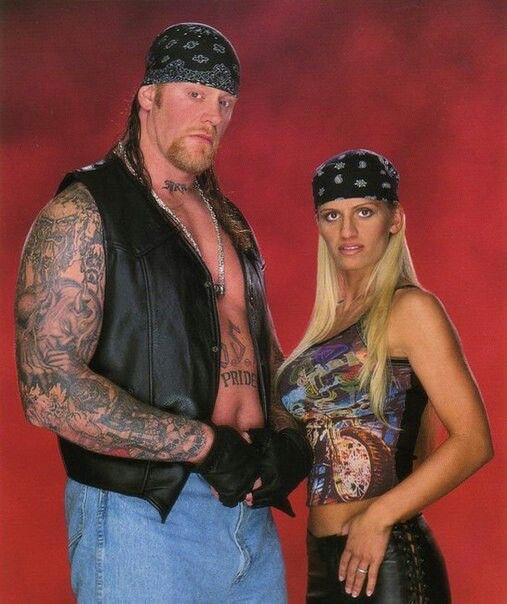 In fact, it comes as quite a surprise given that the WWE Hall of Famer was the most loyal worker in the organization. He continued to wrestle even on the day that he got his first divorce at a very difficult period. This only served to highlight his dedication to the sport.
However, it was said in the same column that Taker didn't want his family to be linked with him as a public figure. He was skeptical that continuous fan intrusions might make life outside work quite unsettling.
However, Taker agreed that involving Sara would allow them to spend a lot of time together. And this was the determining factor in convincing him to including her in the company.