The Undertaker
"I Wasn't Acting": The Undertaker's Terrifying Incident That Shuts Up People Who Claim "WWE Is Fake"
Every WWE fan had goosebumps when the bell rang and the arena became pitch dark, signaling that The Undertaker was about to get into action. The Deadman's career was packed full of iconic rivalries, incidents, gimmicks, and bouts that will go down as the greatest in company history.
In a similar vein, Maven's victory over Taker at Royal Rumble 2002 is remembered as one of the biggest upsets in WWE television history. Maven once said it was one of the most terrifying moments of his life while discussing the subject.
It was difficult to surpass the 6'10" man, and those who tried had their dreams ending up in graves. Therefore, whenever Taker faced off against the underdog, it was undoubtedly one of their most memorable moments if they overpowered him. And Maven's shocking victory over Taker at the 2002 Royal Rumble was one of those occasions.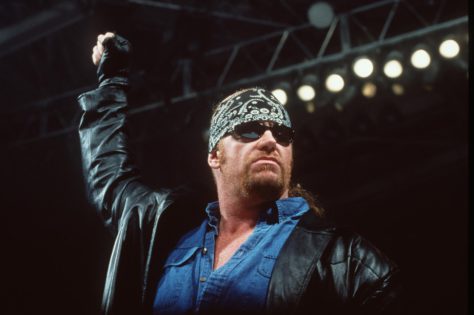 WWE is considered fake by many because of the storylines and the wrestlers often show fake reactions. Although it is scripted, the athleticism shown by WWE stars is always magnificent, and their reactions, in multiple instances, are quite genuine. Some have even broken character to react honestly to the situation, just like Maven did after eliminating Taker at the Royal Rumble.
Maven felt quite anxious after defeating The Undertaker at Royal Rumble
Talking to Hannibal TV, Maven claims that the expression on his face after taking Taker out of the contest was authentic, and he was genuinely terrified. In his words; "I don't know if you remember, but I eliminated him. He sells, gets up, turned, and looks at me, and then the camera pan back on my face and the ring after I did my jumping celebrations."
"You remember what I'm talking about? Then you see the fear on my face. Most people are like that's great acting there. I wasn't acting. I was legitimately, terrified at that moment like legitimately, not even working, I was, shoot, terrified."
During the same discussion, he complimented Taker for being so kind in accepting the loss to the Tough Enough champion. The fact that Taker gave him a stern look and that he had back problems in the past made him worry that he had hit too hard after sending him out of the ring with a drop kick. However, when he met The Phenom backstage after the match, both were chilled out together and that helped him get over his nervousness.
It was one of the best matches ever, and the WWE Universe will remember it for a very long time. What do you think about the match? Share your thoughts in the comments.