The Undertaker
Rare Photo of The Undertaker's Kayfabe Brother Kane Being Unmasked Backstage During His Early Days
Over the years, WWE has presented fans with many intriguing and mysterious characters. You had The Undertaker, Kamala, Papa Shango and many others.  One of the most strange and awe-inspiring characters WWE put out was Kane.
From the moment Glenn Jacobs debuted Kane at In Your House: Badd Blood, he had everyone's attention. This tall mask wearing monster with a perfect build was scary and perplexing in his own way. One thing that added to his mystique was his mask.
WWE rarely had a wrestler that wore a mask covering his entire face like Kane did. Add to that he didn't speak and was presented as The Undertaker's kayfabe brother, only helped build his aura.
Although many young fans must have seen Kane without his patented mask on TV, but that was not the case during his first run with the company in the 'Attitude Era'. He hardly, if ever, took off his mask and rarely made public appearances. Every fan back in the day wished to see the real man behind the mask, but it never happened. However, a photo has resurfaced, which shows Kane without his mask backstage during his run as the 'Big Red Monster'.
Rare photo of an unmasked Kane in glasses
The Undertaker and Kane storyline was an exciting time for the fans. Kane debuted as The Undertaker's long-lost brother in 1997. The two engaged in a battle at WrestleMania XIV, which Taker won.
For years The Undertaker was WWE's resident big bad with supernatural powers, but in Kane WWE had found his equal. His entire character matched up to 'The Phenom' and was somehow made even better by his iconic mask, which he wore all the time. Moreover, with Paul Bearer by his side, he was an instant hit.
There were fewer dirt sheets and little to no knowledge of backstage happenings in the 1990s. Hence, it was always a mystery for the fans as to know who was the man behind the red mask. Now a photo has resurfaced, which gives fans a look at the man behind the mask back in the 'Attitude Era'.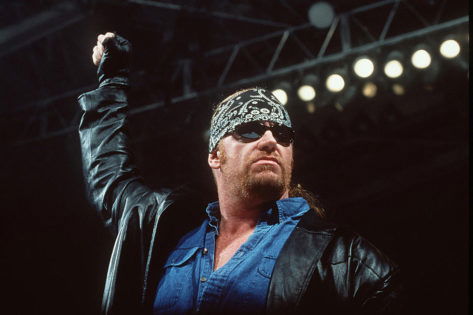 In this photo, 'The Demon' is wearing a 'RAW is WAR' T-shirt with glasses and more interestingly he is not wearing his mask! Back in the day, wrestlers and WWE took great care to ensure kayfabe of certain character remains intact. Hence, we never got to see Kane without his mask during that time.
For fans of a certain age, this photo is a little damper on their childhood memories of the big scary Kane who terrorized the WWE after his debut. Kane kept the mask on for six years. During this time, fans never got to see his actual face. But this photo gives us a look at the man behind the terrifying character in his early days.
This photo will be a special piece of collection for many WWE fans all around the world.
In WWE, the 'Demonic' Kane would eventually be unmask after Triple H defeated him in Title vs Mask match on an episode of RAW in 2003.