The Undertaker
'I'll Come and Find You': When The Undertaker Threatened Vince McMahon For Misusing His Powers
If there is one thing that made The Undertaker stay in WWE for over 30 years, it is his bond with his boss, Vince McMahon. The inseparable duo has seen all the lows and highs of being in the wrestling industry together. While all his top stars had something or the other to do, Taker stood by his side and trained the new generation.
The Rock and John Cena both went to Hollywood. Brock Lesnar changes ship in different combat sports many times. Shawn Michaels and Hulk Hogan had too big of an ego to work at the level McMahon did. But Taker stuck by the company and his boss and that was a result of trusting each other and being honest. But this WWE legend revealed that there was once an instance when the two banged heads as well.
WWE legend reveals a rare crack between The Undertaker and Vince McMahon
On his podcast, Something to Wrestle, Bruce Prichard mentions, "[Vince] came over and was like, 'Mark, how ya doing?' And Mark cut him off and said, 'When I'm done with him, I'll come and find you. And Vince walked away, and I was like, 'Man, he didn't deserve that, and you're the last person who should have really done that to him today.'"
This incident took place after Vince McMahon's most controversial decision concerning booking a wrestling show to date. The Montreal Screwjob was one of the most debated decisions in wrestling history. When Shawn Michaels locked Bret Hart in a Sharpshooter, McMahon called the referee to ring the bell and end the match. But the humiliation and disrespect that McMahon showed Hart didn't heal after over a decade and a half.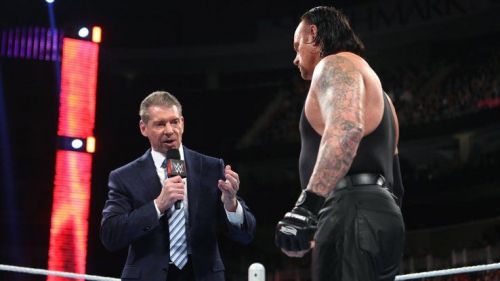 That night, not only Hart but most of the locker room in WWF was outright angry at McMahon. But no one mentioned that Taker was also one of the ones who burst out on McMahon. But as Prichard said, they patched up after this after talking about things. While Taker being menacing was usual for the audience, this was pretty rare backstage, as Taker was the most approachable guy for either locker room throughout his career.