The Undertaker
"At That Moment When You.." – WWE Legend The Undertaker Shares What Was "Cool" About Him Losing to Brock Lesnar at WrestleMania 30
It was probably one of the saddest moments in the history of WWE when Brock Lesnar conquered The Undertaker at WrestleMania 30. The night was April 6, 2014, and the place was New Orleans, Louisiana. Almost 70,000 fans were not ready to witness the undefeated WrestleMania streak of The Phenom come to an end.
When the referee counted to three, and the bell rang, declaring Lesnar the winner, the entire crowd went silent. It shook the WWE Universe to its core when they saw The Conqueror pin The Undertaker at The Showcase of Immortals.
That being said, The Phenom himself, recently spoke about what was his reaction when he lost to The Beast Incarnate at WrestleMania XXX.
The Undertaker had a surreal feeling when he saw the WWE Universe's reaction
Just a few days ago, The Dead Man had a chat with Adrian Hernandez about his '1 deadMAN Show'. In the interview, he spoke about what was going through his mind when he saw the shocked faces of thousands of people sitting in the crowd.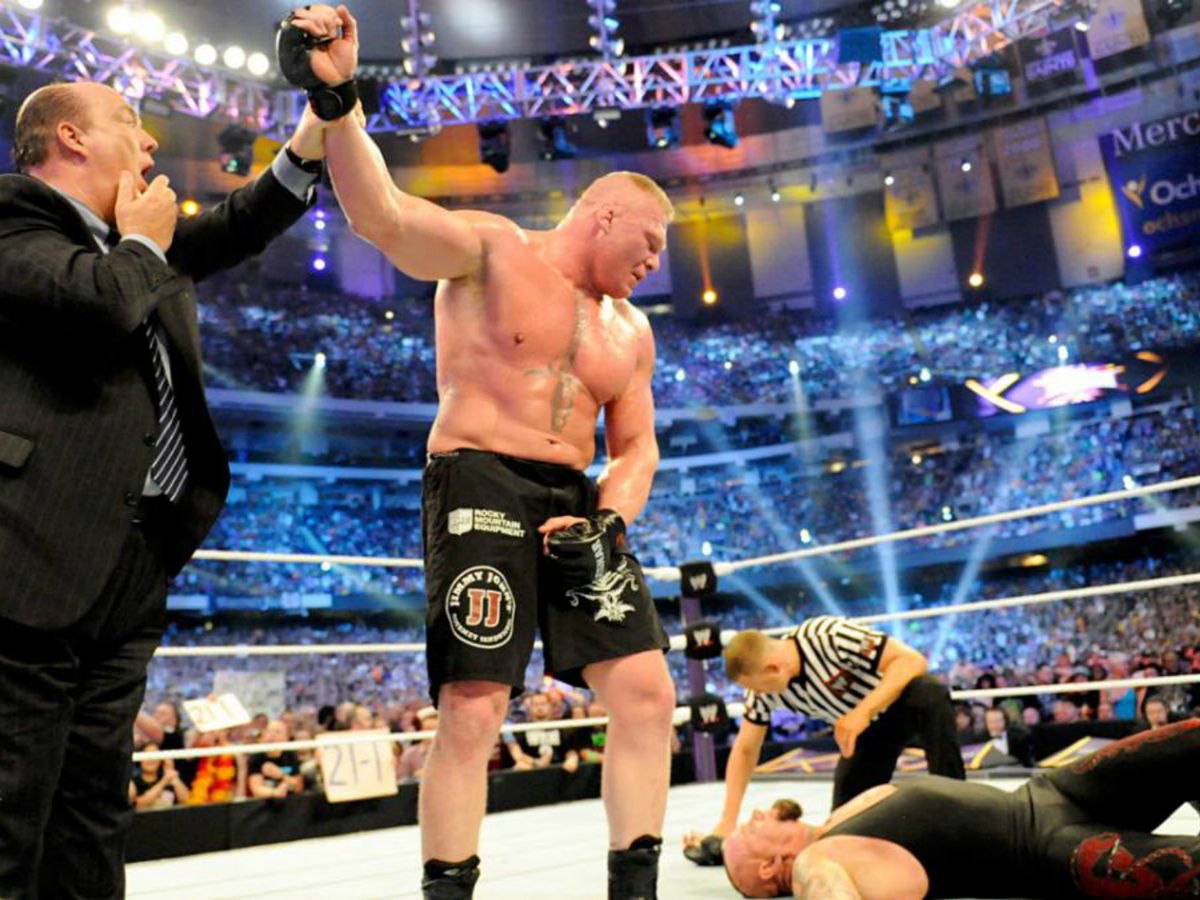 Taker stated he knew he had created something special that day when he saw thousands of people shocked and silent that day. He claims it was a rare event and something like that might never happen again.
He said, "It was really cool because, at that moment when you have almost 70,000 people almost dead quiet, that means this is a major event within our industry. This is something that you will never see again. It was all that was playing in my mind."
The WWE Universe's reaction deeply moved The Phenom
The overwhelming reaction from the fans at WrestleMania 30 touched Taker's heart. When he saw people upset because The Conqueror broke his streak, he felt that the fans truly loved him. That day he realized how much he, as a wrestling star, meant to his fans.
"It was so humbling because there were people crying. Like the guy with the huge eye that was just 100% honest emotion right there. And to know that the people are that invested in what you do and what you have done, it's really cool," confessed The Deadman.
What do you think of The Phenom's statement? Were you also among the thousands of people who were shocked by the fact that The Beast ended The Streak? Sound off in the comments below.