Mike Tyson
"He Talked to Me and Didn't Try to Fornicate Me": Years After Mike Tyson Silenced Female Reporter With NSFW Remarks, Joe Rogan Experience Guest Gives Absurd Reason for Accepting Boxing Legend as a 'Nice' Person
Mike Tyson is a name that once had boxers shaken. Even now, when one hears his name, the picture of a young jacked fighter knocking opponents out here and there comes to mind. At the peak of his career, Tyson was an unstoppable force that would blaze past one heavyweight after another. With the victories came money, and with money came several vices that still continue to haunt him to this day. He eventually made a name for himself not just for his accomplishments, but also for his various controversies outside the ring.
There was an incident where Tyson showed his brazen and bold side in an interview. During the interview, a female reporter asked a young Mike Tyson a question that seemed to trigger an aggressive response from him. Tyson's reaction was unexpected as he made a statement that shocked everyone, insinuating that he would only speak to women if he had a sexual interest in them. This remark left the reporter speechless and intimidated, showcasing Tyson's aggressive demeanor.
Tyson said, "I normally don't do interviews with women unless I wanna fornicate with them, so you shouldn't talk anymore. Unless you wanna, you know…" During one episode of Joe Rogan Experience, this incident came up, and the guest started wondering about Tyson's previous eccentric nature. Rogan defended Tyson by sharing his tales from the past.
Why did Joe Rogan call Mike Tyson a 'nice' guy?
During an episode of the Joe Rogan Experience podcast, actress Sara Weinshenk and TV writer and producer Kim Congdon discussed their encounters with former heavyweight boxing champion, Mike Tyson. Weinshenk mentioned an interview where Tyson told a woman journalist to stop speaking and Rogan agreed that it was kind of funny. Weinshenk commented on how silent the journalist became after that statement. To this, Congdon responded that she was starstruck when she saw Tyson at the Comedy Store. She joked, "He talked to me and didn't try to fornicate me."
Rogan then praised Tyson as the "nicest guy ever" and a very "kind" person, which Weinshenk found humorous considering Tyson's reputation. He acknowledged that Tyson had a checkered past, but stated that he changed for the better. Rogan mentioned that Tyson was afraid of rekindling his ego when he fought Roy Jones Jr.
Joe revealed, "He said it, he said he didn't wanna rekindle his ego. That's what he said when he fought Roy jones. It was a crazy quote- 'The gods of war has rekindled my ego'". Joe also marveled at the time when Tyson became the youngest heavyweight champion at just 20 years old. He also talked about how his opponents would lose even before the fight had begun as they were so scared of him.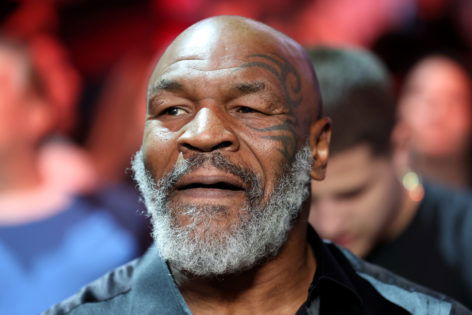 "Pets Are the Modern-Day Slave Trade": Fans React as Mike Tyson Reveals How He Really Got the Tigers
Overall, the conversation touched on Tyson's controversial history and his perceived character in the present. While some found his behavior amusing or starstruck by his presence, others praised him for his kindness and growth as a person.