Mike Tyson
After Multiple Failed Negotiations, Tyson Fury's Brother Reveals Why Oleksandr Usyk "Is the Problem"
As the echo of boxing gloves meeting in powerful impact resounds through the world of Heavyweight boxing, an unexpected twist emerges in the narrative between Tyson Fury and Oleksandr Usyk. The two boxing titans are yet to meet in the ring, and the cause of delay has sparked widespread speculation.
In a recent turn of events, Tyson Fury's brother, Tommy Fury, spilled the beans during an intriguing chat with IFL TV. The big revelation? Oleksandr Usyk is allegedly the one avoiding the fight, a claim that starkly contrasts with the prevalent narrative. Is it possible that Usyk, one of boxing's formidable figures, is "running scared," as Tommy claims?
Tommy Fury's revelations: Usyk, the real roadblock for Tyson Fury?
During the interview with IFL TV, Tommy Fury dove into the heart of the stalled negotiations between his brother, Tyson Fury, and Oleksandr Usyk. The interviewer brought up the allegations from Usyk's team that Tyson is pricing himself out of the competition. To this, Tommy had a decisive reply.
In his own words, Tommy retorted, "My response to that is Usyk is the problem. Tyson's ready and willing to give him absolutely everything on a plate and he still doesn't want the fight. So I don't know what it takes."
He continued, "I think he's genuinely afraid of Tyson. He's coming out with every rule in the book, every excuse in the book shall I say and that's it you know I hope they get it on because that's the fight I want to see. Usyk is running scared believe me."
Tommy's impassioned defense of his brother and the direct accusation of Usyk's alleged fear presents a riveting perspective on the dispute. The assertion that despite Tyson's willingness to accommodate Usyk's demands, the fight is not progressing because of Usyk's reluctance, adds a compelling layer to the ongoing story.
John Fury's unseen condition: An apology from Usyk
The Fury-Usyk saga takes another turn as Tyson's father, John Fury, outlines a unique condition for the fight. Speaking with Seconds Out, he demands an apology from Usyk, the unified Heavyweight champion, for shifting blame onto his son. "Unless he gets on video and tells the truth…there'll never be a fight for Usyk, never," he said.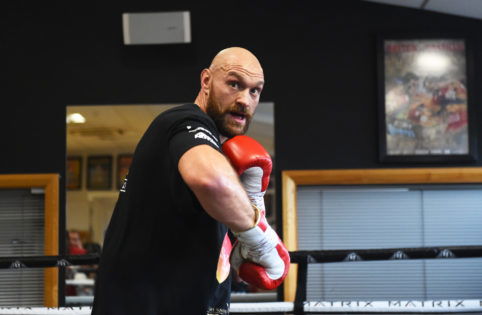 Tyson Fury Shocks The World With A Luxury 'Gypsy King' Logo On His Driveway
Additionally, John accuses Usyk of swaying public sentiment against Tyson, claiming that despite Tyson's contributions to his country, public support quickly shifted to a "total foreigner." This latest development further complicates the situation, adding new layers to the anticipation surrounding this Heavyweight face-off.