Muhammad Ali
IN PHOTOS: Maxx Crosby shows off stunning front panel tattoo with Kobe Bryant, Michael Jordan and Muhammad Ali
Las Vegas Raiders defensive end Maxx Crosby is a fierce competitor on the field, as proven by his two Pro Bowl selections.
But the former Eastern Michigan standout would like to honor some fellow athletes that drove him to chase excellence by getting a stunning composite tattoo.
Renowned artist Andres Ortega worked on Crosby's tattoo, featuring Michael Jordan, Kobe Bryant, and Muhammad Ali.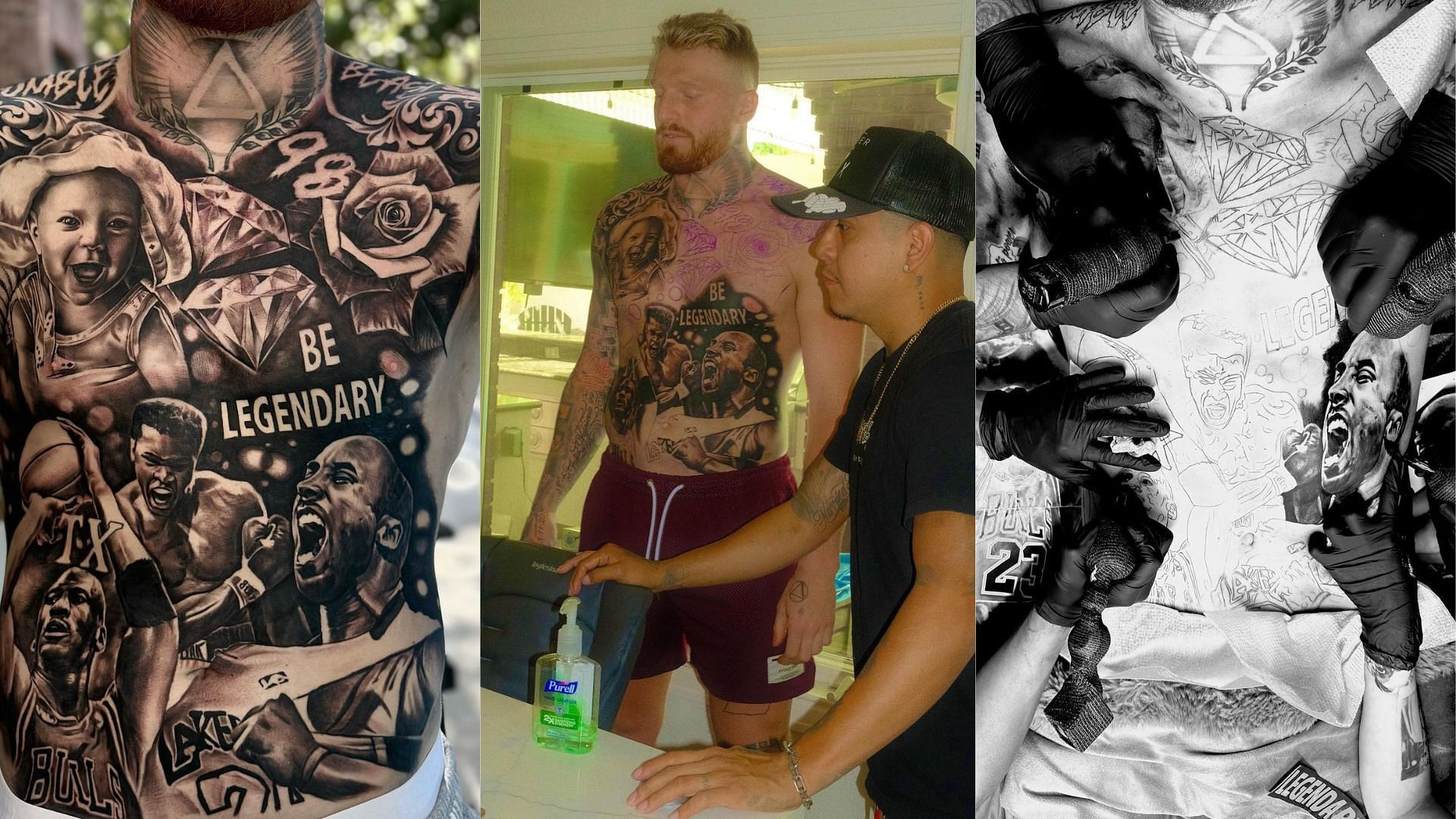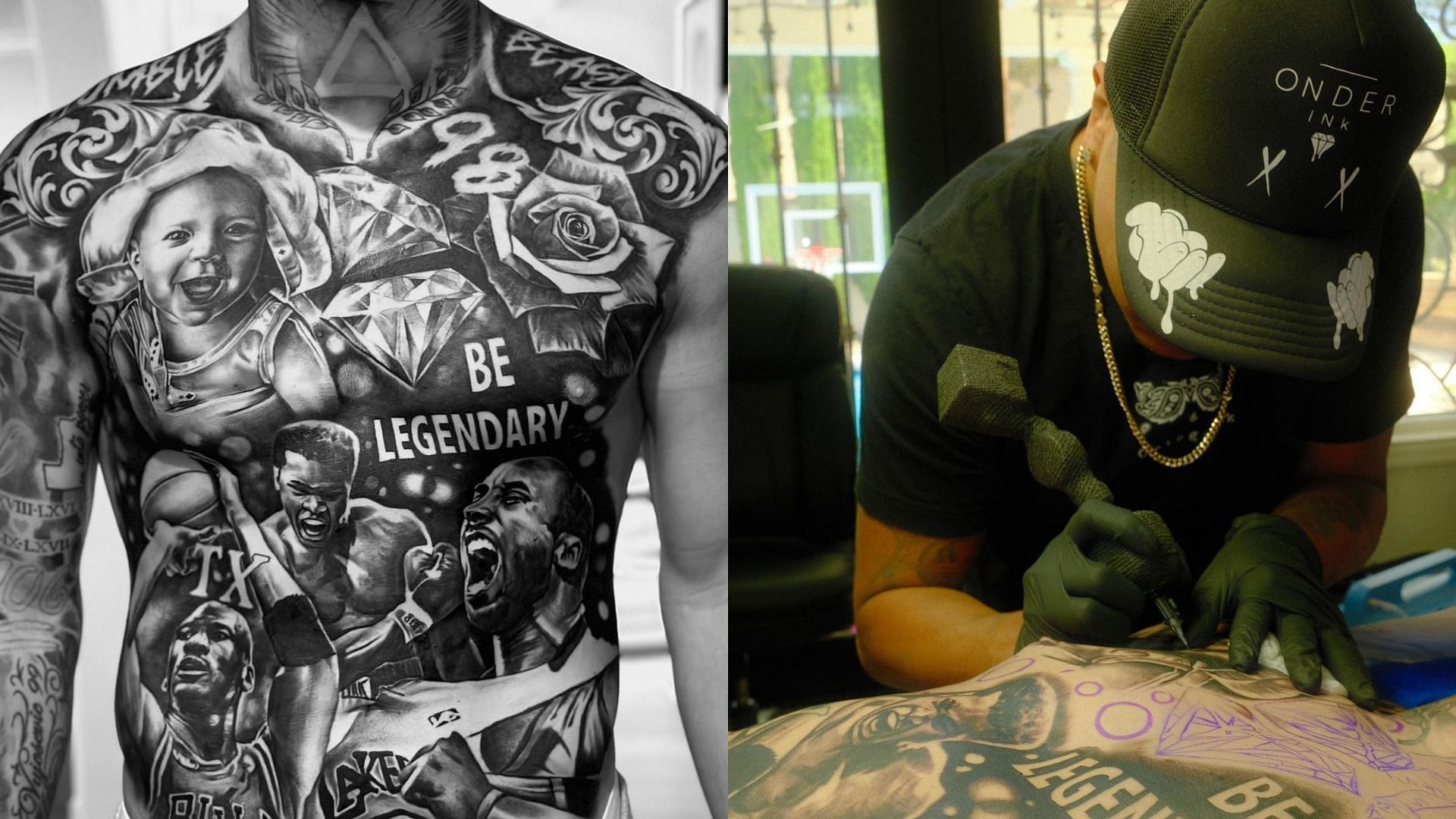 Ortega used Ali's famous "get up" pose from his May 1965 fight against Sonny Liston. John Rooney of the Associated Press and Neil Leifer of Sports Illustrated took photos of that iconic image of Ali towering over Liston.
Meanwhile, Michael Jordan is arguably the greatest NBA player ever, winning six championships and six Finals MVP awards. He is also a five-time regular season Most Valuable Player and 14-time NBA All-Star.
Kobe Bryant is a five-time NBA champion and two-time Finals MVP. He is an 18-time NBA All-Star and the 2008 MVP awardee. The prep-to-pro legend met his untimely death in January 2020.
Maxx Crosby's front panel tattoo also featured his jersey number (98), an image of a child, a flower, two diamonds, and the words "humble beast."
Getting inked can be included in Crosby's string of victories last year. He signed a four-year, $98.98 million contract extension with the Raiders on March 11, 2022, the second anniversary of his sobriety. A month before, he got engaged to Rachel Washburn. They welcomed their first child, Ella Rose Crosby, in October.
The 2021 Second Team All-Pro member adds to Ortega's growing NFL clientele. He also did tattoos for Atlanta Falcons cornerback Jeff Okudah, Chicago Bears free safety Eddie Jackson, and Dallas Cowboys quarterback Dak Prescott.
Ortega and his team also created masterpieces for Baltimore Ravens cornerback Trayvon Mullen, Cincinnati Bengals wide receiver Ja'Marr Chase, and Cowboys wideout CeeDee Lamb.
Maxx Crosby repaid the Raiders' trust
Crosby, a fourth-round pick in the 2019 NFL Draft, showed that the Raiders made the right decision in extending his contract.
In 2022, Maxx Crosby had career highs in tackles (88) and sacks (12.5). Those numbers earned him a second consecutive Pro Bowl selection. He was placed sixth in the voting for NFL Defensive Player of the Year, which Nick Bosa won.
More importantly, he hasn't missed a game in his first four NFL seasons. Crosby started in all Las Vegas games over the last three seasons.
No wonder he deserves the $7.5 million base salary he will earn this season and the $19 million base pay in 2024.