Mike Tyson
Suffering With Crippling Illness, Mike Tyson Says He Can't Eat Meat
As we often uncover the lifestyles of celebrated figures, it's rare to find discussions brimming with vulnerability and candor. A recent episode of 'Hotboxin with Mike Tyson' served a dish of just that. In a raw, unfiltered chat, Tyson, the former Heavyweight champion, unveiled a facet of his life rarely in the spotlight – his battle with the crippling condition of sciatica and its stark impact on his dietary habits.
If you thought Tyson's tumultuous relationship with red meat was just about his choice, think again. Joining him were rapper Trippie Redd and co-host Sebastian Joseph-Day, who dived into their unique dietary challenges and preferences, navigating a whirlpool of fish, meat, and plants. This unexpected revelation was just the tip of the iceberg in a conversation that promised to uncover more.
Unveiling dietary struggles
The conversation began with Trippie Redd opening up about his dietary preferences, as he stated, "Honestly I like eating the plants because it just keeps my stomach together. I be getting f***ed up in my stomach." This opened the floor to a deeper dive into individual dietary challenges and choices.
Mike Tyson responded with an unexpected confession about his struggles with meat, particularly red meat. He said, "I can't eat meat. How's your body with meat?" This led to further revelations from Tyson about his dietary restrictions due to his battle with sciatica.
The conversation saw a similar sentiment echoed by co-host Sebastian Joseph-Day, who said, "I eat mostly chicken though. Every time I eat like beef and s**t like that it gets all f***ed up a little bit." It was clear that red meat wasn't a favorite amongst the group.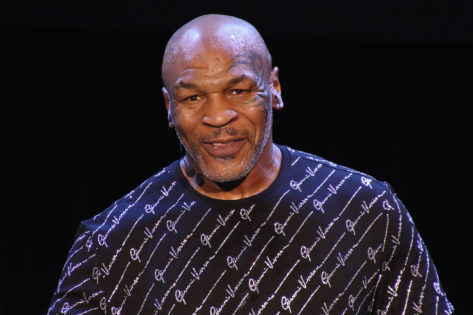 Father of 7 Children, Mike Tyson Calls 24-Year-Old Rapper a Genius for Not Having Kids
The discussion then took an aquatic turn as Trippie Redd confessed, "Like we went out to eat two days ago. Everything I ate wasn't meat except for yellowtail. I had to get some yellow tail and it was just little slices of fish I didn't think it was too bad."
Contradicting words of Trippie Redd
To this, Tyson responded by revealing his preferred choice of fish, stating, "I only eat Salmon. That's my favorite fish to go to." However, not everyone seemed to agree with Tyson's preference. Redd admitted, "I like salmon but sometimes it just be tasting way too fishy for me and that's crazy to say after I just said I ate some yellow tail raw."
This candid conversation gave the audience a closer look into the dietary struggles and preferences of the trio, each influenced by their individual health conditions and experiences.