Muhammad Ali
Jon Jones shows off 'Ali Shuffle' in friendly fight against Muhammad Ali's grandson
Jon Jones hits the Muhammad Ali shuffle in front of the legendary boxer's family. He did it in front of Nico Ali Walsh.
At the PFL 5 event on June 16, Jon Jones got to know Nico Ali Walsh, the grandson of the late boxing legend Muhammad Ali. Jones and Walsh appeared to be engaged in a conversation with a few other acquaintances as well as one another. Both showed great respect towards each other and were having fun until 'Bones' decided to playfully hit Walsh as they were conversing.
Jones was lightly struck in return by the 22-year-old boxer, who understood the situation and immediately pretended to be sparring with him. While they were having fun, Jones even performed the famous "Ali Shuffle" invented by Muhammad Ali.
Walsh instantly shook Jones' hand and then gave him a hug, clearly enjoying the tribute to his late grandfather. It was visible that Jones was proud of pulling off that movie and a delighted Jones simply stated "I need that video."
Jones really was busy that night, as he also got the chance to get close to former UFC heavyweight champion Francis Ngannou in the stands. When they met face to face, both fighters were welcomed by a huge roar from the crowd.
Related: "You laugh like a high school girl," Alexander Volkanovski hilariously confronts Daniel Cormier for laughing too hard at miserable Islam Makhachev jokes
Daniel Cormier claims Jon Jones is undeserving of 'Fighter of the Year' award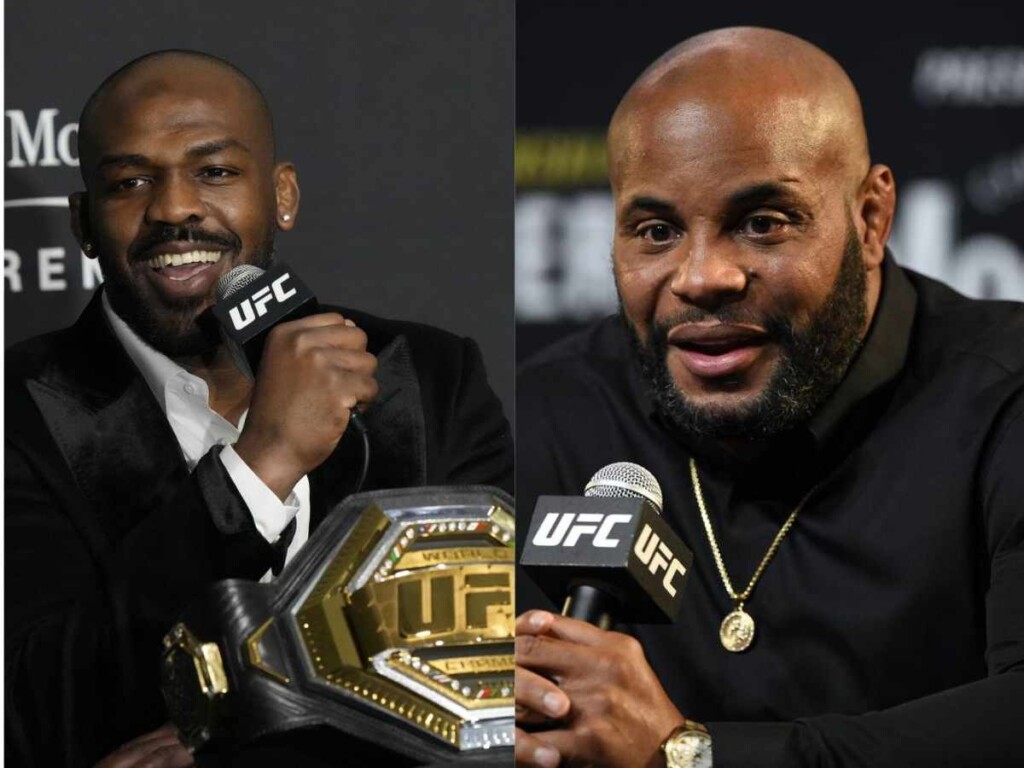 Recently, Daniel Cormier reaffirmed his controversial claim that Jon Jones is undeserving of the 2023 ESPY for best MMA fighter. The previous two-division champion said that while he doesn't think Jones merits that honor, 'Bones' has unquestionably earned himself the ESPY for 'Comeback of the Year.'
DC has a great history with Jon Jones, but the former double champion has always tried to give an unbiased opinion on Jones's career. However, DC, in his YouTube video, doesn't think Jones deserves the award this year
He said: "While I did say I don't think he should win 'Fighter of the Year,' I do think he should walk away with an ESPY for the 'Comeback Player of the Year.' I don't think it's a competition. I think if you left and came back to become the baddest man on the planet…I do believe he should take home the ESPY for the greatest comeback of the year."
Jones gave an impeccable performance in his heavyweight debut against Cyril Gane, and DC does think that Jones is the rightful winner of the Comeback of the Year award rather than the Fighter of the Year one.