Mike Tyson
"Man, I f**ing quit" – When Eminem told Mike Tyson how a 14-year-old 'kicked the s**' out of him in sparring
Rap icon Eminem is no stranger to the squared circle and has spent over 13 years refining his skills as a boxing enthusiast. The multi-time Grammy-winning artist was once interviewed by boxing legend Mike Tyson and narrated a hilarious story about one of his sparring sessions with a 14-year-old boxer.
Widely considered among the greatest rappers of all time, Eminem has enthralled his fans for over three decades. While music and songwriting come naturally to the highly accomplished artist, he admits that boxing is particularly challenging for him.
The rap legend once sat down with Tyson on the Hotboxin' With Mike Tyson podcast and discussed the sport of boxing. During their conversation, Eminem told the iconic pugilist about when he got dominated by a 14-year-old boy in sparring. He said:
"Boxing is hard, man. It's hard. Like, I've been boxing for 13 years, just sparring. Just messing around. I messed around with Emanuel Steward. He's bringing his boxers every week. One day, he brings his boxer from Kronk, and when I came out, the dude had his headgear on."
The rapper continued:
"He kicked the sh*t out of me. F**ked me up. We go three rounds, I don't think I got one hit in. After three rounds, he takes off his f**king headgear, and I said, 'Man, how old are you.' He said,'14!' I said, 'I f**king quit, man.'"
---
Fans react to Eminem telling Mike Tyson about his experience boxing a 14-year-old
Given how Eminem is widely loved by music fans worldwide, it's not surprising to see many fascinated by the rapper telling Mike Tyson about his embarrassing sparring session with a teenage boxer.
As mentioned above, a clip from the episode was uploaded to Instagram by @boxingandstreeworkout and showed the Grammy-winning rapper narrating the amusing story to Mike Tyson.
Fans couldn't help themselves and reacted with hilarious jokes in the post's comments section.
One fan humorously joked:
"Eminem trying his best not to rhyme everything up."
Another fan concurred, stating:
"His normal talk somehow sounds like a rap song rhyming perfectly… He is always in the zone"
One user pointed out:
"Just because you train boxing doesn't mean you're a boxer. There's more to it."
Another user joked:
"You can tell he wanted to rhyme everything lol."
One fan sympathized with him and wrote:
"Some of these 14-16-year-olds have been doing boxing since 7-9 years old so yes I can see that."
Check out more reactions below: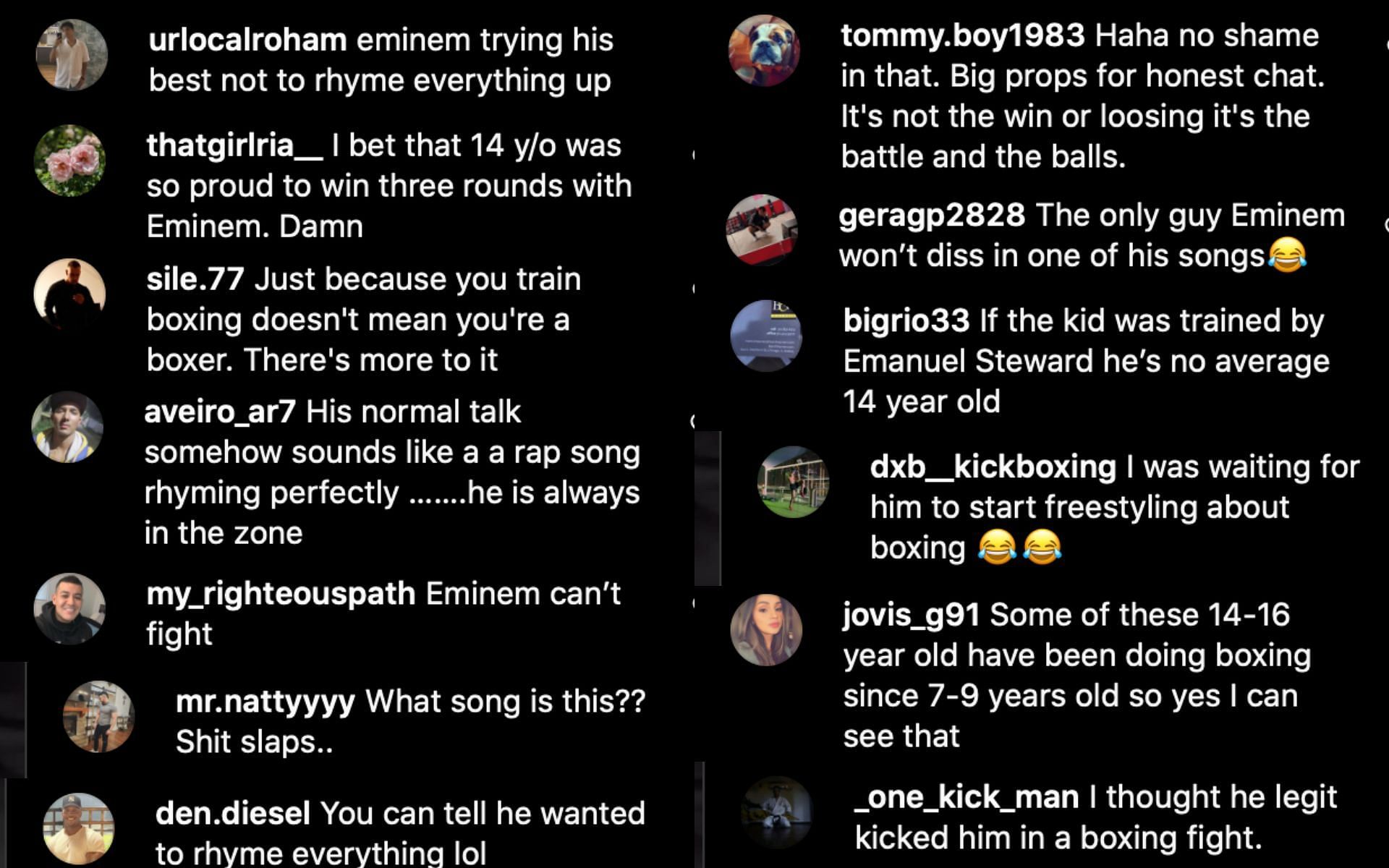 Watch the full podcast below: