Muhammad Ali
"Like Ronaldo and Messi in same team" – Fans stunned as Mike Tyson shares rare backstage photo of close moment with Muhammad Ali
Mike Tyson and Muhammad Ali, two of the greatest heavyweight boxers, stand as colossal icons whose influence reverberates through sporting history and cultural tapestry.
Both heavyweight titans distinct personas – Tyson's 'Baddest Man on the Planet' and Ali's 'The Greatest,' solidified their iconic status as larger-than-life athletes, forever etched in the pantheon of sporting immortality.
Despite never competing in the same era, Mike Tyson holds a deep reverence for Ali that surpasses mere sporting admiration. Recognizing Ali as a cultural icon, Tyson holds profound respect for the boxing legend.
As for the fans, they revel in the rare moments when these two beloved fighters come together and enjoy witnessing their mutual admiration that bridges the generational gap in the world of heavyweight boxing.
Such was the case when Tyson recently took to Instagram to share a rare backstage photo with Muhammad Ali. Witnessing the two boxing legends together evoked a sense of awe, sparking a flurry of heartfelt reactions and nostalgia on social media.
One fan likened the moment to witnessing football legends Cristiano Ronaldo and Lionel Messi play on the same team:
"It was like Ronaldo and Messi in the same team."
Another fan dropped a beautiful comment that served as a beautiful testament to the passing of the torch from one boxing legend to another:
"Ali walked so Tyson could run."
Yet another fan wrote:
"Mike and Ali is probably the best duo you can ever thing of."
Check out some of the best reactions below: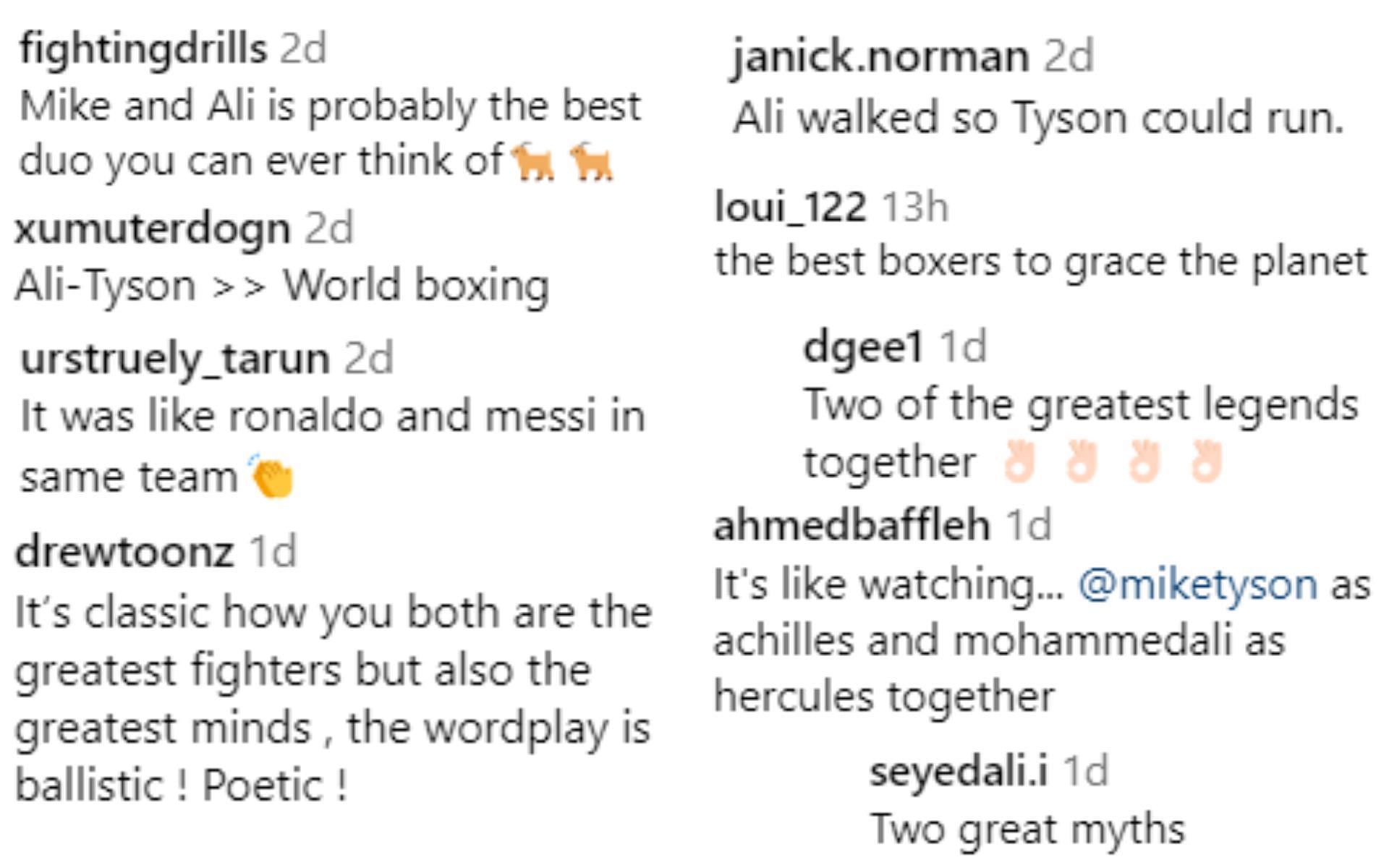 ---
Why didn't Mike Tyson want to be like Muhammad Ali?
Mike Tyson once revealed why he did not want to emulate his idol, Muhammad Ali, during his formative years in boxing. The two heavyweight legends, Tyson and Ali, have often been compared due to their exceptional careers and numerous world championships.
Tyson's rapid ascent to superstardom mirrored Ali's early career, but 'Iron Mike' made it clear that he didn't aspire to be like Ali. Despite admiring and respecting Ali, Tyson candidly expressed that their upbringings were vastly different.
He grew up in a harsh environment, far removed from Ali's background, and it shaped his approach to the sport.
While Ali was known for his speed, technique, and flair, Tyson sought to embody the ferocity of Sonny Liston and Jack Dempsey, aiming to intimidate and vanquish adversaries with a single devastating punch.
Speaking in an interview with Steve Bunce, Mike Tyson stated:
"I didn't want to be like Muhammad Ali because where I came from, Muhammad Ali didn't come from the world I came from. I came from filth, scum, and sewage, so I wanted to be mean like Sonny Liston and Jack Dempsey. I wanted to be ferocious, I wanted to kill you with my stare. I wasn't like Muhammad Ali. I love and respect Muhammad Ali, but Muhammad Ali is not like me. He doesn't come from the world I come from."
Catch Tyson's comments below: