Mike Tyson
"I have no loyalties to Francis Ngannou," Heavyweight prospect Tom Aspinall swears allegiance to Tyson Fury after Mike Tyson takes Cameroonian's side
Tom Aspinall talks about Francis Ngannou vs Tyson Fury and why he is planning to join Tyson Fury's camp.
The Former UFC Heavyweight champion Francis Ngannou has started moving needles in his training camp for his fight against Tyson Fury. The Predator recently announced that Mike Tyson will be a part of his training camp. And, he'll also be a huge presence in Ngannou's corner for the Fury fight. UFC Heavyweight prospect Tom Aspinall in an interview with Michael Bisping, shared his opinion on the Fury vs Ngannou fight and Tyson's addition to the Ngannou camp. He also spoke about the side that he'll be rooting for in this matchup.
Tom Aspinall has formerly sparred with Fury in preparations for some of his fights. And now, in the Bisping interview, he came out and confirmed that he'll be in Fury's corner for the fight. He said, "I'm actually going to help Tyson, I have no loyalties to Francis Ngannou." Aspinall talking about the fight, said, "I think Ngannou has a puncher's chance. He's one of the hardest punchers in combat sports. But, I think that's all he's got, to be honest. I'm not saying, well if Francis Ngannou knocks out Tyson Fury, I wouldn't be surprised. But, if we're talking about skillsets, Tyson Fury is like universes ahead of him in terms of skillset."(H/T MMA Mania)
Aspinall is currently 13-3 in the UFC and is one of the highest-rated prospects in the UFC heavyweight division. Aspinall's addition to the Fury camp can be a crucial one, as Fury prepares for a war against Ngannou.
The Fury-Ngannou fight is set to happen on Saturday, October 28. This bout will take place in Riyadh, Saudi Arabia. Additionally, this fight could definitely turn out to be one of the biggest events in boxing history.
Related: "He's that good," Michael Bisping asserts Tom Aspinall will replicate dominant victory over Jon Jones
Tom Aspinall explains why Francis Ngannou brings more problems to Tyson Fury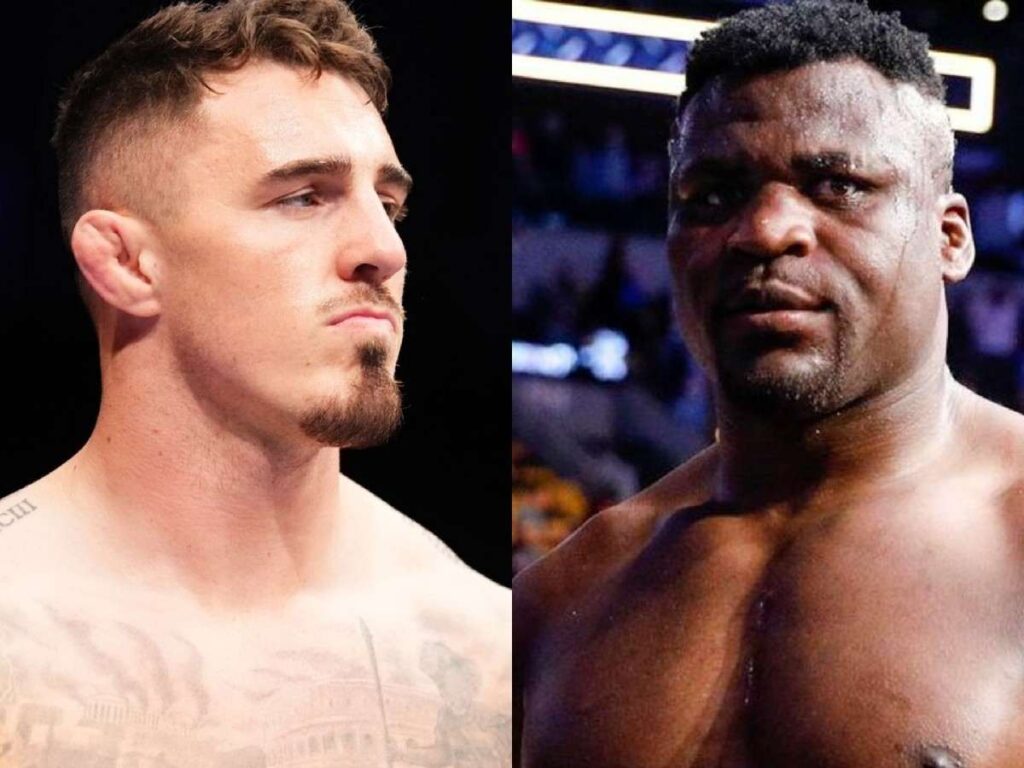 On 11th August, Tom Aspinall appeared on the Michael Bisping podcast. Michael Bisping and Tom Aspinall, on this podcast, spoke about the Fury vs Ngannou fight and the specific dynamics of the individuals that can be essential in this matchup.
In this interview, Tom Aspinall revealed that an orthodox fighter like Ngannou can cause a lot of problems for Fury. Further, Aspinall spoke about how traditional boxers face difficulty in competing against an orthodox stance.
Anthony Joshua who was rumoured to fight Fury in the past, could've been an easy fight, in Aspinall's opinion. But fighters like Deontay Wilder and Francis Ngannou can cause complications in the matchup.
Nevertheless, Fury has faced such opponents in the past and defeated them. The trilogy fight against Wilder is a clear indication of Tyson Fury's abilities.