Mike Tyson
Francis Ngannou vs Jon Jones still on the table; Tyson Fury boxing match 'gets the fight bigger', claims Cameroonian
Francis Ngannou vs. Jon Jones could have been the biggest heavyweight match-up of all time. Ngannou did not rule it out on the podcast with Mike Tyson.
Francis Ngannou left the UFC to secure himself a better contract and freedom to compete in boxing. The Cameroonian has signed a contract with the Professional Fighters League (PFL). Francis Ngannou will also make his boxing debut against WBC heavyweight champion Tyson Fury. However, through the entire ordeal, fans missed out on the potential Francis Ngannou vs. Jon Jones bout.
Jon Jones is the current heavyweight champion in UFC. He is often considered to be the greatest of all time. In a recent episode of Hotboxin' with Mike Tyson, Ngannou revealed that his fight with Jones could still happen. "I think we both are down for it. I left the UFC but that doesn't mean that this fight cannot happen," Ngannou said. The fighter further declared his boxing bout with Fury would make a fight with Jones even bigger.
Jones was initially the champion in the light-heavyweight division. He moved up to the heavyweight division and fought for the title bout against Ciryl Gane. Jones is known for his fight IQ and adaptability during the fight. A match-up of an all-round fighter in Jones against Ngannou's explosive power would be terrific. In the past, the two heavyweights have participated in online arguments.
Jones is scheduled to fight against former champion Stipe Miocic at UFC 295. The boxing bout between Ngannou and Fury will occur in October this year. Francis Ngannou and Jon Jones are unlikely to share the octagon anytime soon.
Mike Tyson predicts the outcome of Francis Ngannou vs. Tyson Fury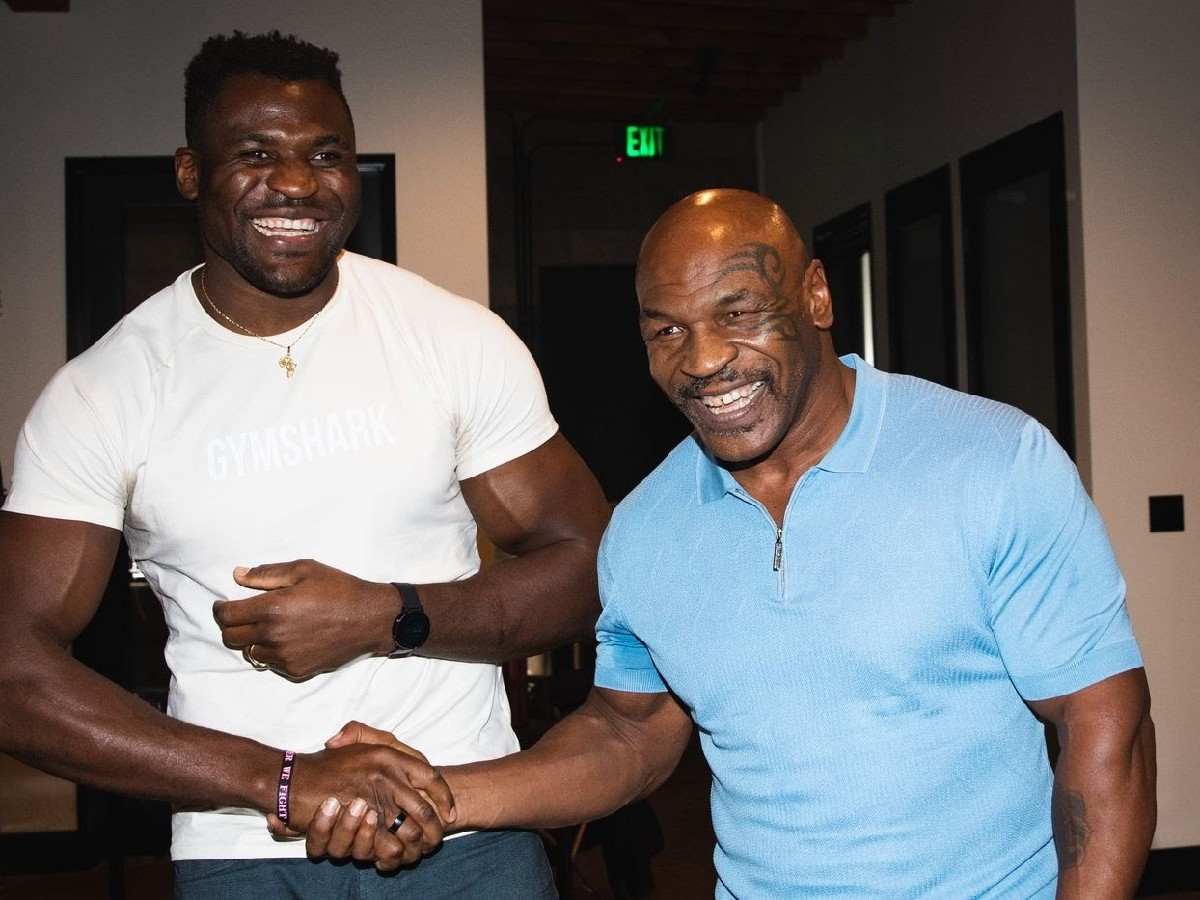 After his career in the UFC came to an abrupt halt, Francis Ngannou will step into the world of boxing for his next fight. The power of Ngannou remains unmatched in the UFC. Only Derrick Lewis could have matched it. He is scheduled to make his boxing debut against the WBC heavyweight champion Tyson Fury. Following the fight announcement, Ngannou started training with the boxing legend Mike Tyson.
Recently, Tyson praised the progress of Ngannou. Tyson claimed that Ngannou would only need a few good punches to hurt Fury. The fighter and coach duo have also worked on speed and footwork. Tyson believed that Fury had never faced anyone like Ngannou before. The Cameroonian indeed seems ready for the much-awaited bout.
An analysis coming from a former boxing champ would be quite accurate. On several occasions before, Ngannou has displayed immense strength. However, Tyson Fury fought another powerful puncher in Deontay Wilder. He took the best shots of Wilder and survived. Hence, there is hope for Fury.