The Godfather
Marlon Brando actually wanted to retire after doing this comedy movie
Marlon Brando hated this comedy movie he did so much he spoke out against it, saying he wanted to retire. But the drama doesn't just end there, not at all.
Marlon Brando was one of the most recognizable faces in cinema history. Marlon Brando etched onto your film's credits was like a boon from the gods, bestowing prestige and gravitas. At least, it was for his best movies such as Apocalypse Now and The Godfather.
As time went on and he had already worked with some of the best directors available, Brando ventured out into different genres for his new movies, though, and it seems one particular project left a bad taste in his mouth. So bad, in fact, he couldn't resist publicly reading it for filth.
On September 1, 1989, LAHExam reported that Brando, still on set, invited a Globe and Mail [via AFI Catlog] correspondent to his trailer on set to talk badly about The Freshman, a crime-comedy starring Matthew Broderick. Brando reportedly called it "horrible," "an unpleasant experience," and said the movie was "a stinker."
"It's going to be a flop," he said, "but after this, I'm retiring." Just a week and a half following his remarks, Brando retracted his comments and apologized in a statement, explaining that "trying times of a very personal nature," had led him to make the remarks, according to the September 12, 1989 DV.
"Clearly, I was wrong about the quality of the picture." There was speculation that Brando was angry about unpaid overtime and a muscle strain sustained during an ice skating scene that needed a neck brace. Months on, the February 1, 1990 DV mentioned that after seeing parts of the comedy for the first time the actor was "so tickled with his first comedy he'd like a sequel."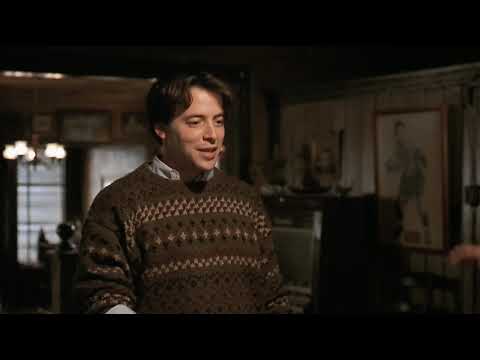 Audience and critical reactions to The Freshman were positive enough that Tri-Star moved its release date up. However, there was a dispute between the studio and Paramount Pictures, which was upset over a The Godfather parody scene in the film. The dispute was quietly settled. Luckily, you can watch the re-cut version of the scene above.
There's something about the drama and media of Hollywood past that is just so much more fun than today's X beef, don't you think? Tweeted apologies are out, formal letters of retraction are in.
You can watch The Freshman on Paramount Plus. For more classic actors, check out why Marlon Brando hated playing this character and the best Robert De Nino movies. We've also got lists of the best drama movies and best thriller movies of all time to keep the quality up. Continuing in that same vein, here's what we know about the Killers of the Flower Moon release date.