The Godfather
BTS' V poses cutely with duet singer Minna Seo from Fred Astaire and Bing Crosby's jazz songs cover
BTS member V and Minna Seo look adorable in a new set of pictures shared on Minna Seo's IG. These two had previously sung jazz songs for Le Jazz de V.
KEY HIGHLIGHTS
BTS' V and Minna Seo, his duet partner in Le Jazz de V, take a cute pictures!

Fans call them adorable as they match each others' expressions
Recently, Minna Seo shared two pictures posing with BTS' V, probably taken after their performance called Le Jazz de V, which was Kim Taehyung's gift to ARMYs as the group completes their 10th year of debut. They posed cutely, which got a lot of ARMYs calling them adorable in the comments. When the video initially came out, the fans were curious about Minna Seo since she sang beautifully alongside V.
Le Jazz de V: 
V also shared some videos and photos of behind the scenes of the video and he looked handsome in the silk shirt with a pearl collar and bright blue ascot tie. Known for his love for Jazz, fans were not surprised that he chose to cover his favorite jazz songs. He loves trumpet, saxophone and was seen liking and commenting on newly famous jazz singers' Instagram posts, which made it obvious how much he loves that genre of music. Even when he recommends music, he has a soft spot for vintage jazz and early 2000s R&B. The cover became viral instantaneously and the fans loved his deep baritone voice that complimented the beautiful orchestra in the background. The two songs inLe Jazz de V, It's Beginning to Look a Lot Like Christmas and Cheek to Cheek, are full of scat singing with crooning and ad-lib, an authentic jazz singing technique that matches the performance of the jazz band. He demonstrated his abilities as a jazz vocalist with a tone that was graceful and elegant.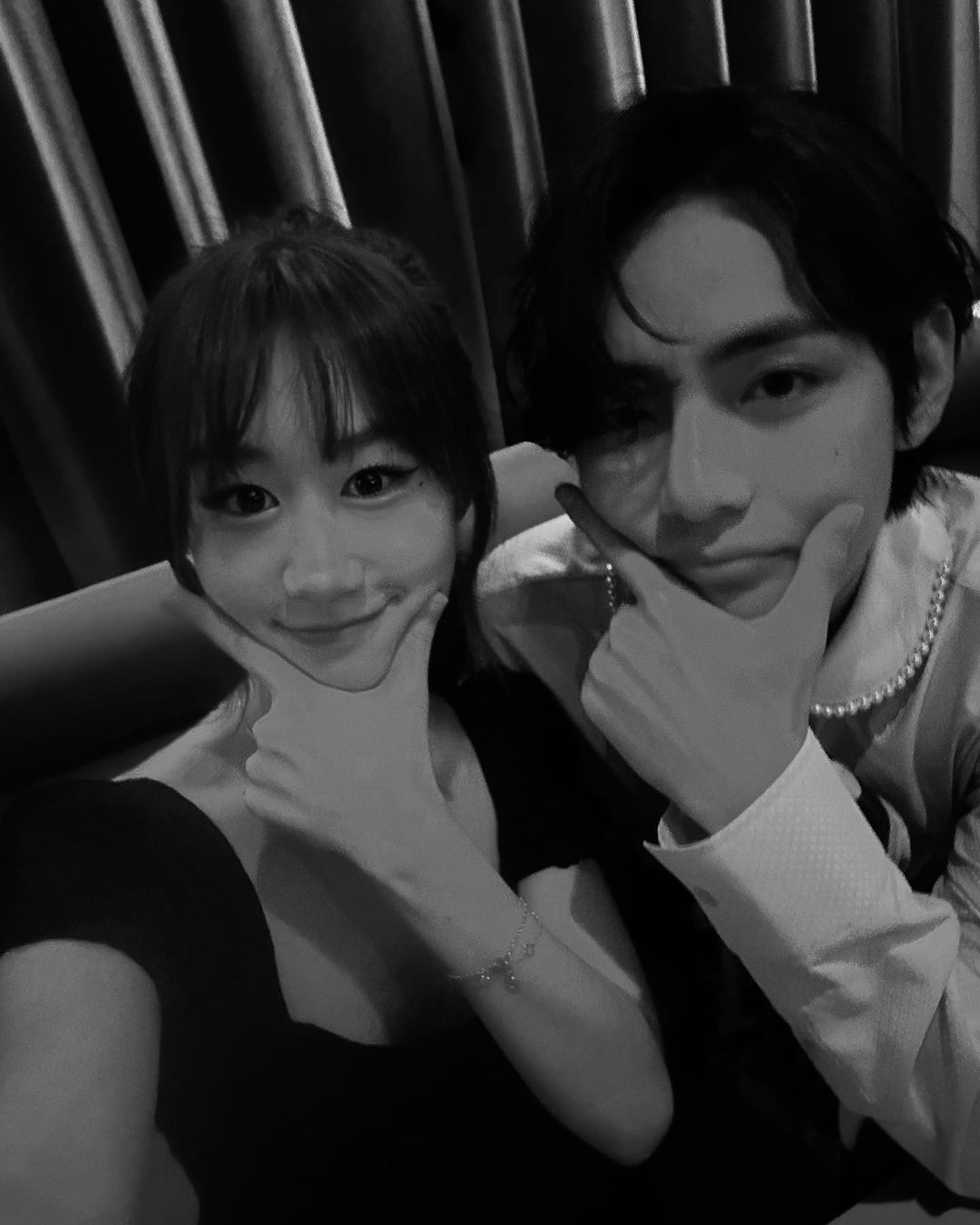 V's popularity: 
Baz Luhrmann, an Australian director that directed the famous musical film Moulin Rouge, fell in love with the cover as well. Fans were quick to see that the director liked V's post and followed him as well, which was a rarity since he does not follow many people. Many other talented people were also pleasantly surprised by the cover as well. The Twitter account of Irving Berlin, the original composer of Cheek to Cheek complimented his singing skills and recommended others to watch the video as well. The account of Bing Crosby praised the singer as well for his melodious voice.