Mike Tyson
"A Pitbull with no leash that respects only one person," Millionaire comedians Joe Rogan and Kevin Hart were terrified after watching Mike Tyson train at 55 years old
Joe Rogan and Kevin Hart talked about prime Mike Tyson and how he was a different breed in terms of being a heavyweight boxer.
Mike Tyson earned the nickname "The Baddest Man on Earth" during his prime years, and people considered him one of the best heavyweight boxers of all time. The former champ had a wild boxing style consisting of agility and tremendous knockout power.
On a JRE episode, Kevin Hart and Joe Rogan spoke about Tyson during his prime and the intimidation factor. They discussed how Tyson lacked love until he encountered Cus D'Amato, who became his father figure. Hart said, "He was the pitbull with no leash that respected one person and anybody else at any given time feared the f*** out of this pitbull… Till this day if I see Mike, there's still a little nervousness for no reason."
Furthermore, Rogan provided his insights into the unique character of Tyson and how he distinguished himself from other boxers. Rogan believed that Tyson had a certain fire within him that set him apart from the rest. Subsequently, Hart said that Tyson was an undefeated force with no regard for anyone except his deceased mentor.
Tyson has appeared on Rogan's show twice, and Rogan went on Tyson's podcast. In various interviews, Rogan regards 'Iron Mike' was his favorite fighter of all time. It is safe to say that there will never be another boxer like Mike Tyson.
Mike Tyson and Roy Jones Jr.'s hilarious post-fight interview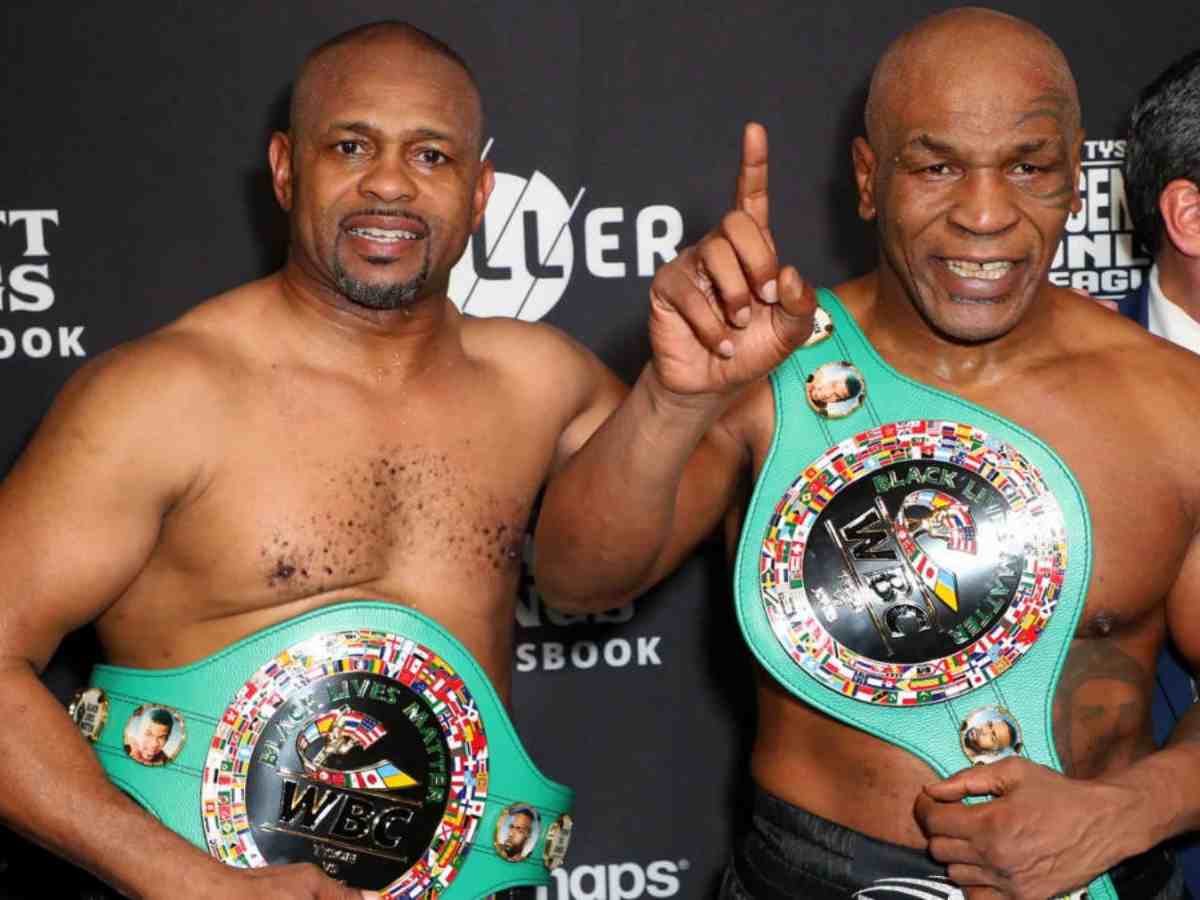 The conclusion of the eight rounds of the exhibition match between Mike Tyson and Roy Jones Jr. resulted in a draw. However, most fans felt Tyson should have won since he had more aggression. Tyson took a humorous shot at Jones Jr. during the post-match interview. A reporter asked Tyson if he was worried about getting injured during the fight.
Tyson humorously interrupted the question, saying, "I was afraid I might get hurt!". Furthermore, Tyson said, "I didn't fight in 20 years, he only stopped fighting for three years… why'd nobody care about my ass?!" As Jones and interviewer Jim Gray burst into laughter, Tyson continued to explain that Jones had retired in 2018. However, Tyson was in better shape and performed better for most rounds.
While Mike Tyson had landed some decent body shots, Jones was content simply frustrating the bigger man during their bout. Jones Jr. went on to fight Anthony Pettis in 2023 but lost the bout via decision.