Manny Pacquiao
Manny Pacquiao Invites NBA Star Klay Thompson for a Match; It's Not in a Boxing Ring or Basketball Court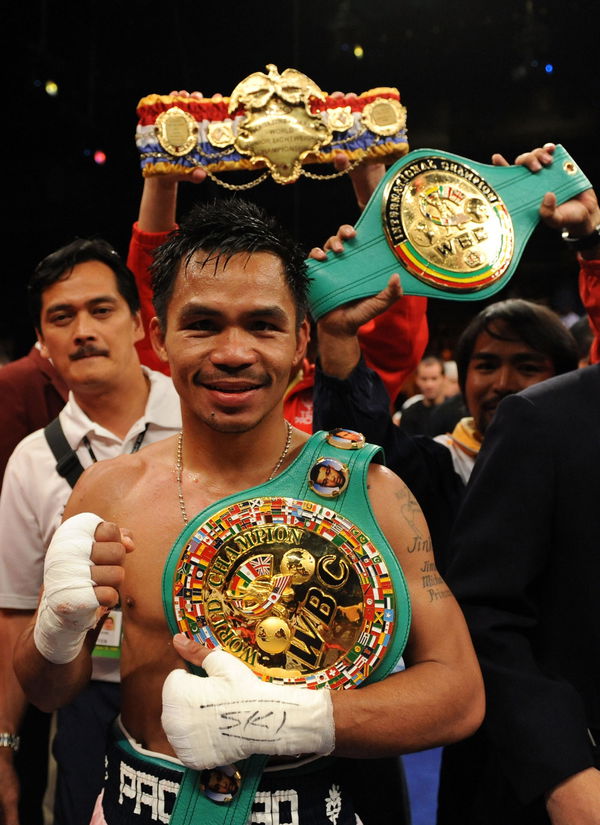 Manny Pacquiao has been in the headlines lately. The former eight-division champion last fought in 2021 and announced his retirement after a celebrated career. However, in a recent turn of events, Pacquiao is now considering competing in the 2024 Paris Olympics. This revelation left the boxing world in splits. Moreover, there is a lot more to Pacquiao than just boxing.
The 45-year-old has served as a senator of the Philippines. In addition, he is passionate about chess and playing the piano. Recently, the legendary boxer invited NBA star Klay Thompson to his house and the two played a game of chess. So without further ado, let's dive in on their encounter.
What went down between Manny Pacquiao and Klay Thompson?
Their meet-up was quite unexpected, to say the least. Thompson hails from the world of NBA and is widely regarded as one of the greatest NBA three-point shooters. As of now, he plays for the 'Golden State Warriors,' team. The boxing legend invited him to his house and amongst other things played a game of chess. In a video posted by, Elie Seckbach on his Instagram account, he stated, "Boxing icon, one of the greatest if not the greatest. The only eight-division champion in boxing history. right here with Klay Thompson.  He added, "Klay Thompson in the Philippines to his house. He is a huge boxing fan." He added, "Here is Klay Thompson at his house, at his office, playing chess."  
Manny Pacquiao vs. Magnus Carlsen in chess
After announcing his  retirement, Pacquiao decided to try his hand at the game of chess against Magnus Carlsen. In a Tweet, he called out the grandmaster and stated, "I've fought some tough opponents in the ring, but I've never faced anyone like @magnuscarlsen in a game of chess. He's a true champ. Wish me the best for October 1, when I appear on the @champchesstour show!"
Thomson, in his own right, has  a passion for the game of chess. Who won this friendly contest? We do not know. However, it is certain that they had a lovely get-together that stunned the sports world. Intriguingly, back in 2021, 'Pac-man,' had challenged and competed against a Magnus Carlsen. So let's take a look at how that went down.