The Godfather
The Best LaKeith Stanfield Movies And TV Shows (And How To Watch them)
Get Out, Atlanta and more!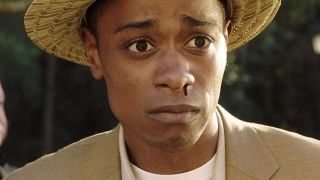 (Image credit: Universal Pictures)
Since 2013,  LaKeith Stanfield has created a diverse body of work. He's played offbeat dudes, villains, hype men, the best friend, and iconic historical figures in everything from horror films to black comedies. Stanfield is one of the most interesting young actors working today. He refuses to be boxed into any role, genre, or label–making him a brilliant character actor and scene-stealer in most of his TV shows and movies.
LaKeith Stanfield has appeared in dozens of TV shows and short or feature films. He continues to stretch himself as an actor and performer. He's worked with big names like Daniel Craig, Chris Evans, Adam Sandler, Oliver Stone, Ava DuVernay, and Jordan Peele. LaKeith Stanfield continues to aim high and dreams of even more iconic roles with big name directors. Those new to Stanfield's work may wonder which of his films and TV shows are worth watching. Well, we have some options.
Sorry To Bother You (2018)
Sorry to Bother You is a satirical film about a Black salesman named Cassius (LaKeith Stanfield) who must put on his "white voice" to increase sales. The company mistreats and underpays its workers, so his coworkers try to form a union. Eventually, Cassius becomes one of the company's best salesmen and starts to neglect his friends and coworkers. Sorry to Bother You then takes a really unexpected, trippy turn that we won't spoil for you.
Sorry to Bother You is one of LaKeith Stanfield's leading roles and he does an excellent job leading this very out-there concept. Sorry to Bother You takes an extreme turn of events, but it's very much grounded in some of today's biggest issues like capitalism, racism, slave labor, and cultural appropriation. Sorry to Bother You is not a safe film, which means people will have strong reactions to it.
Stream Sorry to Bother You on Tubi.
Rent/buy Sorry to Bother You on Amazon.
Selma (2014)
Selma, directed by Ava DuVernay, stars David Oyelowo as Martin Luther King Jr. and follows King's journey that led up to the Selma protest marches of 1965. Selma is a historical drama and part biopic about Martin Luther King Jr., the Civil Rights Movement, and the events that occurred before, during, and after the Selma march of 1965, including the murder of Jimmie Lee Jackson (LaKeith Stanfield). It's one of the best movies to watch on Martin Luther King Jr. Day.
The Civil Rights Movement was a long, hard battle that resulted in many casualties. Selma depicts the brutal, frustrating, and difficult steps it took for the Voting Rights Act of 1965 to go into effect. The movie is necessary viewing for its snapshot of such a major event. Ava DuVernay brilliantly directs this Oscar nominated film. Selma only has a few scenes with LaKeith Stanfield, but those short scenes deliver enough personality to give viewers an understanding of why this young man was so beloved and helped make the fight for equality even stronger.
Stream Selma on Paramount +.
Rent/buy Selma on Amazon.
Dope (2015)
Dope follows three high school nerds as they become involved in the drug business. Malcolm (Shameik Moore) is the main protagonist, a kid just trying to survive high school and get into Harvard. Rick Famuyiwa directs this coming of age adventure that displays the struggles of growing up, especially in a dangerous neighborhood. Dope isn't all drama as it effortlessly blends comedy into these very real and scary situations.
Despite the serious nature of Dope, the film takes a hopeful approach to its events, and keeps things comedic from start to finish. LaKeith Stanfield has a small role in the movie as Marquis, one of the high school bullies. While Stanfield's role isn't big in this film, the movie overall gives a unique look at black teens growing up in rough neighborhoods. It doesn't rely on the typical stereotypes that are often portrayed in films about high crime neighborhoods. Instead, Dope offers a fresh perspective on the varied personalities of black youth. Stanfield has also played a lot of chill characters, and this is one of the few times he plays a character that you wouldn't mind smacking.
Rent/buy Dope on Amazon. 
Get Out (2017)
Get Out is the directorial debut of comedian Jordan Peele. The film became one of 2017's most discussed and analyzed movies. It received award nominations, including Oscar nominations, and became a box office hit. Get Out stars Daniel Kaluuya, Alison Williams, Bradley Whitford, Lil Rel Howery, and Catherine Keener. In Get Out,a Black man goes to meet his white girlfriend's parents. Quickly, he discovers that things are not what they seem. Racial problems and tensions that still exist between black and white America are a main focus of this movie. Its real roots give the film Get Out its horror.
The film made you notice LaKeith Stanfield. His screentime is limited but his scenes are pivotal. His first scene launches the film's major climax. Stanfield's performance is one of the major standout elements of Jordan Peele's modern horror classic.
Stream Get Out on Peacock.
Rent/buy Get Out on Amazon.
Crown Heights (2017)
Based on a This American Life podcast, Crown Heights tells the true story of Colin Warner, a man wrongfully convicted of murder. It mainly follows the journey of Colin, played by LaKeith Stanfield, and his best friend Carl King (Nnamdi Asomugha). Crown Heights premiered at the Sundance Film Festival in 2017 and won the Audience Award for U.S Dramatic Film.
The movie highlights the problems with the justice system and prisons in general, but it's more of a story about love and friendship. The bonds that Colin formed lead to those around him fighting so hard to bring him justice. Crown Heights is a tragic story told in a beautiful way. Stanfield once again shows his stellar acting range. As an Amazon Studio Production, Crown Heights is available to stream on Amazon Prime Video.
Stream Crown Heights on Amazon.
Atlanta (2016-2022)
In Atlanta, Donald Glover, Brian Tyree Henry, and LaKeith Stanfield play three friends trying to make it in the Atlanta rap scene. The main story follows up-and-coming rapper Paper Boi (Brian Tyree Henry) and his manager and cousin Earn (Donald Glover). LaKeith Stanfield plays their eccentric friend Darius. The three often find themselves in comedic and challenging situations.
Darius occupies the same space as many weird, ditzy, or crazy friend characters that we often see in comedy and sitcom series. However, Stanfield adds layers to Darius that often don't exist in some of these other versions of this character. Darius is as fascinating as he is strange. Atlanta is one of the most refreshing comedies to come out of the last few years. It is extremely funny, edgy, and unique. Atlanta came to an end in 2022 with four seasons.
Stream Atlanta on Hulu.
Buy Atlanta on Amazon.
Straight Outta Compton (2015)
Straight Outta Compton is a biopic about the formation of rap group N.W.A. The film mainly focuses on Eazy-E (Jason Mitchell), Dr. Dre (Corey Hawkins), and Ice Cube (O'Shea Jackson Jr.) and their manager Jerry Heller (Paul Giamatti). Neil Brown Jr. and Aldis Hodge play N.W.A members DJ Yella and MC Ren. Straight Outta Compton follows N.W.A's rise to fame, their times at the height of their success, and the band's eventual split.
Straight Outta Compton features several famous rappers and artists of the '80s and '90s, including Snoop Dogg played by LaKeith Stanfield. Stanfield has a small role in Straight Outta Compton but in his brief time on screen, he exhibits the mannerism, charm, and even voice of the real Snoop Dogg. Straight Outta Compton gives a fascinating look at N.W.A and the 90s rap scene. It's definitely a movie worthy of your attention.
Rent/buy Straight Outta Compton on Amazon.
Short Term 12 (2013)
LaKeith Stanfield has a deep, personal history with Short Term 12. His first film was the short film version of Short Term 12. He did another short film after this one, but then took a major break from acting, working typical jobs, like at a legal weed dispensary. Short Term 12's director, Destin Daniel Cretton, couldn't find anyone that gave him the same performance as Stanfield did in his shorter version, so he went looking for him. This film led to Stanfield's return to pursuing acting full-time.
In Short Term 12, Lakeith Stanfield plays Marcus, an older member of Grace (Brie Larson)'s group home. He's struggling with the idea of life outside the group home. Stanfield was nominated for several awards for his performance in Short Term 12, including an Independent Spirit Award for Best Supporting Male actor. The film is a moving look at a group home and the young woman who tries to help them figure things out as she's trying to solve her own problems.
Stream Short Term 12 on Peacock.
Rent/buy Short Term 12 on Amazon.
Knives Out (2019)
Rian Johnson wrote and directed Knives Out, a modern-day whodunit with an all-star cast that includes Daniel Craig, Chris Evans, Michael Shannon, Toni Collette, and Jamie Lee Curtis. Famed and wealthy crime novelist Harlan Thrombey (Christopher Plummer) commits suicide, but something doesn't quite seem right. Three detectives are called to investigate the crime. Stanfield plays Detective Lieutenant Elliot, who ends up assisting private detective Benoit Blanc (Daniel Craig) as he tries to solve the crime.
Knives Out has become one of the best-reviewed and biggest Box Office hits of 2019. The film gives tribute to the mystery genre while having fun with it. Knives Out is an enjoyable film that deserves a viewing or a hundred. Stanfield didn't appear in the Knives Out sequel cast Glass Onion. However, with more Benoit Blanc movies coming, there is always a chance he could return to the Knives Out world.
Rent/buy Knives Out on Amazon. 
Uncut Gems (2019)
Arguably the biggest snub of the 2019 Oscars, Uncut Gems follows jeweler Howard Ratner (Adam Sandler) as he attempts to make a big score. He needs the money to pay off some of his debt and just for personal glory. Howard goes from one scheme after another hoping to make a bunch of money, but things keep getting more and more out of control. Stanfield plays Demany, one of Howard's assistants.
Uncut Gems feels very chaotic and gives you anxiety but that is part of the thrill of the film. Sandler gives one of his best performances as Howard, and Stanfield gives an equally engaging performance as his shady assistant. Their performances enhance Uncut Gems' story and style even more.
Stream Uncut Gems on Paramount+.
Rent/buy Uncut Gems on Amazon.
The Changeling (2023-)
The Changeling is an AppleTV+ mini series based on Victor LaValle's book of the same name. It stars LaKeith Stanfield and Clark Backo as Apollo and Emmy, a couple whose happiness dissolves when they have a child. The baby leads to them both going on a journey for the truth and a possible reunion.
The show is full of magical elements, but explores very realistic topics such as grief, trauma, mental health, and generational scars. It's a very complex, dark fairytale. The Changeling allows Stanfield to highlight his ability to enlist emotions from his viewers with some very heart wrenching acting.
Stream The Changeling on Apple TV+
Haunted Mansion (2023)
Haunted Mansion follows a group of individuals trapped in a mansion full of ghosts. The Haunted Mansion cast includes LaKeith Stanfield, Rosario Dawson, Owen Wilson, Tiffany Haddish, and Danny DeVito.
Overall, Haunted Mansion is a family-friendly comedy, but it has some elements that are more dramatic than viewers may expect. These moments give the film more depth. It's a little more than just a silly no-stakes comedy. Stanfield leads the charge as Ben and offers the movie its heart and somberness.
Stream Haunted Mansion on Disney+.
Rent/buy Haunted Mansion on Amazon
The Harder They Fall (2021)
The Harder They Fall is a Western film featuring an all-Black main cast. It's the story of Nat Love (Jonathan Majors) as he goes on a revenge mission to track down Rufus Buck (Idris Elba). The Harder They Fall cast features Zazie Beetz, Regina King, Delroy Lindo, and Stanfield.
Stanfield plays Cherokee Bill, one of the villains in this story. He carries his villainy with a mystique, confidence, and plenty of danger. Stanfield's character is part of the main cast but not as prominent as some of the other characters, but his version of Cherokee Bill definitely leaves an impression.
Stream The Harder They Fall on Netflix.
The Photograph (2020)
The Photograph is a Black-led romantic movie. It tells two sets of romantic stories. The first set in the present and the second happening in the past. The two leading ladies in The Photograph are Mae Morton (Issa Rae) and Christina Eames (Chante Adams). Michael Block (LaKeith Stanfield) and Isaac Jefferson (Y'lan Noel) are their love interests. Mae and Michael meet when he finds a photograph of her mother and wants to know her backstory.
Stanfield and Rae have an abundance of on-screen chemistry as these two accomplished individuals who unexpectedly fall in love and must navigate what that could mean for their future. Stanfield hasn't done many romantic roles (yet), so it's fun to see him step into a new type of role.
Stream The Photograph on Peacock.
Rent/buy The Photograph on Amazon. 
Judas And The Black Messiah (2021)
Judas and the Black Messiah is a fictionalized account of the Black Panther Party in Chicago in the late-60s and the incidents that led to the assassination of Fred Hampton. Daniel Kaluuya and Lakeith Stanfield star. Kaluuya plays Hampton and Stanfield plays Bill O'Neal, a FBI informant who infiltrates the Black Panther Party.
The film was one of the best movies of 2021 and received numerous award nominations and wins, including a Best Supporting Actor Academy Awards nomination for both Kaluuya and Stanfield.
Stream Judas and the Black Messiah on Max.
Rent/buy Judas and the Black Messiah. 
LaKeith Stanfield has plenty of exciting upcoming projects. Therefore, you'll have plenty more great performances from him in the coming years. He's a fearless actor who continues to evolve with each role.