Muhammad Ali
"My freaking Hero!" Muhammad Ali's grandson Biaggio Ali Walsh wants to emulate Justin Gaethje for the fans
Muhammad Ali's grandson Biaggio Ali Walsh lauds Justin Gaethje as his hero and discusses his fighting style.
Muhammad Ali is the most famous combat sports athlete ever. Ali's daughter Layla Ali followed in his footsteps. Ali's grandsons through his daughter Rasheda Ali; Nico Ali Walsh and Biaggio Ali Walsh also followed the late heavyweight champion. Biaggio Ali Walsh went one step further by competing in MMA. Firstsportz's Ajinkya Aswale recently interviewed Biaggio Ali Walsh where he spoke highly of Justin Gaethje.
Ali Walsh competes in the amateur ranks of the PFL. After losing his amateur debut by rear naked choke, Ali Walsh has won 5 in a row, 4 in the PFL. He will be competing in the upcoming PFL 10 of the 2023 season. In the interview with Firstsportz, Walsh spoke highly of the BMF champion of the UFC. This is what he said about Gaethje.
Justin Gaethje is my freaking hero, man. I love him. See, the thing with me, like, I think that Gaethje just gets it. He understands. Like, we're fighting for money, this is, we're fighting for entertainment.
Ali Walsh sees similarities between himself and Gaethje. Ali Walsh has finished all of his 5 victories inside the 2nd round, 4 in the first. The finishing rate resembles that of Gaethje who is the 'Human Highlight'. UFC Hall of Famer Daniel Cormier has even called Gaethje, 'Your favorite fighter's favorite fighter'. Ali Wash wants to emulate Gaethje for the sake of the fans.
Justin Gaethje recently fought at UFC 291 for the BMF title. He defeated Dustin Poirier in the second round to claim the iconic title once held by Jorge Masvidal. The victory all but guaranteed a title shot for Gaethje. Max Holloway recently called out Gaethje for the BMF title. Rumors are swirling of Gaethje and Holloway fighting at UFC 300. However, no official confirmation has been made.
Biaggo Ali Walsh explains why Justin Gaethje is his favorite fighter
In the interview with Firstsportz, Biaggo Ali Walsh spoke highly of Justin Gaethje. He already stated why he wants to emulate Gaethje due to his style being fan-friendly. Justin Gaethje has 12 post-fight bonuses in just 14 appearances for the UFC.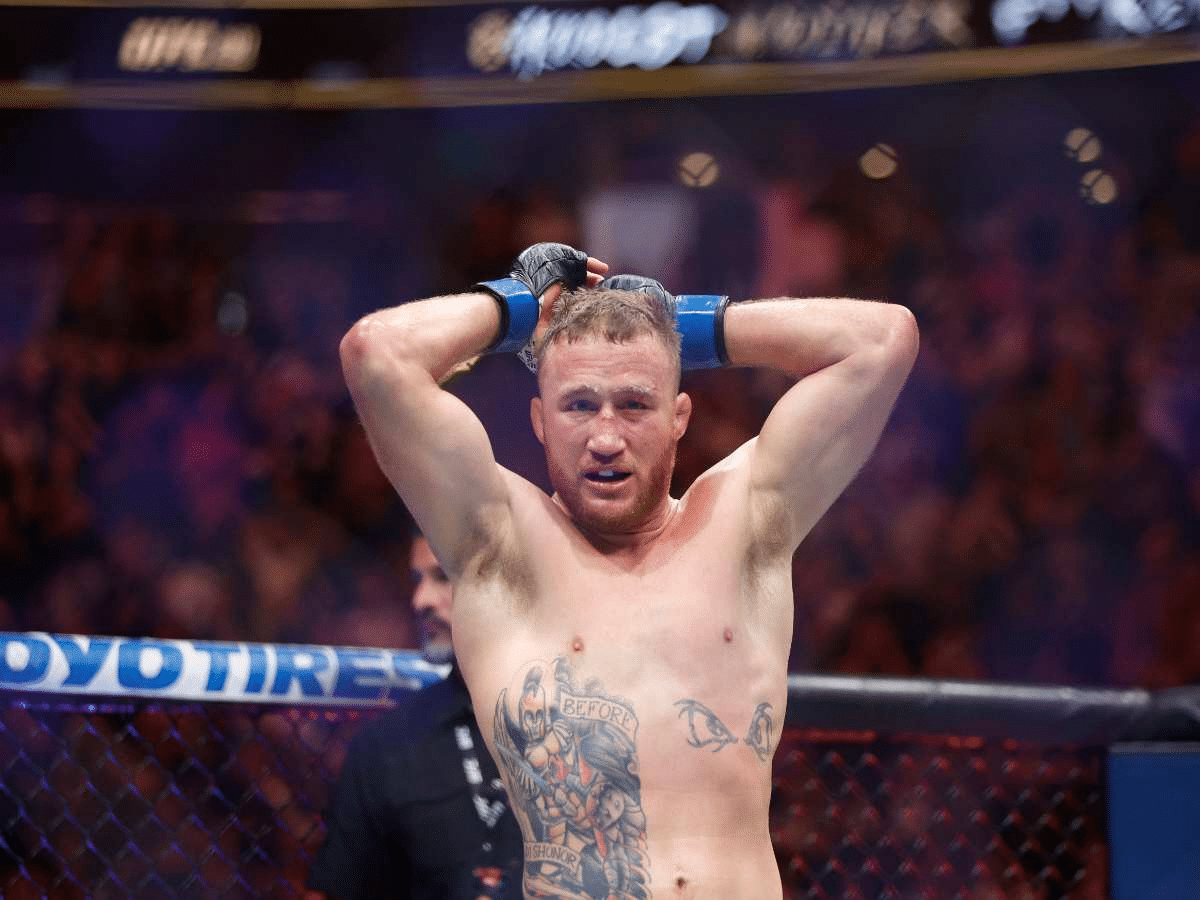 In the interview, Ali Walsh provides the reason why Gaethje is his favorite fighter. This is the reason he gave.
I think that it's just like his mindset and his reckless, like his calculated recklessness, is what really draws me to him as my favorite fighter.
Ali Walsh is enamored by the calculated recklessness of Gaethje. Gaethje was very reckless early in his career. However, under the tutelage of Trevor Whitman, there was a method to his madness. Ali Walsh also praised Francis Ngannou for his performance against Tyson Fury.